THIS YEARS WINNER - TRACY DAVIDSON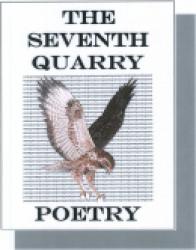 W e are pleased to announce that the winner of the West Coast Eisteddfod Poetry Competition, English language category, will be featured in the prestigious international poetry magazine - The Seventh Quarry . Peter Thabit Jones, the editor of the magazine which is based in Swansea, will feature the winning submission together with 12 pages of poems by the winning author (which would include a photo and a bio)  in the Winter/Spring 2017 issue of The Seventh Quarry magazine, due February 2017. The winner will also receive a free annual subscription to the magazine for one year plus the cash prize of $200/130 GBP approx.
You may submit your entries in Welsh or English. The language categories will be judged separately and there will be a prize for each. Accompanying graphics are not permitted. There is a US200 dollars (approx 130GBP ) prize for the winners in each category.
The final submission date is November 30th 2016. All poetic styles and conventions are welcome, limericks, however, will not be considered for a prize. There is no upper or lower word limit. Entries need not reference Wales in any way , shape or form. You may submit up to five entries in each category and work which has appeared elsewhere is acceptable provided you have not surrendered your copyright. The winner and his/her work will be featured on this site on what we hope will be a heavily trafficked page. Prizes will be awarded for language categories provided there are a minimum of 20 entries in the relevant category
How To Submit Your Entry
---
Entries must be posted individually in this discussion forum using the + symbol, top right hand corner of the page. You can submit up to 5 entries.
Members
Simply join this Group and post your story (and any links) as a separate discussion in the discussion forum . You will need to click the + sign,  top right, to post your entry. If you wish to include a link to your website or blog please do so but remember you must link back to us. Please DO NOT submit attachments...cut and paste your story into a discussion dialog box and add your title and attribution.
Post your story on your website or blog and post a link to the relevant url as a separate post in the discussion forum . Once again you will need to link back to us.
Non Members
Post your submission on your blog and email us with the url ( americymru@gmail.com ). We will include it in the discussion forum. You must include a link to this page on your submission page.
Email your submission to us and we will post it in the discussion forum and credit you as author. ( in this case mutual linking is an option but not required )
The Fine Print
There is no entry or submission fee for this competition. The requirement to backlink if you are posting on your own blog and linking here ( or submitting a link to your blog on this page ) is obligatory and designed to be mutually beneficial.
Any materials submitted in this group will remain the sole property of the author. We guarantee not to display any story or any portion thereof on other pages or sites without the express permission of the author. Likewise materials submitted here or linked here can be removed or unlinked at any time by the author or at his/her request.