Welsh Tapestry Blankets 
Last remaining few of our tapestry blankets in various sizes. More Caernarfon pattern blankets coming in about 2 weeks.
Nothing  says Hiraeth more than an iconic welsh Tapestry blanket.
Welsh Tapestry Blankets - Castell Coch

£320.00

Browse

Welsh Tapestry Blankets - Draig Werdd

£320.00

Browse

Welsh Tapestry Blankets - Caernarfon

£155.00

Browse

Dinefwr Children - Extra Large

£74.99

Browse

Welsh Tapestry Blankets - Dinefwr

£145.00

Browse

Pentre Ifan Children - Small

£39.99

Browse

Welsh Tapestry Blankets - Pentre Ifan

£155.00

Browse

Pentre Ifan Children - Large

£64.99

Browse
Welsh Tartan Scarves and Keyrings
Our range of tartan scarves and keyrings is now available for a number a popular Welsh surnames. And if your surname isn't available, you can choose a Welsh National Tartan, St David's, Pride of Wales and Owain Glyndwr.
To see all Welsh Tartans -  Click here...
Welsh Tartan Scarf - Evans

£30.00

Buy Now

Welsh Tartan Scarf - Pride of Wales

£30.00

Browse

Welsh Tartan Keyring - Owain Glyndwr (Grey)

£9.99

Browse

Welsh Tartan Scarf - Jones

£30.00

Browse

Welsh Tartan Scarf - Owain Glyndwr (Grey)

£30.00

Browse

Welsh Tartan Scarf - St David's

£30.00

Browse
Hand Poured Candles
Not only heavenly scents but packaged beautifully too, available in a beautiful copper tin or a glass jar.  Lovely as a gift or to treat yourself.  Light your candle, pour your tipple sit back and see what memories you can evoke. The glass candles have approximately 50 hours burn time, the copper tins approximately 40 hours. All our candles are soy based. We use cotton wicks and the finest fragrance oils. Available in 6 different fragrances;
 Cariad, Cwm Rhondda, Cwtch, Heritage Coast, Hiraeth and Welsh Gold.
Hand Poured Candles - Glass

£25.00

Browse

Hand poured candles - Copper Tin

£15.00

Browse
Dye Kits, Extracts, Undyed Yarn
Our Natural Dye Kits contain everything you need to begin your natural dyeing journey. If you are not sure where to start, you will find everything you need in one beautiful  natural cotton drawstring project bag . The beginners Natural Dye Kit is perfectly packaged and contains detailed instructions and recipes on how to dye protein fibres, three different dye extracts, mordant, two 20g skeins of yarn and an Eucalan ph. neutral wool wash sachet.
Start your natural dyeing journey here...
Natural Dye Kits - Beginners

£35.00

Browse

Welsh Mule - Undyed Yarn

£15.00

Browse

Vegan Yarn - Undyed Yarn

£20.00

Browse
A Perfect Gift From Wales
Gift Cards
Gift cards are available from £10 - click the link below and choose the amount you wish to  purchase 
Gift Cards can be sent to the recipient by Email, by Post with a card and envelope and are also available for Natural Dye Workshops.
Gift cards can be redeemed against any product on our website and are  NOT  time limited.   
Tapestry Style Handwoven Wool Blankets
In one size only (175 cms x 140 or 68 inches x 55). Hand woven in pure new wool, each blanket's pattern is based on part of the iconic Caernarfon tapestry pattern and is woven in a double cloth tapestry style, fully reversible.
Customer Reviews
Craig Goch "Such great quality. This is the second time I have purchased from Felinfach and again the package arrived quickly even though I am in Canada. Again, lovely quality and such a pleasure to have something so unique. Diolch yn fawr eto! 
Garreg Ddu 
" Have been looking for a while for a traditional Welsh Tapestry piece and this is perfect. I like the fact in came in its own linen bag which can be used to store it and this particular colour combination means it is versatile so can be used in a variety of places in my home to enhance the furnishings.  Would give 10 stars if I could".
Once again, thank you for your support - it is very much appreciated.
My best wishes to you - Take Care and Stay Safe
Karen
​ Founder and Owner
FelinFach Natural Textiles
A beautiful new online collection of audio stories suitable for children from Beyond the Border 
---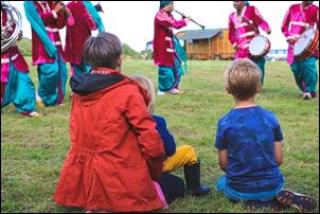 £11.95 for one year's subscription
We're really excited to announce Beyond Storytime - a way of providing families everywhere with beautifully told stories in their own homes.  It is a small taste of the children's part of our wonderful festival, available all the time, wherever in the world you live.

This online collection has nearly 20 audio stories told for English speakers and carefully chosen for us by our entertaining storytellers, to be suitable for children.  More stories will be added later so Beyond Storytime becomes a collection of treasured tales that grows and grows.  There is a handful of stories in Welsh as well.

For just £11.95 (less than £1 a month) you can subscribe to the service for a whole year.  Find out more, listen to some extracts, subscribe to the site for yourself or buy a gift subscription by visiting www.beyondstorytime.com .