An Interview With Proprietors
Jamie and Sheena Corry
---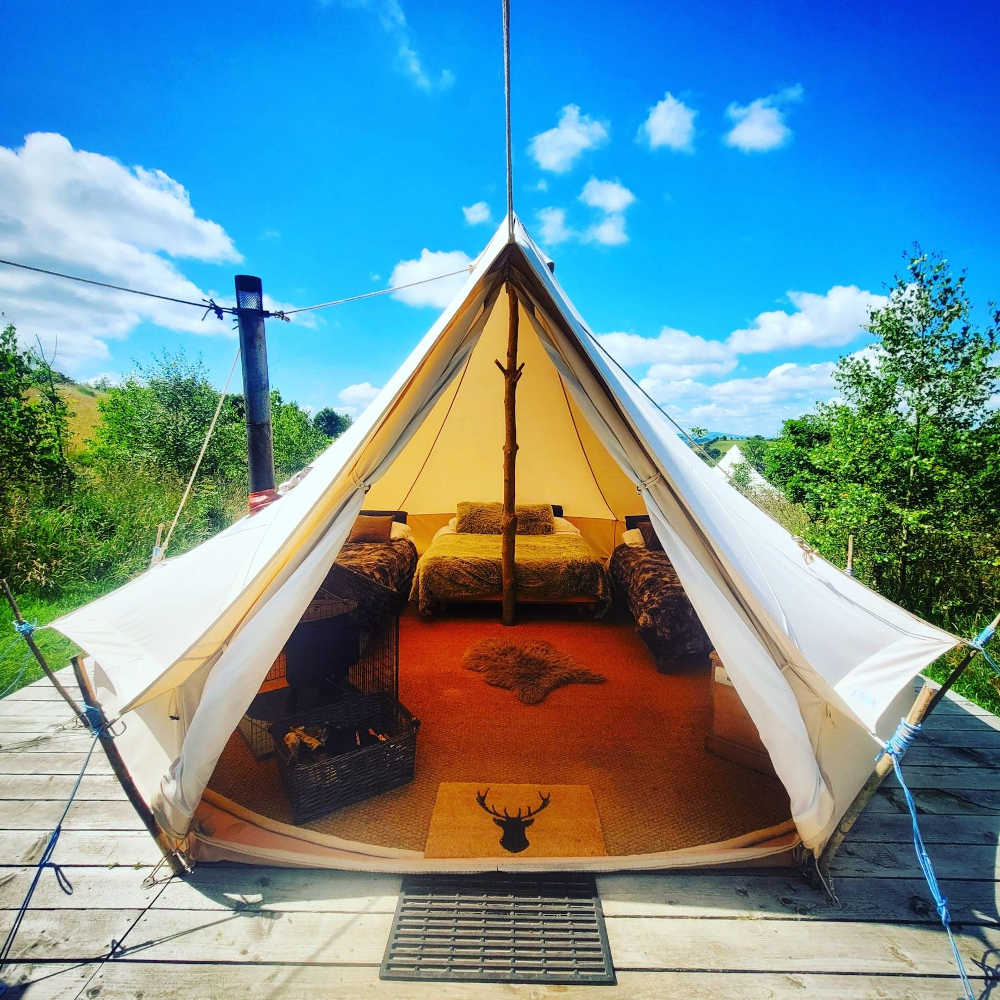 ---
AmeriCymru:  Hi Jamie and Sheena and many thanks for agreeing to this interview. How would you describe The Forge in a few words?
The Forge is an off-grid glamping retreat venue based just outside Corwen, in Denbighshire, North Wales. 
AmeriCymru:  When did you begin working on The Forge project and what inspired you?
AmeriCymru:  Our idea for The Forge was hatched over 15 years ago when Jamie and I first got together and had this dream to find somewhere where we could raise our children, grow all our own food and run courses in sustainable living. It took us a long time of working hard, saving all our money and searching for just the right place. In the summer of 2014 we eventually found it when I was heavily pregnant with my second child. It took us another couple of years to get everything in place and we eventually launched The Forge in the spring of 2018.
AmeriCymru:  What accommodation does the venue offer and how would one go about booking?
We have five large luxury bell tents which can sleep up to 20 people, plus a vintage gypsy caravan which can sleep a further two adults. We can also put up extra tents and guests are welcome to bring their own tents and campervans if they are booking out the whole site. When we first started out we mainly focused on individual bookings for as little as one night at a time. As time has gone on however, we discovered that people have a much richer and more immersive experience when they come to stay on one of our retreats, or when they hire out the whole place with other families or groups of friends and get involved in some of the activities we have on offer here on site. These include fire lighting, axe throwing, bread making and wild food foraging. We take most of our bookings online, although we do have a very high number of repeat customers. It seems that once people have been to The Forge once, they can't wait to come back and stay again!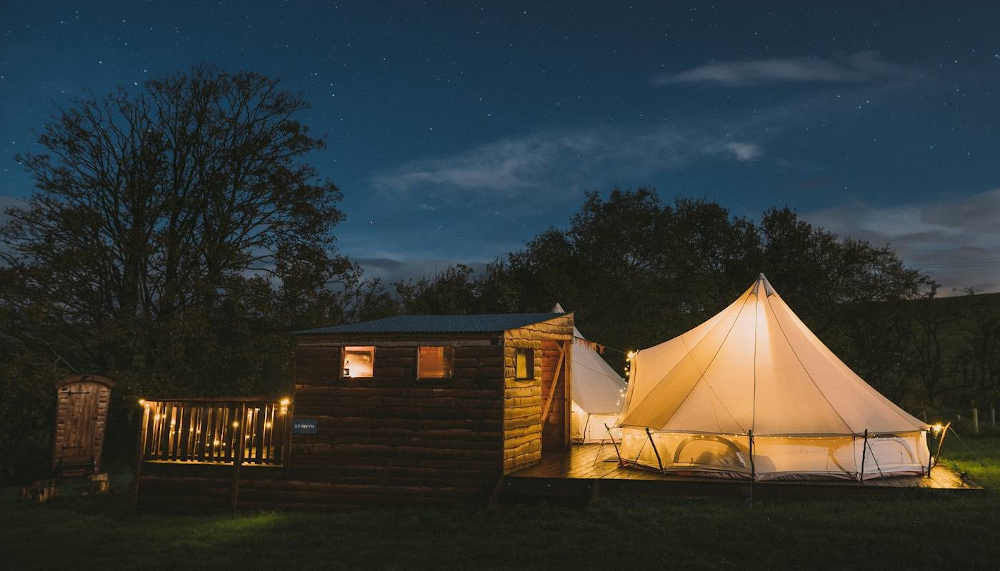 AmeriCymru:  You also feature a vintage gypsy caravan amongst your accommodation options. Care to tell us more?
We bought our much loved bow top caravan from a very good friend of ours who is a member of the travelling community here in North Wales. The caravan has been lived in by a traveller family and has even been to Appleby, the UK's most well-known annual gypsy gathering. There is very ornate painting and inscriptions on the side, which features a 'WB', as we are told that our caravan was originally built for William Boswell, a very prominent member of the Gypsy community. You can find out more about the secret history of our gypsy caravan here: Gypsy Caravan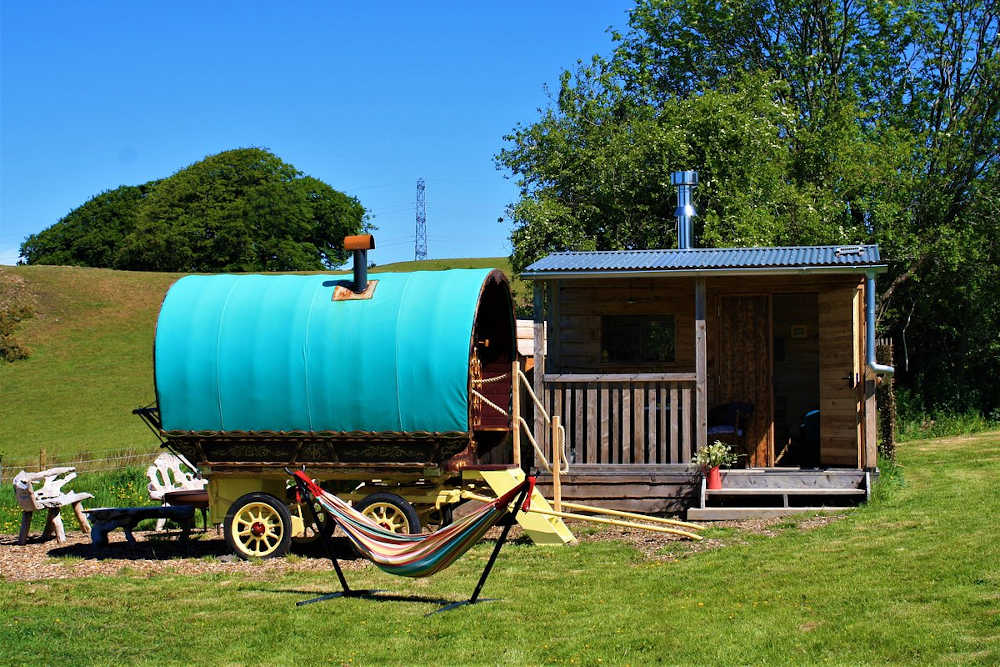 AmeriCymru:  You are both passionate about rewilding. Care to describe your efforts in that direction? How many trees have been planted?  
After studying Biology at university, Jamie started out his career working for the Loch Lomond and Trossachs National Park in Scotland and from there with the Hampshire and Isle of Wight Wildlife Trust in the south of England. Through his conservation work he became fascinated by the positive impact on wildlife and biodiversity of restoring habitats to their original state. Having grown up on a small holding in North Wales, Sheena too always had a very strong connection to the land, which has deepened as she has become a passionate trail runner and wild swimmer in remote parts of the country. When we bought our piece of land one of the first things we did was seek a grant for us to plant 3000 trees. These trees were only knee high when we planted them in 2017 and are now towering above us. We'll be planting another 600 this week as we continue to increase the amount of woodland we have here. It has been incredibly rewarding to see the different species coming back to our land. We have a family of barn owls who have successfully raised two broods of chicks and happily live alongside us. Our wildflower meadow is becoming more abundant each year and we've seen lots of rare butterflies and birds since we arrived, including spotted fly catchers, reed buntings and goldcrests.
AmeriCymru:  What activities can guests at The Forge expect to enjoy?
We have so much to offer here at The Forge, whether you are keen to try wild swimming retreat, would like to make your own bow and arrows, or would simply like to relax in a hammock by the campfire. We have some great walking directly from our door, and lots of fantastic partner organisations nearby who can offer everything from white water rafting to husky dog sledding. We run lots of different retreats throughout the year, both ourselves and through other companies who hire our place. We work with lots of yoga and Pilates businesses who combine core strength with meditation and mindfulness, and this year we are thrilled to be welcoming two experienced leaders from the Jivaka Wellness Center in Elkins, West Virginia to The Forge to run a Sensory Retreat. This won't be the first time we have welcomed experts from the US to The Forge. In April 2019 we were lucky enough to have Sara Bir from Marietta, Ohio run a foraging course for us as part of her UK book launch tour.
AmeriCymru:  What catering arrangements do you offer?
All our tents come with a very well equipped camp kitchen so guests can create their own outdoor feasts, either over a gas hob, or ideally over the campfire if they are feeling adventurous. Our large cabin has a big catering kitchen which we use for our retreats, plus we have a Big Green Egg barbecue which is ideal when we rent out the whole site to large groups of friends and families. We can also provide catering if people are not that up for cooking themselves: we have two woodfired pizza ovens, we can provide barbecues, and we can also spit roast venison, pork or lamb. On occasion we have also cooked for groups using an underground pit oven, or 'hangi'.
AmeriCymru:  You also publish a lively blog about the venue. Care to tell us some of the highlights?
Before we set up The Forge I started writing a blog called Cockerels and Dreams (a riff on Cocktails and Dreams for any of you old enough to remember the 1988  Tom Cruise film!)  Cockerels and Dreams . This was really a way of staying sane while I negotiated the delights of two children under three, a field full of farm animals and trying to launch a new business. Once The Forge was up and running I started a new blog which was more around helping people to understand the difference between camping and glamping and to highlight the activities we have on offer here. There is probably a disproportionate focus on wild swimming and wild food – my two big passions!
AmeriCymru:  What's next for The Forge? Any new developments in the works?
We are just about to launch our newly designed website which will focus much more on running retreats ourselves and with partner businesses. I've got lots of ideas about doing more work with people suffering from burnout as I believe this is the true epidemic of our age and not enough is being done about it. Having had a corporate career in the City for 20 years, I can empathise with what a lot of people are going through, stuck in demanding, all-consuming jobs, whilst also trying to balance family and caring commitments and increasing financial pressures. What we have to offer here at The Forge can provide the perfect antidote to this pressure and give people the time out they need to address the symptoms and causes of their burnout to try and break the overwhelming patterns of behaviour. I'm also really excited about expanding our wild swimming courses so that we can start to offer qualifications as part of certified programmes, plus we've got plans to potentially open up our site to small, rural weddings. Lots of ideas and never enough time!
AmeriCymru:  Any final message for the readers and members of AmeriCymru?
If any of you are ever in the North Wales area, please do pop in and say hi! We love welcoming people from all over the world and I have a particularly soft spot for the US, having worked in Chicago and Houston on and off for over 12 years. My dad's best friend was also a well-known Welsh character who ran a sheep farm in Burlington, Vermont and hosted his own radio station (which specialised in Scottish reel music!) there for many years in the late 1970s and early 80s. If anyone knows of Tony Turner then please get in touch! 
Sheena Corry
---

Website:       https://theforgecorwen.co.uk/
Facebook:    @theforgecorwen
Twitter:        @ForgeCorwen
Instagram:    @theforgecorwen