'Hyll' release debut album 'Sŵn o'r Stafell Arall' via Jigcal Records

2023-08-01
By: Ceri Shaw
Posted in: Music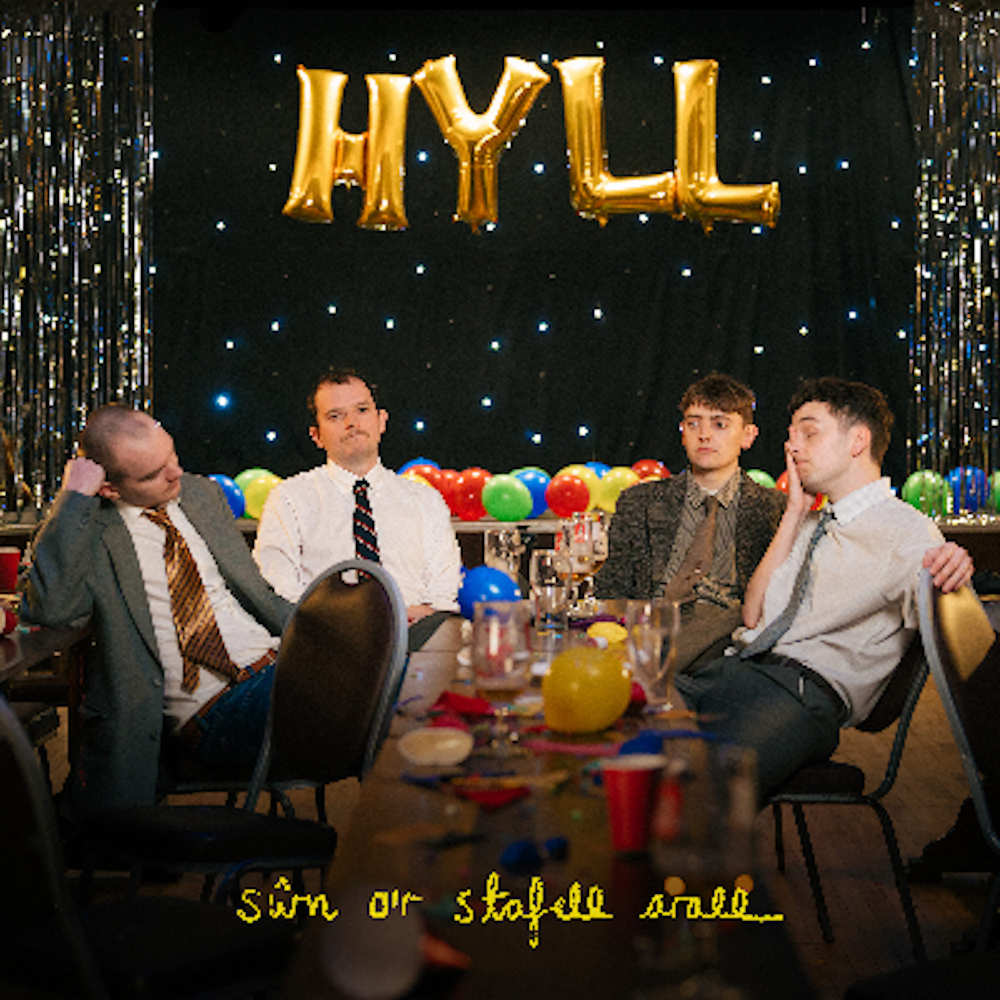 ---
Hyll i ryddhau eu halbwm cyntaf 'Sŵn o'r Stafell Arall' ddydd Gwener 28 Gorffennaf ar Recordiau JigCal.
Ers ffurfio yn 2016, mae Hyll wedi ennill calonnau nifer iawn o Gymry gyda'u caneuon unigryw a'u geiriau ffraeth am gymeriadau eu tref enedigol, Caerdydd.
Eglura'r band: "Mae'n deg i ddweud bod amser yn themâu cryf i'r straeon sy'n cael eu hadrodd ar yr albwm, y limbo dryslyd rhwng eich arddegau a thyfu lan i fod yn oedolyn."
Wedi iddynt arbrofi gyda synau gwahanol ar eu EP 'Mymryn' (2021), mae'r pedwarawd yn mynd yn ôl i'w gwreiddiau indi ar yr albwm, ac yn dilyn sŵn tebyg i'w senglau diweddar 'Hanner Marathon' a 'Mike'. Yn gasgliad o ddeg trac, mae'r albwm yn amlygu dylanwadau cerddorol y band sy'n cynnwys Nick Cave, Dinosaur Jr, Pavement, Soccer Mommy a'r Pixies yn ogystal â'r awduron Walt Whitman a Virginia Woolf.
Mae 'Sŵn o'r Stafell Arall' allan ddydd Gwener 28ain o Orffennaf, lle bydd Hyll yn lansio'r LP yn Clwb Ifor Bach ar yr un noson. Bydd cyfle hefyd i weld Iwan, Owain, Jac a Gruff yn perfformio yng ngŵyl The Green Man (Rising Stage) ar Awst 20fed.
---
Since forming in 2016, Hyll have won the hearts of many with their unique songwriting and witty lyrics about the characters of their hometown, Cardiff.
The band explains: "It's fair to say that time is a strong theme on the album, the confusing limbo between being a teenager and growing up to be an adult."
After experimenting with different sounds on their 2021 EP 'Mymryn', the quartet go back to their indie roots on the album, and follows a similar sound to their recent singles 'Hanner Marathon' and 'Mike'. The album is a collection of ten tracks, and highlights the band's musical influences including Nick Cave, Dinosaur Jr, Pavement, Soccer Mommy and the Pixies, as well as writers Walt Whitman and Virginia Woolf.
'Sŵn o'r Stafell Arall' is out this Friday 28th of July, where Hyll will be launching the LP at Clwb Ifor Bach on the same night. Iwan, Owain, Jac and Gruff will also be performing at The Green Man festival (Rising Stage) on August 20th.


Sŵn o'r Stafell Arall
Tracklisting

01. Bore Dydd Gwener
02. Hanner Marathon
03. Coridor
04. Mewn Cariad
05. Mike
06. North Parade
07. Yr Unig Ffordd Mewn i'r Pwll Yw Neidio
08. Na
09. Galar
10. Weekender Forever