Tom Emlyn shares detective video for new single 'Like a Cigarette'

2023-03-29
By: Ceri Shaw
Posted in: Music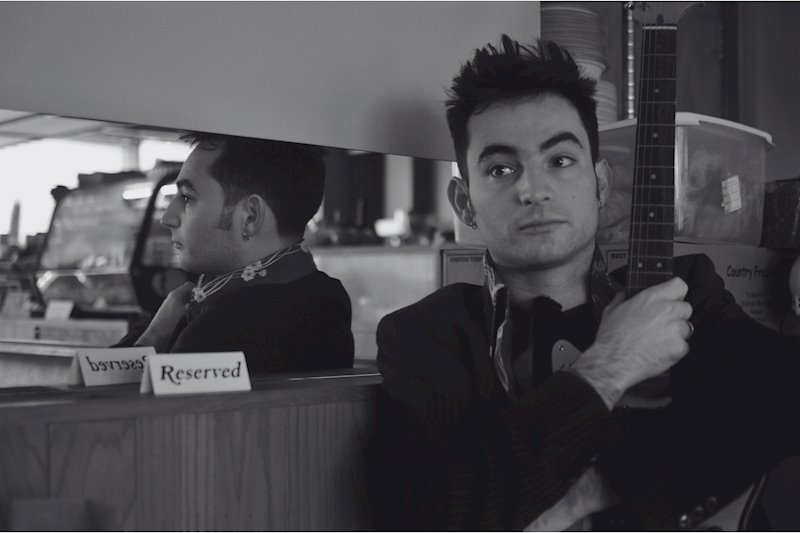 ---
Tom Emlyn returns with 'Like a Cigarette' on the 24th of March, the first of a trio of new singles building up to the release of an archive album Return Journey Revisited: Scaredycat Vol.1 on the 5th of May 2023.
---
---
Swansea born songwriter  Tom Emlyn  vividly depicts why he is one of the most prolific and inventive songwriters emerging songwriters in Wales, with his new album  'Return Journey Revisited: Scaredycat Vol 1 ' recorded at BBC studios in 2018 and mastered by Charlie Francis ( R.E.M., Pixies ). The album is a peek inside his treasure trove of recordings dating back to 2017 and 2018, with songs showing the sheer scope of his songwriting talent.
Built upon a cyclical strum and raw vocals recorded live in one performance, Emlyn's new single ' Like a Cigarette ' released on the 24th of March, poetically sketches out the scene as he spends his days busking outside a café in Frankfurt, shot through with the corrosive power of imagery, and acts as a living and breathing earworm that charts his travels around Europe and Germany in 2017.
Tom Emlyn says:  "I ran out of money on something like the second day of the trip, so didn't have the opportunity to be lazy and had to rely on busking for survival, which turned out to be amazing practice and one of the best things I've done. I was watching people smoking and drinking and wondering why people smoke. I started thinking about advertising and the seductive power of images. Images which are far removed from the rhythm of everyday life and the monologues of our interior minds eyes. Images which are ultimately disposable, carcinogenic and affect the way we treat other people."

Tom Emlyn crafts honest, swirling evocative songs; tall tales and dark jokes that cut straight to the bone. His current solo work maps an alternative Southwalian landscape, a hallucinated community drawn from psychogeography and local history. Written on foot and by bus, his observational, poetic lyrics and simple 60s-folk influenced melodies explore what it means to belong to a place - the bitterness, the love, and the humour. Compared to songwriters like  Bob Dylan  and  Elliot Smith , Tom Emlyn's captivating songs explore the particularity and peculiarity of human experience in a unique way. His sound, while rooted in garage rock, is tinged with psychedelia, folk, jazz, and blues overtones - including a recent adoption of the harmonica as a lead instrument.
In summer 2022, Tom released his debut solo album 'News From Nowhere', a bittersweet love letter to his hometown of Swansea, described by Adam Walton (BBC Radio Wales) as a record of  "undoubted brilliance, eloquence and energy" . It has been positively received, with airplay and support from Radio Wales, BBC Horizons, R.E.P.E.A.T. fanzine, God Is In The TV, and Joyzine, among others. Tom's second album ' I've Seen You In Town'  followed hot on the heels of the first - a more mellow, acoustic affair which was also well received. He also released the  'Scounger EP'  on bandcamp this February. He is currently promoting these records with intimately explosive solo and band performances across Wales and beyond, with a string of releases planned for 2023.
Tom Emlyn's new single 'Like a Cigarette' is released on the 24th of March - the first of three singles released through March and April leading up to the album 'Return Journey Revisited: Scaredycat Vol 1' released on the 5th of May 2023.