Georgia Ruth - Week of Pines 10 Year Anniversary Edition. Out 01.03.23. PRE-ORDER NOW

2022-12-09
By: Ceri Shaw
Posted in: Music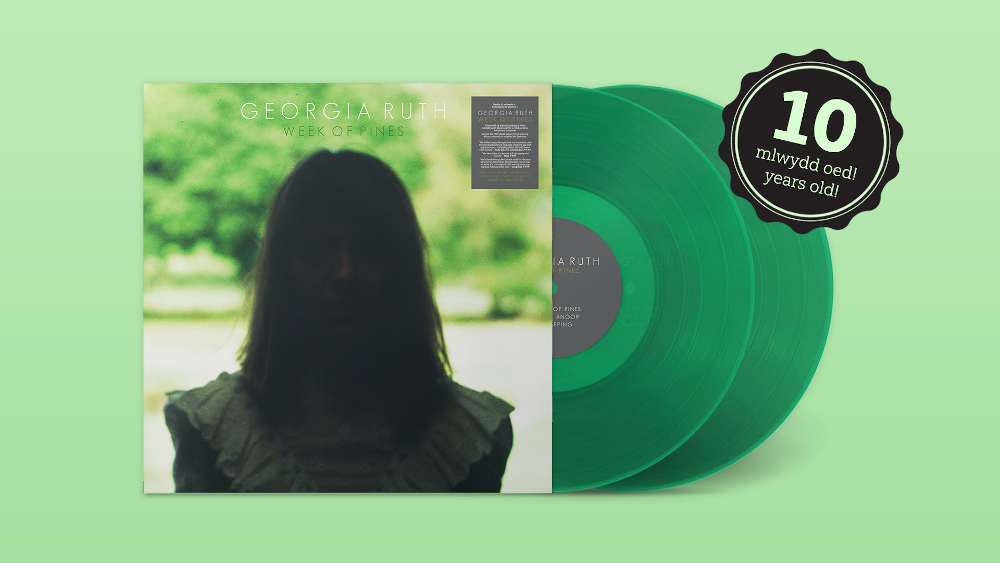 Georgia Ruth - Week of Pines  Dathlu 10 mlynedd! Allan 01/03/2023. Rhag-Archebwch nawr!
---
Ailymweld ag albwm buddugol y Wobr Gerddoriaeth Gymreig 2013, a ryddhawyd ar feinyl am y tro cyntaf.
"Mae 'Week of Pines' yn albwm am hapusrwydd. A dod adre. Ac ail ennill pethau y credwyd eu bod wedi mynd ar goll. A gras ar ôl gwneud camsyniadau: mae'r elfen o faddeuant a thawelwch wedi bod yn rhan annatod o'r record yma."
Cafodd yr albwm ei recordio a'i chynhyrchu gan David Wrench dros chwe diwrnod mis Awst diwethaf yn stiwdio Bryn Derwen yn Eryri. Mae ei band yn cynnwys aelodau o'r grwp Cowbois Rhos Botwnnog ac mae'r albwm yn cynnwys cyfraniad arbennig gan Lleuwen Steffan.
Georgia Ruth 'Week Of Pines' PRE-ORDER


Georgia Ruth - Week of Pines
10 Year Anniversary Edition. Out 01.03.23. PRE-ORDER NOW
---
Revisit the 2013 Welsh Music Prize's winning album, released on vinyl for the first time. 2xLP Heavyweight Transparent Green Vinyl in a Gatefold Sleeve.
"Week of Pines is a record about joyfulness, and coming home. And reclaiming things presumed gone. And grace, after making mistakes, that element of forgiveness and calm has been integral to this record."
The album was recorded and produced by David Wrench over six days last August at Snowdonia's Bryn Derwen studios. Her band features members of acclaimed country-folk outfit Cowbois Rhos Botwnnog and, for the album, includes a very special contribution from Lleuwen Steffan.
"The Welsh harpist Georgia Ruth is a rare talent, able to transcend borders of language, style and age with apparent ease ... A dazzling debut, rich with sweet pain and joy."
 - Andy Gill, The Independent ****
"Her own debut is a wonder, full of longing and melody." -  Mojo ****

"while Sandy Denny, Bert Jansch and Van Morrison all linger on the horizon, Georgia Ruth comes over as more of a true original than most of the young hopefuls roaming these isles"   - Songlines ****


Georgia Ruth 'Week Of Pines' PRE-ORDER