New music from Paul Hazel & Jeremy Gluck

2022-11-18
By: Ceri Shaw
Posted in: Music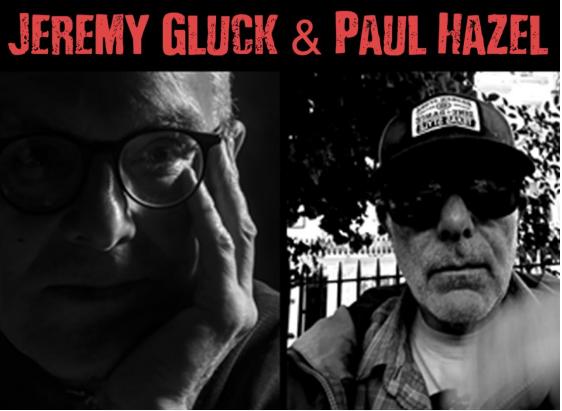 ---
"What Jeremy Gluck has brought and continues to bring to music is what nobody else can bring, i.e. lyrical innovation and artistic integrity that goes far beyond the constraints of a business model." Brendon Moeller (Beat Pharmacy, Echologist)

Released in the wake of their debut collaboration on Plan for a Performance for Gluck's album The Self , and the subsequent SWND single Love/I Left the Left Page Blank, their new single The Benefactor is both intense and uncompromising, comprising one eleven-minute spoken word ambient electronic soundscape that builds to a juddering climax. This powerful new work cements a working relationship between Gluck and Hazel that sees the release of a full album early in 2023.

Lead singer of cult surf-punk band The Barracudas - the subject shortly of a 3CD retrospective on Cherry Red Records - Jeremy Gluck as a solo artist has had songs covered by artists including Lydia Lunch and Rowland S. Howard (The Birthday Party, Crime and the City Solution, These Immortal Souls), and Nikki Sudden (Swell Maps), with whom two latter artists in 1987 he recorded the first supergroup alt.country album, 'I Knew Buffalo Bill' .
Currently a recording artist, NFT artist, spoken word artist, and prolific electronic music and video art collaborator, Gluck continues his journey into experimental electronica...
Paul Hazel has had many releases on labels such as Rising High, Rotation, Inspiral, 2Kool, Masters At Work, Welsh Modular Alliance, and SWND. He has composed and produced the music for a number of commercial films and TV programmes and exhibited several short films of his own in Japan, Venice, and at several galleries across Wales.
The video for The Benefactor is a generative art piece created by American live coder Northwoods (Charlie Kramer), with whom Gluck and Hazel have collaborated before. Taking the audio and text and feeding it into software to algorithmically trigger imagery, an otherworldly 'scape emerges evoking The Benefactor in binary, mind and spirit.
---
LINKS

https://bambooradical.bandcamp.com/

https://www.facebook.com/JeremyGluckArt

https://www.facebook.com/paul.hazel.31/

https://twitter.com/nonceptualism

https://objkt.com/profile/tz2JPVuwvUZyq1LyFwNz2ghXbJ62pQ1rd9f2/activity