TACSIDERMI - SENGL NEWYDD 'BLE PIERRE' ALLAN 13 AWST AR RECORDIAU LIBERTINO // TACSIDERMI - NEW SINGLE 'BLE PIERRE' OUT 13 AUGUST ON LIBERTINO RECORDS

2021-08-11
By: Ceri Shaw
Posted in: Music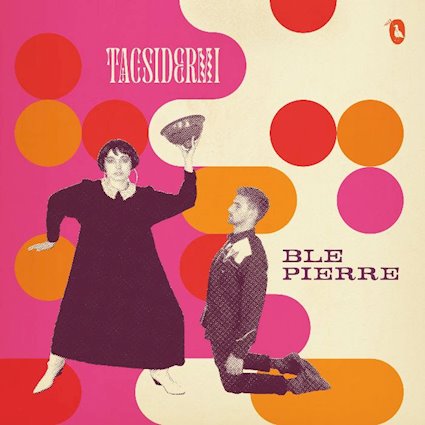 Mae Tacsidermi yn ôl, ac O! Ry'n ni wedi'u colli nhw! Tacsidermi yw Gwenllian Anthony o enillwyr Y Wobr Gerddoriaeth Gymreig - Adwaith a'r aml-offerynnwr Matthew Kilgariff - gyda'i gilydd maent wedi creu cân bop ysblennydd - 'Ble Pierre'. Mae pob nodyn wedi'u chwarae â phŵer ac yn atseinio hafau di-hid a rhamantus.

Mae Tacsidermi gyda chefnogaeth David Newington (Boy Azooga) ar y drymiau a chymysgu Matthew Evans (KEYS) wedi creu priodas berffaith rhwng Jane Birkin / Pop 60au Ffrengig Serge Gainsbourg, cerddoriaeth freuddwydiol y 90au gan Stereolab, The Happy Mondays a churiad calon Balearic.

Gyda llais hyfryd Gwenllian wedi'i ganoli yng nghanol y cymysgiad, mae'r gwrandäwr unwaith eto, yn cael ei swyno gan Tacsidermi!
---

Tacsidermi are back and how we have missed them! Gwenllian Anthony from the 'Welsh Music Prize' winning band Adwaith and multi instrumentalist Matthew Kilgariff have crafted a sublime pop song in 'Ble Pierre'. Every note played is powerfully evocative of never-ending, carefree summers and romantic escape and wonder.

Tacsidermi with the support of David Newington (Boy Azooga) on drums and mixing by Matthew Evans (KEYS) find a perfect marriage of Jane Birkin / Serge Gainsbourg 60s French pop, Stereolab's 90s dreaminess and The Happy Mondays, Paul Oakenfold infused Balearic heartbeat.

With Gwenllian's beautiful restrained vocal delivery set at the centre of the mix the listener falls yet again under Tacsidermi's spell!


Tacsidermi Online Links

https://twitter.com/tacsidermi?lang=en
https://www.instagram.com/tacsidermi/?hl=en
https://www.libertinorecords.com/
http://www.pyst.cymru/?lang=en