LOS BLANCOS - EP NEWYDD 'DETHOLIAD O GANEUON TRADDODIADOL CYMREIG' ALLAN NAWR / EP 'DETHOLIAD O GANEUON TRADDODIADOL CYMREIG' OUT NOW ON LIBERTINO

2021-08-09
By: Ceri Shaw
Posted in: Music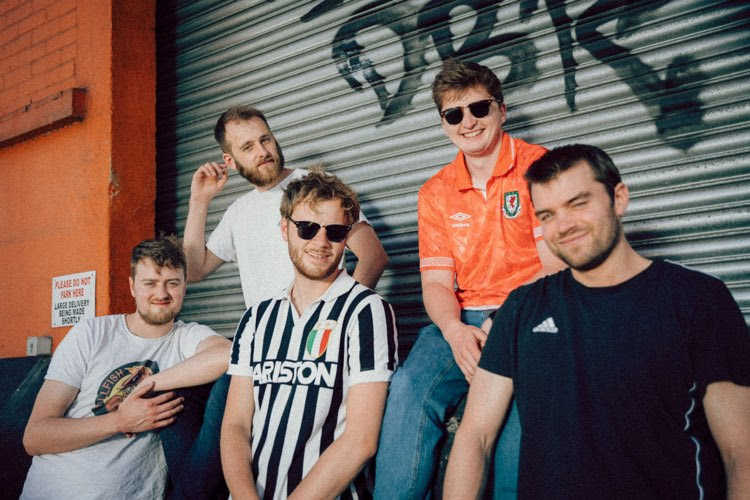 Beth am glywed am y broses o ysgrifennu a chreu EP newydd Los Blancos'Detholiad o Ganeuon Traddodiadol Cymreig' gan y band ei hun:
"Yn ystod y cyfnod clo, wrth aros i fynd nôl i'r stiwdio i orffen ein 2il albwm, aeth pawb nôl trwy hen demos oedd wedi casglu dros y blynydde dwetha, a'u rhoi mewn un ffeil ar dropbox. Odd rhyw 40 o syniade yna felly gatho ni y syniad o ryddhau casgliad yn cynnwys un cyfansoddiad gan bob aelod tra bod ni'n aros i gallu fynd nôl i'r stiwdio.
Mae hyn wedi arwain at EP amrywiol ac mae modd gweld dylanwad pob aelod yn gliriach a sut maent yn cyfrannu at sŵn Los Blancos. Odd hyn yn wahanol i'r band achos ni fel arfer yn ysgrifennu gyda'n gilydd mewn ystafell ymarfer gyda pawb yn dylanwadu mewn rhyw ffordd ar bob can."
'Detholiad o Ganeuon Traddodiadol Cymreig' yw deunydd cyntaf y band ar ôl rhyddhau eu halbym 'Sbwriel Gwyn' a gafodd ei nomineiddio ar gyfer Y Wobr Gerddoriaeth Gymreig. Recordiwyd yr EP gan y band yn eu cartrefi a chymysgwyd y cyfan gan eu cynhyrchydd hirhoedlog Kris Jenkins. Mae'r EP yn amrwd, yn llawn angerdd ac yn llawn melodïau heintus Los Blancos.
Rhestr Traciau / Track Listing

100 AD (ysgrifennwyd gan / written by Osian)
Diogi (ysgrifennwyd gan / written by Emyr)
Mil o Eirie (ysgrifennwyd gan / written by Gwyn)
Noi Vogliamo (ysgrifennwyd gan/written by Cian)
Trwmgwsg Tragwyddol (ysgrifennwyd gan / written by Dewi
---
Let's hear the story of the writing and making of Los Blancos new EP 'Detholiad o Ganeuon Traddodiadol Cymreig' from the band themselves:
"During lockdown, while waiting to go back to the studio to finish the second album, everyone went back through old demos that we had been collecting over the last few years, and put them into a dropbox file. We had about 40 ideas, so we had an idea of releasing them as a collection which included one composition by every band member.
This has lead to a very mixed EP and you can see each members influences clearly that create Los Blancos' sound. This was a different process for the band because we usually write together in a practice room with everyone influencing on the song in their own way. "
'Detholiad o Ganeuon Traddodiadol Cymreig' is the band's first material after the success of their Welsh Music Prize nominated debut album 'Sbwriel Gwyn'. The EP was recorded by the band in their homes and mixed by their long time producer Kris Jenkins. It's raw, impassioned and full of Los Blancos' infectious melodies and personality.
Rhestr Traciau / Track Listing

100 AD (ysgrifennwyd gan / written by Osian)
Diogi (ysgrifennwyd gan / written by Emyr)
Mil o Eirie (ysgrifennwyd gan / written by Gwyn)
Noi Vogliamo (ysgrifennwyd gan/written by Cian)
Trwmgwsg Tragwyddol (ysgrifennwyd gan / written by Dewi