Quiet Marauder Feat. Kadesha Drija - 'Let's Run Into The Flames Together' Single | Out Friday 19.03.21

2021-03-18
By: Ceri Shaw
Posted in: Music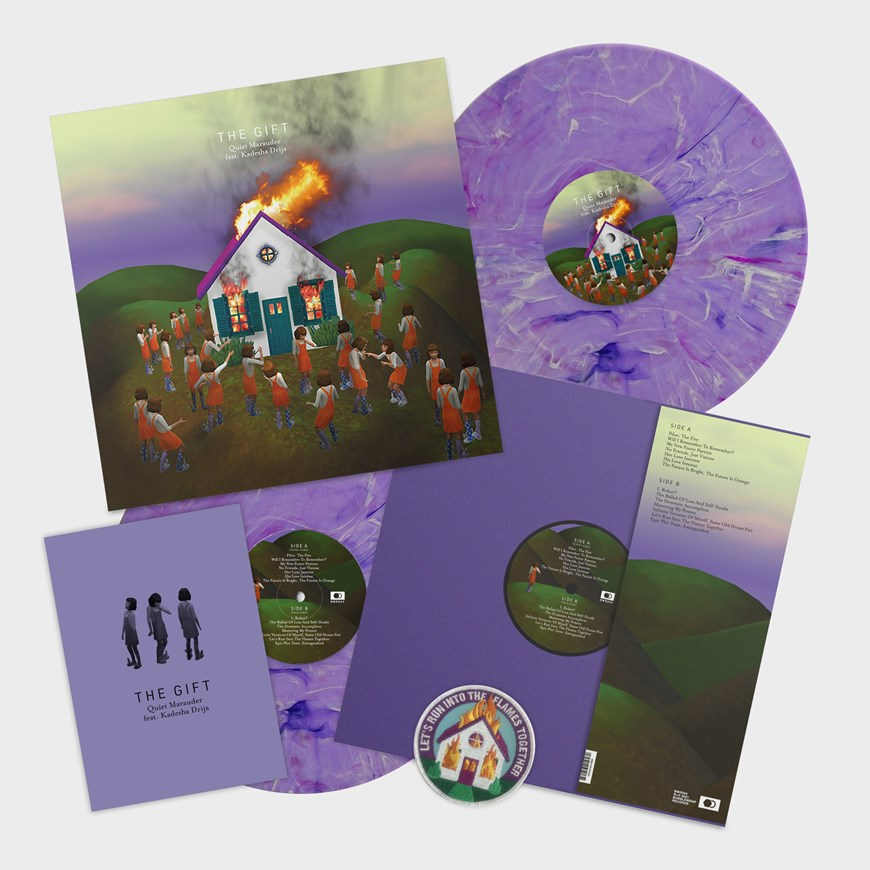 ---
Following swiftly on from last year's Tiny Men Parts EP, Quiet Marauder re-enter the sonic fray with their latest Bubblewrap Collective long-player, The Gift, on 9th April 2021. Taking a strong divergence from the bombastic pop-punk of its predecessor, The Gift sees backing vocalist Kadesha Drija step to the foreground for the majority of the album, standing afront a richly crafted, multi-instrumental acoustic-folk backdrop.
Recorded pre-pandemic, January 2020, in The Burning Hell's (Canada) pop-up Snowbird Studios, aka an art deco villa in Riofreddo, near Rome (Italy), this release marks another chapter in the ongoing international collaboration between the bands. For this album, Quiet Marauder's (Wales) contributions of acoustic guitar, bass, trumpet and layered lead and backing vocals are granted further textural depth from their Canadian counterparts. These include minimalist harmonic splashes of flute, piano, organ (Jake Nicoll), electric guitar, bouzouki (Darren Browne) and bass clarinet (Ariel Sharratt).
Returning to the conceptual songwriting approach of previous releases MEN and The Crack And What It Meant, The Gift charts the narrative of a troubled teenage girl (Willow) haunted by visions of a mysterious house fire. Willow's path is traced through well-meaning foster parents, teenage love interests, time-bending superpowers, distrust of domestic appliances and, ultimately, her own memories; covering themes of self-identity and the fallibility of human recall. Though the album marks a more overtly serious tone for the band, the sensitive subject matter is delicately handled through their trademark low-key, observational and, sometimes, darkly humorous lyrics.
The Gift will mark the second Quiet Marauder vinyl release via Bubblewrap Collective and will come on a heavyweight 180gm, purple marble 12-inch adorned within bespoke, Sims-based artwork designed by Carlota Nobrega. Each vinyl also comes with a lyric fold-out and sew-on 'house fire' patch. Alongside the vinyl release, The Gift will also be available to stream and download via all standard digital retailers and streaming services.


'The Gift' Tracklisting
1. Pilot: The Fire
2. Will I Remember To Remember?
3. My New Foster Parents
4. No Friends, Just Visions
5. Her Love Interest
6. His Love Interest
7. The Future Is Bright, The Future Is Orange 8. I, Robots
9. The Ballad Of Loss And Self-Doubt
10. The Domestic Accomplices
11. Mastering My Powers
12. Infinite Versions Of Myself, Same Old House Fire
13. Let's Run Into The Flames Together
14. Epic Plot Twist: Extinguished
---