Dydd Miwsig Cymru 2019 - Playlist Of The Day

2019-01-31
By: Ceri Shaw
Posted in: Music
Dydd Miwsig Cymru Playlist - Cyn Mynd Mas - Prinks, Welsh Playlist Cymraeg
Check back tomorrow for a new playlist. You will need a Spotify account to play this content.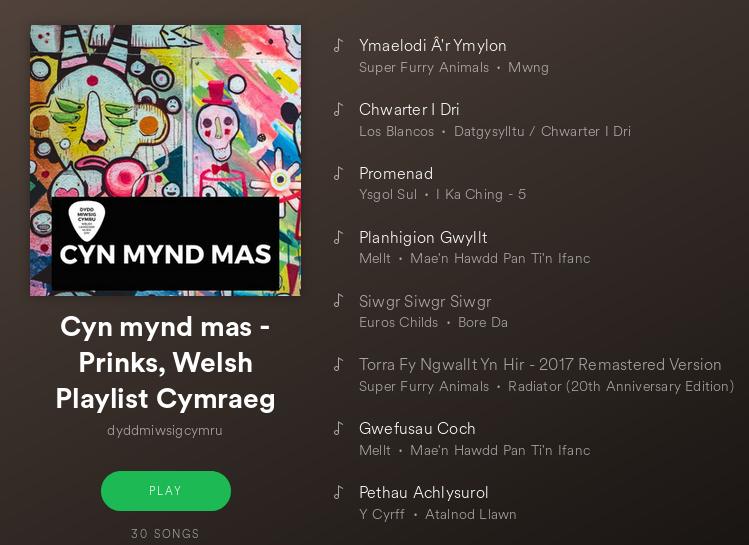 ---
Dydd Miwsig Cymru is on February 8th this year. Here on AmeriCymru we are not waiting for the big day. As part of our campaign to support this event and make it the biggest online musical happening of 2019 we will be posting a new playlist every day between now and the 8th. Listen to our today's playlist above.  Feel free to re post and share.

Above all...spread the word!!!

Lets give these artists and musicians the recognition they deserve. Show your friends (and the world) what a wealth of extraordinary musical talent we have in Wales. There are ideas, suggestions and playlists on the official Dydd Miwsig Cymru site to help you out.

Prefer to make your own YouTube playlist? It's easy! There are full instructions here:- Make Playlist
Want to embed your playlist on your site or blog? Again....no problem! Go here for full instructions:-  Embed Playlist
Whatever you decide to do between now and the 8th; whether you participate or simply sample the wealth of musical delights on offer....enjoy/mwynhewch!

...
---
Dydd Miwsig Cymru - The Biggest Online Musical Event Of 2019?


Ideas And Suggestions Here
---