The Power & Glory of Welsh Male Voice Choir Singing - An Interview With Author Stuart Street

2018-12-21
By: Ceri Shaw
Posted in: Music
---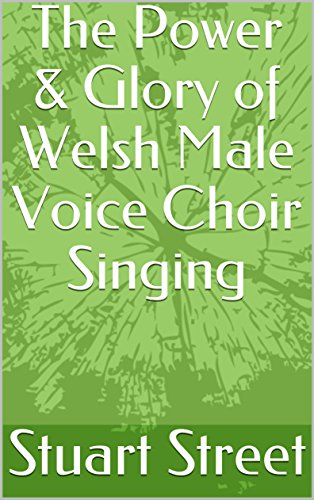 AmeriCymru: Hi Stuart and many thanks for agreeing to this interview. What can you tell us about your book The Power & Glory of Welsh Male Voice Choir Singing?
Stuart: The Welsh male voice choir book is simply an overview of the history of men's choirs in the South Wales area, from the past to the present day.

It explores what is happening when you join a men's choir and what to expect.
AmeriCymru: When did you first become interested in Welsh Male Voice Choirs?
Stuart:  I was told about male voice choirs when I joined my first choir at 16 years of age. My first job was to be the choir guest accompanist for Cor Meibion Morlais at the age of 16. I missed their tour of Canada. I couldn't go as I couldn't afford it and didn't know the repertoire but I soon became known as a good musician by pupils from Ferndale Community School when I was known to play the piano for the choir of Ferndale Community School / Maerdy.
There was also a family history of my grandfather singing in Welsh male voice choirs and I got him back into singing again after a long spell of absence since Ferndale Male Voice Choir fell apart around 1989.
AmeriCymru: Why, historically, do you think that choirs became such a central part of Welsh social and cultural life?
Stuart:  Men's choirs need to keep on attracting students in schools and doing creative projects and events.
All choristers must remain positive and not sit on their bottoms and do nothing all day. Every human must try and make an effort by giving up their time to bring something to young men to come in. They can't go to a coal mine now to work and say "hey mate do you fancy coming for a drink with me after" and have a sing song and something to do and also keep you company.
They have to forget all that and having music marketing in mind and offer digital products and more and more networking live music events wherever they can travel globally.
When there are no youngsters we won't have male choirs. They can't ask young people to pay if they are unemployed. Wherever you're from.

If more choirs were thinking of that psychological strategy more and more young men wouldn't be isolated and would actually get out more and learn more about life exactly as I did.
AmeriCymru: Do you have any favourites? Any choirs whose achievements and current standards merit a special mention?
Stuart:  Pendyrus Choir are currently outstanding. At the moment their sound is as good as I've ever heard them before. I don't want to give an opinion on certain songs that hit me whenever I hear a male voice choir because wherever you are depends on the venue. I have emotion and some people don't when they listen to or play music.
I'll leave that opinion up to you.
AmeriCymru: Do you think that the future of the Welsh choral tradition is assured? The rate of recruitment of younger members is declining. Is anything being done to reverse this trend?
Stuart:  No I disagree, with this opinion, I actually feel younger members have a big role to play in men's choirs and we are seeing more young singers entering men's choir not just in Wales but over in England too. I think young men just want to just do something different now. They want to distract themselves from the women if they can afford it. The reason why, if any, young men are not in men's choirs is because they can't afford the subscription costs which are often a worry or burden for many young men even though they live with their parents or if they are on their own it's much harder. If you adapt a range of styles youngsters will just come because the music won't be the same repertoire. It has to be constantly rapidly changing for concert audiences.
I don't just talk about Music, but I am making contradictory opinions on what I think happened in the male voice choir's industry and arguing that not all men's choirs are suffering for young members declining.
I actually think a lot of training work is being done to attract singers from schools to come to choirs and there is evident research that this does happen from peripatetic music teachers that connect with youngsters in the schools to come to the choirs.
AmeriCymru: Where can people go online to purchase 'The Power & Glory of Welsh Male Voice Choir Singing'?
Stuart:  You can find the book here:- The Power & Glory of Welsh Male Voice Choir Singing

It's actually free for Amazon Unlimited account users.
AmeriCymru: What's next for Stuart Street? Do you plan any more publications?
Stuart:  I can offer paperback editions of my book when the publisher says they are interested in my book.
I am currently doing a Master of Music in the University of West London – London College of Music so the future is still unknown and I may turn my writing into digital or book publications just a bit like I have been doing with this.
I am going to record a track promotional CD of Bass Trombone & Piano music and also new Bass Trombone repertoire music on YouTube and Vimeo.

AmeriCymru: Any final message for the readers and members of AmeriCymru?
Stuart:  I haven't been on here for a while, but I am also a musical artist and my digital sales have actually risen quite well however it won't harm to trigger further music marketing hyperlinks so that your members can have complete access to my free music tracks in full and there is an option for you to download or stream my music products too. I recorded classical crossover piano music and I think you'd agree that I tried my best with them and tried to upload them on digital aggregator tunecore.com to put my music on all the websites / apps that you love. iTunes, Google Play, Spotify, Amazon mp3 Digital Music, band camp
I set up my own music tuition business in Aug 2012 http://streetmusicschool.co.uk/ Stuart Street pianist, I play Bass Trombone and Singer, author.
---
Biography
Discover the formations of male voice and go on a journey with Stuart to see how communities have formed male voice choirs. Learn how singing goes good with sport and why the Welsh love to sing. Why is male singing, so powerful and rich? Why do we still like singing? I talk about the formations of tonic - sol - fa and I follow my roots in the Rhondda Valley's in the mining industry of South Wales. I interview local Rhondda men and women who have actively been involved in music making in the Rhondda. You'll be convinced that singing in Wales is a good interest and everyone should have a go and sing!