Cardiff's CVC - is Coming To America!

2023-06-03
By: Ceri Shaw
Posted in: Music
---
THE BAND
---
Life in Church Village is laid back and simple. Situated at the top of a hill in the Welsh Valleys around 10 miles north of Cardiff: there are a couple of rugby pitches, a few pubs all within walking distance of one another and that's about it. Like many villages of this kind, it appears on the outside as quiet and serene, but there's a bubbling underbelly, of kids itching for a chance to explore the wider world.

CVC (or Church Village Collective in full) represents this. But as the name suggests, they're not divorcing themselves from the identity of the 'small town'; if they have it their way, international renown will soon be brought to their village.

The outfit is comprised of singer Francesco Orsi, bassist Ben Thorne, drummer Tom Fry, keyboardist Daniel 'Nanial' Jones and singing guitarists David Bassey and Elliot Bradfield. It's worth noting that the latter two, despite never having met them, are related to Welsh royalty Dame Shirley Bassey and Manic Street Preachers' James Dean Bradfield, respectively. Maybe owing to genetics, Bassey states "I don't think I'd be able to not do this, I don't actively choose to, I'm just drawn to it". But the band are all as equally talented with different skills that aid the cacophony of their sound. Simply put, CVC are a democracy, greater than the sum of its parts, and destined for world domination - perhaps!

It's a lofty but not impossible dream - but if there is one band that's up to that challenge, it's them. "The point of being in a band is to have fun and to make music that people enjoy" Dave adds, "We listen to music to feel something and if we can give a bit of that back to other people - to hear them say they like the art you've produced, that's the best thing ever". The band's rallying cry? "Peace and love and good times; stay real, stay true and that's it." Ultimately, they are essentialists and their music appeals to universally felt, primal instincts.

Again, there are no add-ons with this band, no gimmicks. They grew up on rock music's building blocks: The Beatles, Neil Young and The Beach Boys - rich and melodic music steeped in rock's history, while adding a contemporary feel; think the sunny sounds of Mac Demarco and Super Furry Animals coupled with the virtuosity of the Red Hot Chili Peppers.

There is a hint of chaos though. Partly owing to the fact that they started as a 'jam band' says Orsi, and partly to their ingrained love of 70s psychedelia, it's maybe the big three-part harmonies that stand out. Orsi, Bassey and Bradfield's vocals are able to conjure moods of any palette, sweet but also explosive.

"We like big sounds," sums up Bassey. "We like the big-big stuff. You've gotta have a keyboard player, two guitars, that's a must, and three singers - "You definitely want to get to the top of Everest before you start coming back down." Thorne adds.

The love of harmony comes from a surprising place given their knack for rebellion. "When I was in primary school, my music teacher would have six or seven hundred pupils singing four part harmonies and it was banging," says Bradfield. "Like, it was loud as fuck in the hall. I remember getting goosebumps and thinking, 'This is so class…'"

Real to Reel, their debut EP released in mid-2022 neatly summed up their identity. It's an urgent manifesto that appeals to classic tastes but implanted in the present. 'Docking the Pay is full blown energy' says Thorne, despite being made in lockdown; a time when the world was invariably still. NME called the EP an "assured achievement" and highlighted  'Winston' saying "[it] recaptures the groove and glory of late '60s psych-pop…with swirls and reverb". It's otherworldly.

In January 2023, Get Real, CVC's 11-track debut album, will offer a similar transcendency. Keeping it local, they recorded in Bradfield's' living room over four sun-baked summer weeks; cooking up some of the rhythms in the kitchen using wooden spoons and pots and pans - with Ross Orton (Arctic Monkeys) coming on board to mix the finished product. They were efficient, "We'd start in the morning, crank the amps up and then be home for dinner… Great fun," says Bassey. "We do everything for the greater good of the band, rather than as individuals, that's how everybody looks at it" says Jones.

As expected, the album betrays the four-walled confines of where it was recorded. Songs that rarely stray beyond four minutes, they're arena-filling epics in miniature. 'Knock Knock' weaves an undulating groove, 'Music Stuff' brings a bit of Laurel Canyon to the Valleys, 'Mademoiselle' shakes, rattles and rolls.

'Docking the Pay' rightfully re-features on their debut album and fits perfectly, "it's the ideal track to introduce the band", says Thorne.

Elsewhere, there's the anthemic ballad 'Sophie', named after Jones' girlfriend and the jazz- inflected 'Anogo', which was written about the time the keyboardist broke both his arms ("The moral of the story is don't be inebriated and climb trees," he says).

When the album lands, an indispensable new band will be uncovered. "We want to be on massive stages with massive crowds, big gigs, big albums, top of the stack, like…the bigger the better." Teeming with exuberance, they're primed and prepped for this.

Around the release of Real to Reel, they played scuzzy, sweaty venues like London's The Lexington and Cardiff's Clwb Ifor Bach as well as the greater plains of Electric Picnic and Reading & Leeds, converting crowds along the way. This was no more evident than at their EP release party at London's Shacklewell Arms, where new and seasoned fans alike loudly chanted "CVC" at the end of the set; it felt spiritual, almost cultish.

The sound of 'real Welsh rain' pitter-patters across this self-produced album. CVC bring it all  back home on Get Real. It's local and far-reaching; atop hills but firmly grounded; it's bursting at the seams. It's the Church Village Collective.


---
THE TOUR
---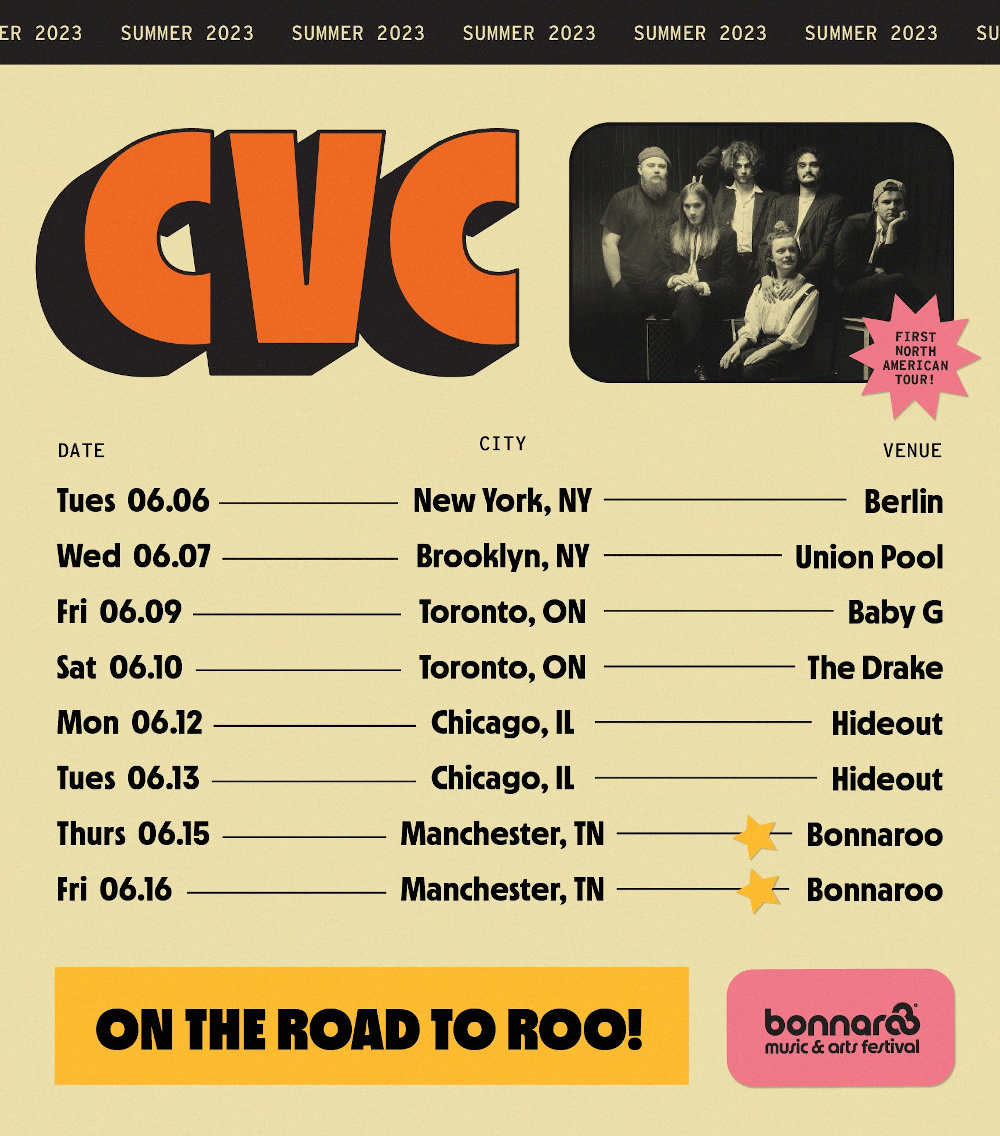 ---
CVC ON THE SOCIALS
---
LinkTree: @cvcband | https://linktr.ee/cvcband

Facebook: @CVCband | https://www.facebook.com/CVCband/

Twitter: @CVCband_ | https://twitter.com/CVCband_

Instagram: @cvcband_ | https://www.instagram.com/cvcband_/

YouTube: @cvcband | https://tinyurl.com/24fp9a75

TikTok: @cvcband | https://tinyurl.com/ye95bd2h