Red Telephone 'Hollowing Out' Their wonderful debut album out 31.03.23

2023-03-24
By: Ceri Shaw
Posted in: Music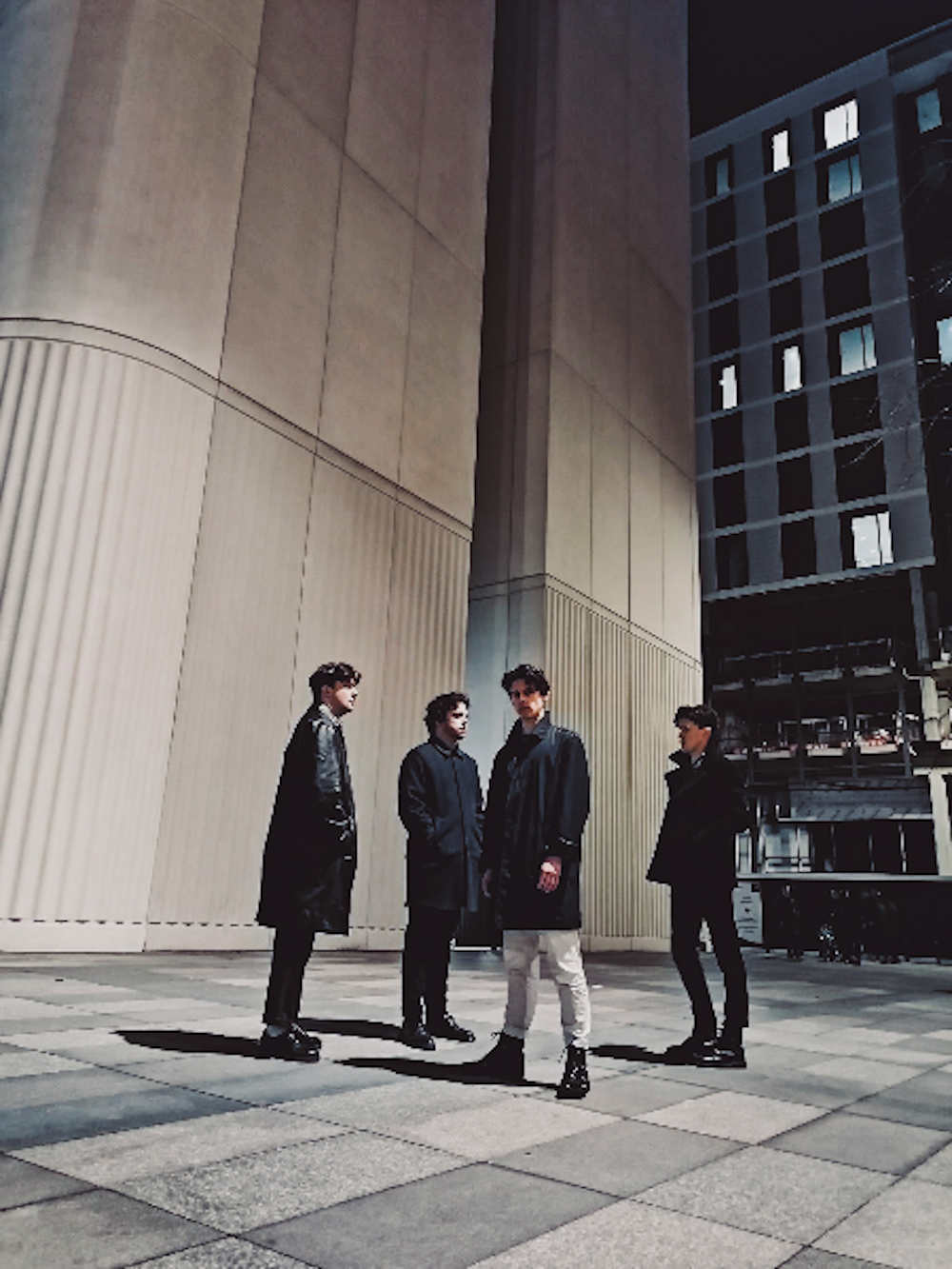 ---
About The 'Hollowing Out' Album
Hollowing Out, the debut album from Cardiff-based five-piece Red Telephone will be released on 31st March 2023. The dystopia-tinged album deals with themes of alienation, identity and monotony, as well as exploring contemporary social dilemmas such as the trappings of ambition in a saturated pop culture age, the pervasive nature of modern media and social media fatigue. Sonically, the band draw from an array of influences; ranging from Berlin-era Bowie, brooding synth-led film soundtracks such as Blade Runner and Uncut Gems, the art rock of Kate Bush and St Vincent, as well as modern electronic pop artists such as MGMT, Mitski and Tame Impala.
Speaking about the upcoming album, singer Declan Andrews said;
While putting together 'Hollowing Out' we were really getting into synths; drawing quite a bit on brooding, synth-led film soundtracks like Blade Runner, Scarface and Uncut Gems. Part of this was out of necessity - it was the initial 2020 lockdown when I wrote most of the songs in my bedroom and I'd got my hands on emulations of classic synths which gave me free reign to really explore this territory of sounds. I also had the free time to watch and rewatch a lot of movies such as those just mentioned. All of this definitely crossed over with the band's prior love of film, Bowie's Berlin-era sound, his work with Iggy and albums like Little Dark Age by MGMT too. Basically, those dystopian soundscapes that evoke a lot of mood and imagery. As a band we've been drawn to them for a while, especially since visiting Berlin and exploring Bowie's stomping ground (quite run down and not very touristy areas) but also after playing Tallinn Music Week in 2019. The post-Soviet landscape was pretty striking in parts of Tallinn and we discovered bands like Molchat Doma for the first time, who were using synths and electronic elements in ways that got us excited and has definitely rubbed off on our approach since.
We really wanted to integrate these sounds and influences into a modern sounding record rather than just looking back though, so we spent a lot of time getting the bass and low end sounding as big and distinctive as possible - we were really influenced by the likes of Kendrick Lamar in this respect. Similarly, dystopian themes seem as relevant as ever; with the saturated and pervasive nature of modern media which the album explores lyrically, as well as topics like social media fatigue and alienation.
There's also a big guitar aspect to the sound so it's not just a synth album. We grew up listening to guitar bands like Arctic Monkeys, so that's part of our DNA, but while making this we were delving into a lot of R&B, which influenced the use of phased guitar lines and seemed to accentuate the dark and cinematic sound we were after. The most recent Strokes album The New Abnormal had also just come out when we started work on this album and we were listening to it a lot, so no doubt some of those guitar approaches found their way into the sound.
About Red Telephone
Formed in 2018 and hailing from Cardiff, Red Telephone's richly layered alt-rock could have emanated from a club in Blade Runner's dystopian LA - combining angular guitars, Krautrock-inspired rhythms and New Wave-tinged synths with infectious pop sensibilities. Drawing on post punk, synth pop and industrial rock influences the band has been catching the attention of DJs across BBC 6 Music, BBC R1, Amazing Radio and Radio X; with comparisons to the likes of MGMT, Mitski and Berlin-era Bowie being drawn. With previous single releases on Welsh-based labels Libertino Records and the Popty-Ping Recording Company, the band's highly anticipated debut album is set to be released early 2023.
'Hollowing Out' Album Tracklisting
9.The Machine That Changes Itself
10.Waiting For Your Good Days
"Very nicely layered. Has a bit of early 80s melodrama; a sort of Pet Shop Boys croon and a Krautrock halo."
– Steve Lamacq, BBC 6 Music
"Something brilliantly dark about this, with their synth psych noir with a pulse. Real potential to go big."
- Chris Hawkins, BBC 6 Music
"Great Welsh psych!"
– Amy Lame, BBC 6 Music
"It's a stunning sounding single from Red Telephone, my artist of the week"
– Huw Stephens, BBC Radio Wales
"This direction pegs Roxy Music/Sparks playfulness to their neo-psych and Suede-aping past selves, turning it into something thoroughly intriguing. They have the skills to match the ambition."
– Under the Radar Magazine
"Veers between being a paranoiac industrial rock hammering and shimmering, escapist 60s psychedelia."
– Gigwise
"That sounds momentous to me. The imagination is bubbling over the sides of the recording, it cannot be contained. I love the way the singer sounds a little bit like Marc Bolan, he's got that real sense of wonder and playfulness in his voice."
– Adam Walton, BBC Introducing Wales
"A lot of splendid noises packed into just under three minutes."
– Gideon Coe, BBC 6 Music