New Music From Jeremy Gluck & Paul Hazel

2023-03-15
By: Ceri Shaw
Posted in: Music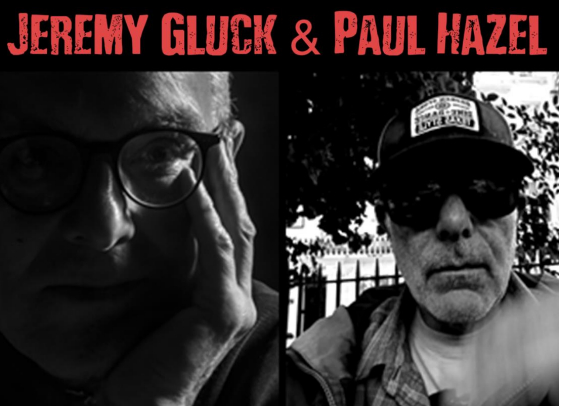 ---
This year has seen the 100th anniversary of the birth of Sam Phillips and the 70th anniversary of the first releases on Sun Records. Released in the wake of their collaborations The Benefactor, Love, and Plan for a Performance, Jeremy and Paul offer a skewed but reverent homage to those who started it all, a collision driven comeback from the dynamic duo of rad deconstruction.

Recording artist, digital fine artist, and prolific electronic music and video art collaborator, Jeremy Gluck is perhaps best known as lead singer of cult surf-punk band The Barracudas, the subject of a recently released 3CD retrospective on Cherry Red Records. As a solo artist he has had songs covered by artists such as Lydia Lunch and Rowland S. Howard (The Birthday Party, Crime and the City Solution, These Immortal Souls), and Nikki Sudden (Swell Maps), with whom two latter artists he recorded the first supergroup alt.country album, 'I Knew Buffalo Bill' in 1987. In 1997 Gluck began a journey into experimental electronica that led to him working with some of the genre's leading lights, including Martin Rev, Brendan Moeller, Dub Gabriel, and Youth.
Paul Hazel is a music producer and multi-instrumentalist. He has studied electro-acoustic composition with Simon Emmerson and been through the 'Search and Reflect' method with free jazz drummer John Stevens. He has had many releases on labels such as Rising High, Rotation, Inspiral, 2Kool, Welsh Modular Alliance, and SWND. As part of the band Blue Train he hit the Billboard dance charts with Get Movin', released on Masters At Work. He has composed and produced the music for a number of commercial films and TV programmes. Short films of his own have been exhibited in Japan, Venice, and at several galleries across Wales.



Links

https://bambooradical.bandcamp.com/
https://www.facebook.com/JeremyGluckArt
https://www.facebook.com/paul.hazel.31/
https://twitter.com/nonceptualism
https://objkt.com/profile/tz2JPVuwvUZyq1LyFwNz2ghXbJ62pQ1rd9f2/activity