AHGEEBE Releases his second single Adain Ystlum (Batwing) today

2022-04-21
By: Ceri Shaw
Posted in: Music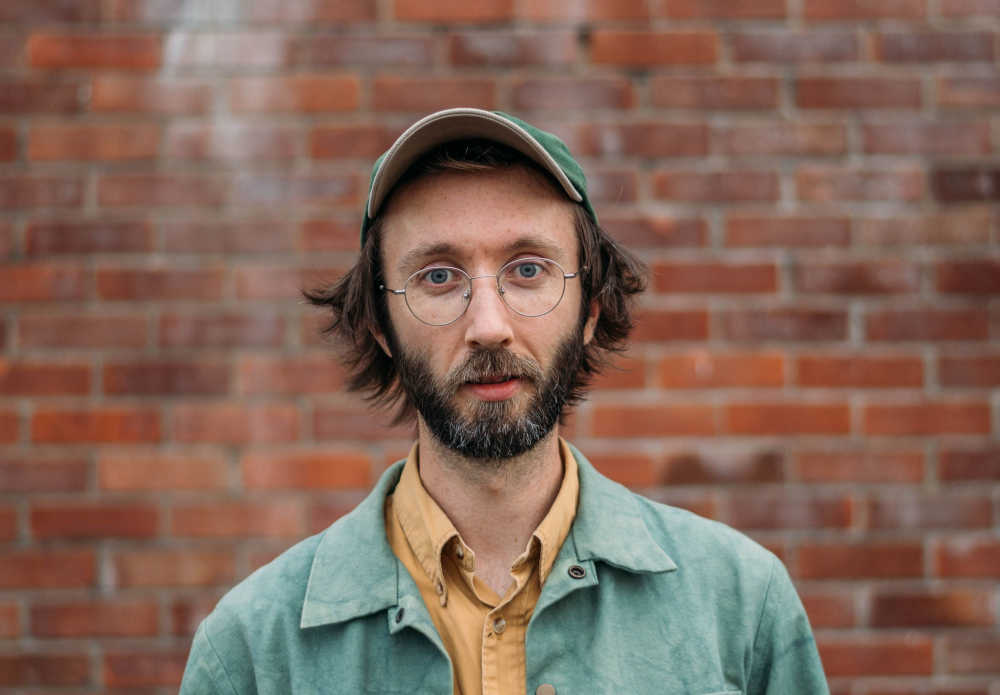 South Wales based Americana/Folk singer-songwriter AhGeeBe returns today with his second single Adain Ystlum (Batwing) released via Clwb Music. Relying heavily on instrumentation rather than lyrics, the single is still finessed with a beautifully soft Welsh language poem dedicated to a Bat soaring in the early evening sky.  
"Oh that is very filmic isn't it?"
Huw Stephens, BBC Radio Wales
Adain Ystlum (Batwing) offers something a little different compared to AhGeeBe's debut, while first outing Cocoona offered the opportunity to sing-along, this second single allows listeners to truly fixate on the short story. Even for those that don't speak the Welsh language, AhGeeBe's breathy tones cut through and land perfectly between each chord harking back to a time of traditional Welsh tales told around campfires.
"A few years ago I bought a guitar from a second hand shop in Roath. I'd seen it there a few times and had always been drawn to it, and was surprised it had never sold. Finally, during my monthly visit to look at the guitar, I bought it (after a slightly awkward haggling process. I got £20 off)" Explains AhGeeBe
He continues; "The guitar is an old 'Burns' guitar, the same sort that 'The Shadows' used for their instrumental surf tunes (as well as backing Cliff Richard...). As soon as I plugged it in at home, the riff that became this song just fell out of me straight away."
Although softer and more mysterious, Adain Ystlum (Batwing) is brave and still just as bold. There is no mistaking the AhGeeBe 60's cop show theme, slide guitar laden style that continues to solidify him as one to watch within Wales' music community and beyond. 
"On the guitar headstock is the name of the model of the guitar. It is… BATWING. This is also half the reason I bought the guitar. It's such a funny name for a guitar, I love it. So with the main riff and music written, I went on to write a poem for Batwing about its flight in the early evening. I wanted to recite it sort of in the style of Serge Gainsburg's Melody Nelson album. Deep vocals and a little bit mysterious." 
Adain Ystlum (Batwing) has already received support from ex-BBC Radio 1 DJ and current Radio Wales / BBC 6 Music DJ Huw Stephens. AhGeeBe has also seen previous support from BBC Radio Wales and BBC Radio Cymru (including a full 30 minute interview with Georgia Ruth on Radio Cymru). AhGeeBe continues to prove that Wales is brimming with absolute talent ready to be discovered.
---
More about AhGeeBe
Multi-instrumentalist AhGeeBe (AKA Rhodri Gwyn Brooks) honed his craft in the South Wales quarry village of Creigiau, spending his time chiselling and sculpting away at the piano and guitar from an early age.
Finally finding his groove, which he describes as "somewhere between old-time country and 60's cop show theme tunes", AhGeeBe is the shining result of years of session work for musicians across the globe, demoing, recording, and songwriting.
---
"A lovely gentle vibe, it's beautiful. AhGeeBe's Cocoona, just reminds me of George Harrison" 
- Adam Walton, BBC Radio Wales
"Wow, that is Cocoona, a wonderful new single."
- Bethan Elfyn, BBC Radio Wales