An Interview With Welsh Wizard - Bryn Yemm

2021-01-10
By: Ceri Shaw
Posted in: Music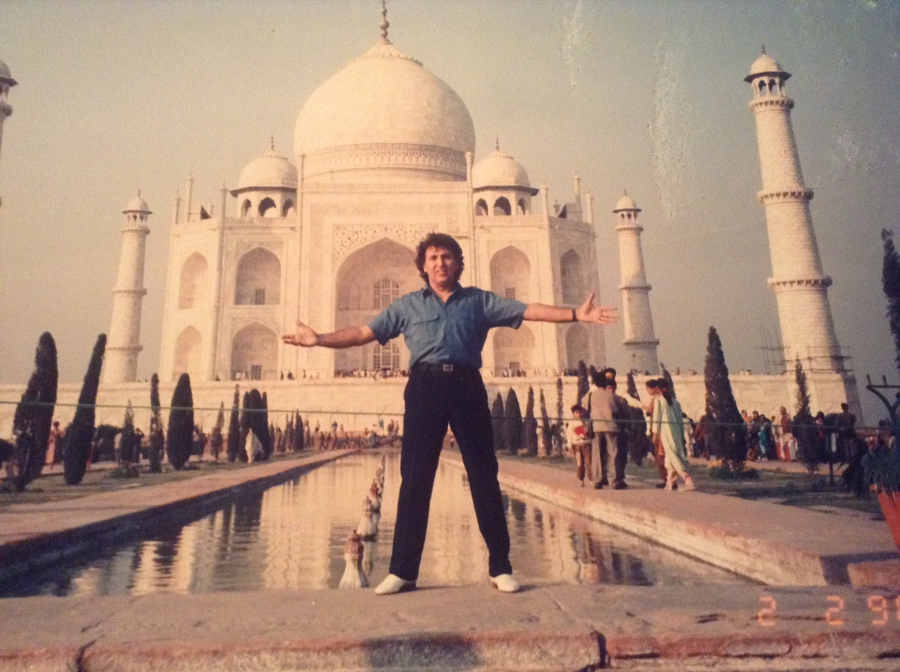 Bryn Yemm in India
---
AmeriCymru: Hi Bryn and many thanks for agreeing to this interview. When did you first start singing  and when did you realise that this was to be your future?
Bryn: As an adopted little boy in Abergavenny Wales the family who took me in were a  Salvation Army family and I spent all my formative years being raised in the Sunday School, Sunday morning and afternoon. So the bands and songsters  awoke in me  a chance to sing. I tried also to learn the cornet, but due to lack of practice I soon lost interest. I was very young and wanted to be down at the river or up the many beautiful mountains  which surrounded my home town of Abergavenny. A t that time singing for a living  was a million miles away..
AmeriCymru: You were born in Brynmawr but currently reside in Abergavenny. How did you come to live in Abergavenny and what musical background did you enjoy there?
Bryn: I was born in Brynmawr , S.Wales  and as I mentioned I was adopted  by Ivor and Marie Yemm who lived in Abergavenny, which was about ten miles away and that's where I ended up. We have maintained our home in Wales until the present but due to some minimal success had homes in Cyprus, earlier years, and the in Florida USA. My musical background was influenced by the Salvation Army Bands.
AmeriCymru:  When did you release your first album and how many have you recorded over the years?
Bryn: By determination and Faith (Mark9 vs 23)  I had my first single (Black is the night)  on Columbia records in the late 60s and my springboard to turning professional  came about by me writing a song to celebrate the Queens Jubilee in 1977. Since then I have recorded many albums, around 15 plus singles and other popular tracks for special events.
AmeriCymru: You met The Beatles in 1963. Care to tell us a little more about this experience?
Bryn: Meeting and hanging out with the Fab Four.(The Beatles)    I built up a solid name for myself in S.Wales and the Beatles came to appear at our local Theatre.The local mayor invited me to the event  and I spent most of the day in the dressing room with all four. Plus met and chatted with the bands Manager Brian Epstein who invited me to to visit him in London. As I had no money I didn't take up the offer.
AmeriCymru: In the course of your long career is there any one song or album that you are particularly proud of, or that stands out for you in some way? 
Bryn: Over the course of my career , after the success of the Jubilee party I was asked by FW Woolworths  UK  if I had an album, so I jumped in without delay to present one. With special help from my lifetime friend Kingsley Ward Of Rockfield studios ,Wales  we produced "Hello Bryn Yemm"  to this day it's one of my favorites, maybe because it was the first album, but over 15 years more followed ,along with  TWO lovely DVD's...MY Tribute from Wales the Land of Song and to my utter delight.. "FOOTSTEPS filmed in ISRAEL....and the other favorite "I'll Fly Away"  an album that features my wife Ann, daughter Tracy and a dear friend ( deceased)  Christina Marlow...one of the UKs top singers ...the girls did all the backing singing and the songs are wonderful. I love it and it holds many great memories.
AmeriCymru: You visited the States in 2003. Care to tell us a little more about that visit? Any plans to return?
Bryn: MY first visit to the USA was an invitation by top Welsh businessman  John James. John and his Father George owned four Casinos in the UK. John invited us to sing at his Daughters wedding in Fort Lauderdale. Of course we loved the experience , and it fuelled our enthusiasm to spend more time in the States. As things progressed  IN 2003  the company in Israel I worked for decided to bring a Cruiseship  from Haifa to Cape Canaveral , being the Entertainment Director for them I was invited  to join the venture and be  Cruise Director and Entertainments manager. After a year we bought a home in Cape Canaveral and loved it. We have now been in the states for twenty years , but never gave up our home there  in Wales were our heart is.
AmeriCymru: What are you working on at the moment? Any new recordings in the works?
Bryn: Thanks to the pandemic, I found myself stranded in Wales, when all work closed down for all of us in America and the U.K. It's been a hard time, but as always I found plenty to do like writing a new book which will be my second and also trying hard to get a new U tube channel together with my friends at Ameri-Cymru  in Portland Oregon. I am planning a new album when we gather the funds to do it maybe in Charleston Carolina, with my friend  Michael Howard's Big Band....hope so.
AmeriCymru: Any final message for the readers and members of AmeriCymru?
Bryn: I am very Grateful to Ameri-Cymru  for their help and encouragement especially lovely Gaabriel at their studio. The Ddraig Goch..(the Welsh Dragon ) depicts three things NO four!  The earth, The Sea, The Sky and the speech of the Cymru.. IT leads the Welsh people in an unending  war for the perpetuation  of our language......Join us in lifting up Wales  and inform the world of the great heritage of our country  here and across America...DIolch yn Fawr...God bless Wales...and God Bless America.
---
Bryn Yemm with Mother Theresa