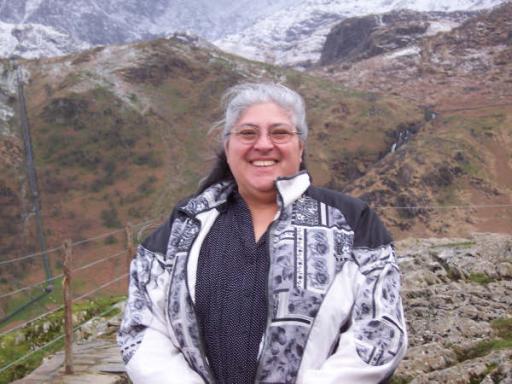 Stats
Blogs: 165
events: 17
youtube videos: 3
images: 109
videos: 2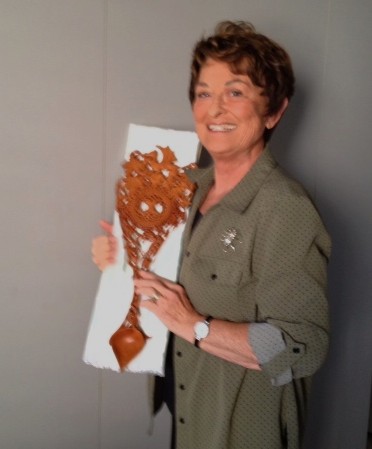 By Mona Everett
(Reprinted from Ninnau & Y Drych )

It was not quite the multi-million dollar Powerball, but Jane Buch, of Florida, was nearly as surprised to learn she held the winning ticket for the 2012 West Coast Eisteddfod Lovespoon. Jane bought her winning ticket, one of about 1400 sold, at the North American Festival of Wales, which was held Labor Day Weekend in Scranton, Pennsylvania. Sales of raffle tickets, along with donations, fund the annual Eisteddfod.
This year's lovespoon was the result of an artistic collaboration that stretched across state and national boundaries. Although never having met in person, carvers David Western, of Canada, and Laura Gorun, of Ohio, teamed up with artist Jen Delyth to create the one-of-a-kind spoon.
Jane said, When I received the call, I was thrilled to hear of my amazingly good fortune in winning this most beautifully and intricately carved Welsh lovespoon! Jane took up lovespoon carving as a challenge four years ago after collecting over 70 of them through the years, so she appreciates the mastery that went into this spoon.
Jen Delyth contributed the beautiful tree of life design which forms the focal point for this year's spoon. The tree, with its interlocking branches and leaves is the perfect symbol for this Eisteddfod lovespoon, with artists coming together in a spirit of cooperation to create an artwork of exceptional beauty.
Even before making the trip from Portland to Florida, this was a well-traveled spoon. In fact, a glitch at the US-Canadian border as it was mailed back and forth between Laura and David nearly delayed the finished product.
The detailing on this year's spoon is exquisite. Many painstaking hours were spent refining the knotwork and perfected the sinuous vine details. A Welsh dragon guards the spoon, his tongue and tail weaving through the four Canadian maple leaves and four American stars which symbolize the international nature of the Eisteddfod. The grain sweeps through the cherry bowl and the four balls in the organic cage represent the four years of the West Coast Eisteddfod. Everything is carved on both sides, so the spoon looks great both from the front and back.

As an additional bonus, Jane also received an exclusive copy of Chris Chandler's poem on celebrating your roots, printed on a background designed by Jen Delyth. The poem was the inspiration for this year's spoon.
The 'Celebrate Your Roots' theme is especially meaningful for Jane whose maternal grandparents were of Welsh descent and from Plymouth, PA. Her grandfather, John R. Powell was born in Aberdare in 1875 and had a coal mining background. Her grandmother's family, the Joneses, were from a farm called 'Abercaseg' in Bethesda, Caernarvon, and were Penrhyn quarry workers. Jane adds, Interestingly in the search for my roots, I found it matters not whether it be in North Wales or South Wales; all the death certificates list either mining accidents or lung disease as the cause of death. So typical.