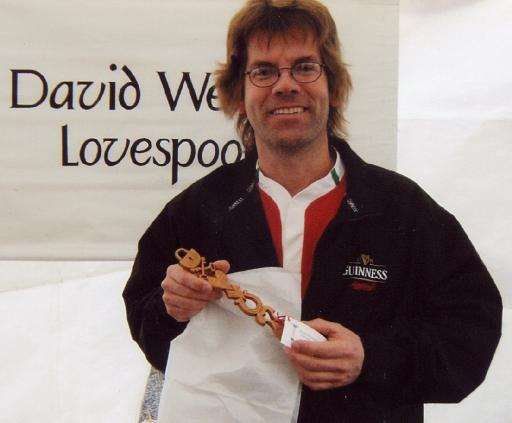 Stats
youtube videos: 1
images: 5
---

LOVESPOONS trace their roots back to the 1600's. They are hand carved tokens of love or high esteem, each an extraordinary work of art. 
My individually designed, hand-carved LOVESPOONS are a unique art form which  can be given at a wide range of occasions. They make memorable wedding gifts, lovely anniversary markers and are wonderful, personal presents at housewarmings,  christenings,  birthdays or any other occasion where a deep  degree of caring and individuality are important.
I have been carving lovespoons for over 20 years and have made it something of a mission to promote this lovely tradition as much as possible.  To that end, I have written two books, "The Fine Art of Carving Lovespoons" and "Lovespoons: The Art and Traditions of a Romantic Craft" and I contribute regular articles to WoodCarving Magazine (UK) and Woodcarving Illustrated (USA).  Although I make a few 'off the rack' spoons, the vast majority of my work is done to custom commission, enabling me to work directly with my clients to create a design which perfectly reflects their personal circumstances.It is my firm belief that no gift you can give will ever embody the depth of love, sentiment and passion that a love spoon can.  If you require a special present for your self, your loved-ones or for someone you hope will become a loved-one, you owe it to yourself to commission one of my exceptional hand-crafted lovespoons.