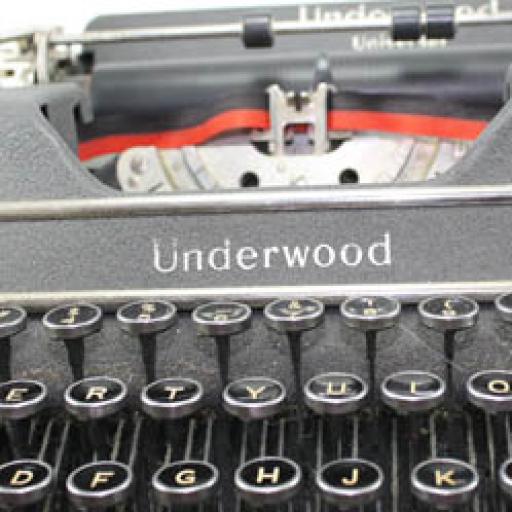 Stats
Blogs: 288
events: 50
youtube videos: 43
images: 56
Invitations: 2
Groups: 2
videos: 1
Category: Welsh American History
I'm slowly working on family genealogy and I got some wonderful family photos recently. Ceri had done his article on a Welshman who was at Little Big Horn and I have an ancestor with a very tangential connection to this.  
My first (so far) Welsh ancestor in North America was James B. Morgan, Sr.  I haven't got to see much in the way of primary source documents so far, only research other people have done, so I've got a ways to go to reach confident certainty on his history. 
James Morgan was born in Llandaff, which is now part of modern-day Cardiff, in 1607. In about 1635, James sailed from Bristol to Boston with his two younger brothers, John and Miles, an ancestor of J. P. Morgan.  James became a freeman in the Plymouth colony and a farmer. 
Some generations later, his many-greats granddaughter, my mother's great grandmother, Francis Henrietta Steele was born.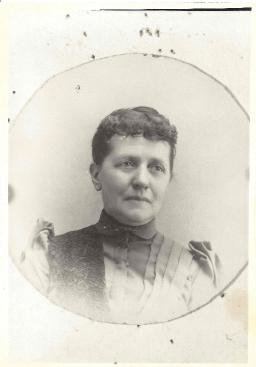 Francis Henrietta (Steele) Bubb
Francis married John Wilson Bubb, who had fought in the union army in the US Civil War and had recently returned to his home in Washington, DC, after spending the end of the war as a captive on a Confederate prison ship. 
John Wilson Bubb
John Bubb went on to become a lieutenant under General George Crook at the Battle of Slim Buttes, to lead an attack on a Lakota village and experience Crook's Starvation March, also called "The Horsemeat March" as the punishing 35-mile-a-day pace killed so many mules and horses and soldiers slaughtered them to survive when the few remaining supplies ran out. Bubb was sent to Deadwood to try to secure food and successfully cleaned out the town's stores for his men.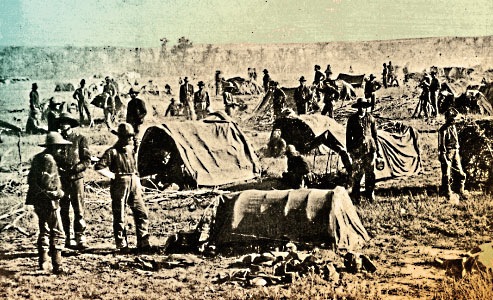 Soldier's camp in Cook's Starvation March, from "A Campaign From Hell", by Mike Coppock in True West,  https://truewestmagazine.com/a-campaign-from-hell/
He went on to serve in the Phillipines and become Brig. Gen. John Wilson Bubb. He commanded at least one fort, I'm not sure which one(s) but in the photos I've received are some wonderful old shots of life at Fort Sherman, Idaho, and Fort Spokane, Washington, and I'm sharing those below.
Below is a photograph of a June 1893 game of tennis on the lawn at Fort Sherman, which was on the banks of the Spokane River in what is now Coeur d'Alene, in northern Idaho.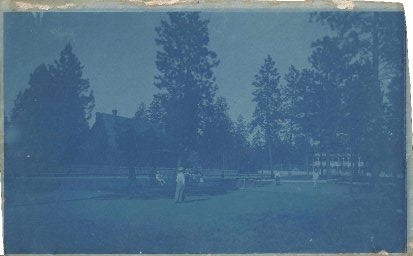 A group of soldiers on a porch at Fort Sherman, Gen. Bubb is seated in the center row, on the right. This photo is undated but other photos in the group had handwritten notes indicating they were from 1893 and 1894.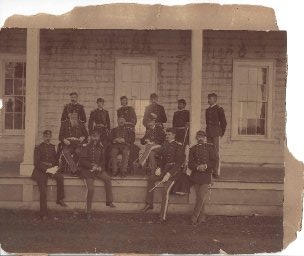 Frances Bubb (standing in the back) and a group of ladies at Fort Sherman 1894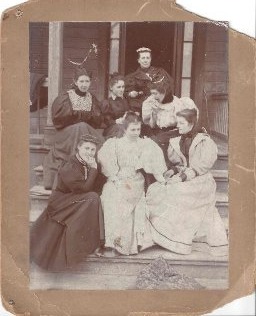 Unless otherwise noted, all these photos are from a family collection of John and Henrietta Bubb's effects.