New Gift Store Inspired by Wales Opens in the Northeast Kingdom of Vermont

2022-08-04
By: Ceri Shaw
Posted in: about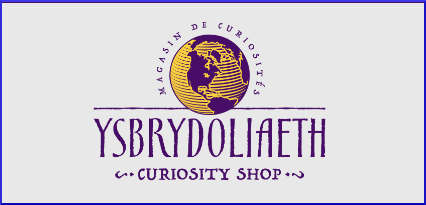 ---
Ysbrydoliaeth - Curiosity Shop / Magasin de curiosités is now open and features gifts from Wales and the world.

St. Johnsbury, VT, 8/3/2022 - Robert Jones, a long-time active member of the Welsh-American community has recently opened a gift and import store in downtown St. Johnsbury, VT inspired by both his Welsh and Pennsylvania German roots with the aim of offering unique and bespoke gifts that emphasize quality and conscience.
Jones opened in the store in the newly renovated Calderwood building on Eastern Avenue in the downtown. Along with the New Avenue Building at corner of Eastern and Railroad, new tenants have been flocking to the town center which is experiencing a renaissance in the post-Covid world. Ysbrydoliaeth, which means "inspiration" in Welsh, is a store that features one-of-a-kind and quality gifts ideal for the person who's "hard to buy for" or simply enjoys some of the finer things in life. The product lines include items only available in North American through Ysbrydoliaeth such as lovespoons from Crefft Patagonia, luxury toiletries from Myddfai, Welsh blankets from Melin y Graig, Teifi Coffee and Chantler Teas from Wales. Product lines also include other well known merchandise from national and international, as well as specifically New England and New York makers. Shoppers can currently browse in person Thursday through Saturday from 10am-6pm and Sunday from 12pm-5pm, but Jones expects to extend the hours in the future. Shoppers can also make purchases 24/7 via the store's online shop linked at www.curiosityshop.us with free shipping included on most orders over $50 delivered to the continental US and Canada.
For more information, contact:
Robert Jones Ysbrydoliaeth - Curiosity Shop / Magasin de curiosités 71 Eastern Ave.
St. Johnsbury, VT 05819

802-424-0007
robert@curiosityshop.us
www.curiosityshop.us
Instagram: ysbrydoliaeth71
Facebook: ysbrydoliaeth