MR BEWLAY RETURNS WITH TONGUE IN CHEEK NEW SINGLE 'LIVE LAUGH LOVE' UNLEASHED FRIDAY 20 MAY

2022-05-17
By: Ceri Shaw
Posted in: about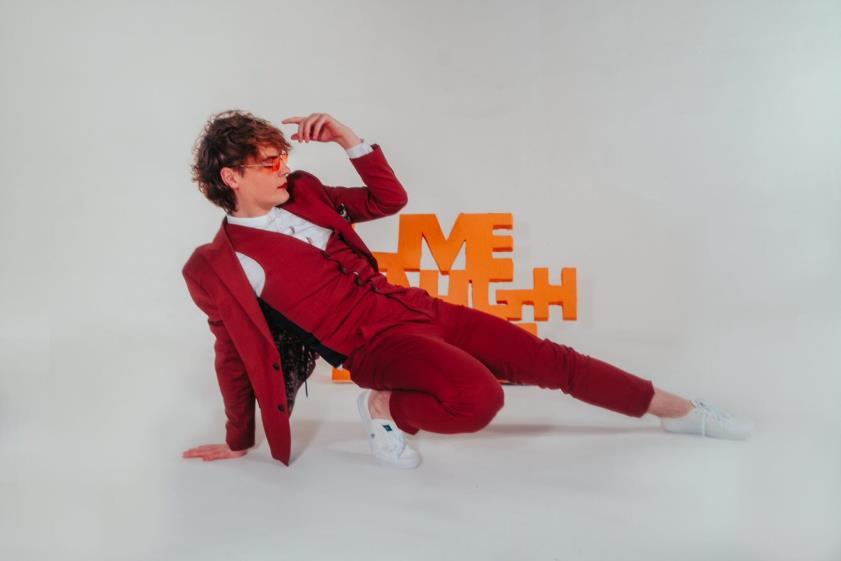 "Bold, charismatic and a flamboyant powerhouse" Becky and the Bands  
"A true pop star in the making!" Adam Walton, BBC Introducing Wales
FFO: SHAME, The Chats, FIDLAR, Bandicoot
---
Mr. Bewlay unleashes his brand new indie garage post-punk banger 'Live Laugh Love' on SWND Records on Friday 20th May via all major digital distributors and you can pre-save/pre-order HERE.
The Cardiff based musician steps out of his previous neo-glam sound with a bold new direction of frantic indie garage post-punk that refuses to take itself too seriously. Reclaiming the phrase 'Live. Laugh. Love' from the hallowed shelves of B&M to under the spotlights of the underground. Bewlay delivers 2 minutes 22 seconds of unashamed fun declaring his love for an older woman through some provocative lyrics. The track sees an expansion of the Mr. Bewlay character, refusing to reveal his identity to his label, furthering his reputation of being an enigma and a bombastic personality.
The song was recorded at King's Road Studios in July 2021 with producer Sanders, Bewlay tells us, "I have to admit this song lyrically was originally written as a joke. Relying on the meme of the 'Karen' with their hollow tastes and tacky sentimentality. The more I tinkered with the song, the more the lyrics were not sarcastic, instead portraying a neutrality to the situation and relying on absurd imagery of middle-aged women's slogans tattooed on faces and blasting out of stereo systems. It definitely has the shock factor to it.
The track was written to be as bare bones as possible, relying on a smash and grab approach. No intro, no outro, no riffs and only a short solo to shake listeners out of their shocked silence. The trumpet solo was provided by the amazingly talented Laurence Collier of Afro Cluster fame who came down and put to audio the wailing, flamenco inspired solo!"
Whether it be Art Pop extraordinaire, Glam Rock Knight or garage post-punk slacker; Mr Bewlay has established himself as the paramount voice for the unorthodox. The Cardiff based artists' upbringing was flamboyant with an early induction onto the stage. With amateur dramatic performances of classics like 'West Side Story', 'A View From A Bridge' and 'A Streetcar Named Desire', Bewlay learnt the subtle intricacies of stage performance, a skill he brings with him to this day.
Beginning his music career under the mentorship of the PRS Foundation and Arts Council Wales backed Forté Project, Bewlay has pushed himself into releasing his 'Electric Reason' Trilogy which saw him expand his sound with the addition of synth-heavy, funk grooves and sweet retro-inspired pop hits. In addition he has played sold out headliner shows in prestigious venues such as Porter's (Cardiff), Queens Hall (Narbeth) and Ill Repute (Bristol). As a champion for LGBTQ activism he has also given talks and performed at Queer festivals and shows with the 'On Your Face Collective'.
With a breadth of sound ranging from retro-spiced pop, to quiet reflective solo pieces, Bewlay's unpredictability is also found in his music. With influence coming from artists such as David Bowie, St Vincent and Parquet Courts, Bewlay remains in a lane of his own with bombastic vocals, extravagant style and lyrics of the utmost originality. There is little in his way towards inevitable ascension.
Be it Mista, Misses, King or Queen, they all fall under Bewlay's everything.
'Live Laugh Love' by Mr Bewlay is out on Friday 20 May on SWND Records and is available on all
major streaming/download providers.