Tapestri - Welsh Americana - An Interview With Sera Zyborska

2020-07-18
By: Ceri Shaw
Posted in: about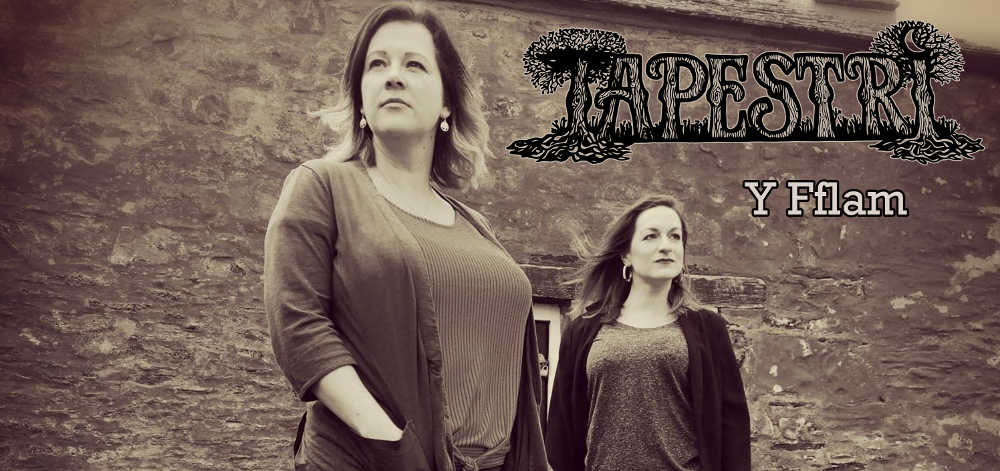 Sera (from Caernarfon) and Lowri (from Newport Pembs) will be especially familiar to Welsh music audiences as two bilingual singer-songwriters that have been writing, performing and recording as solo artists for some time. Between them they have been championed on BBC 6 Music, Radio 2, performed everywhere from Greenman, Festival Number 6, from King Tut's to the Union Chapel; From Wales to America to France, which is as it happens, where the two met for the first time last year, performing at the Welsh Pavilion at the Lorient Celtic festival in August 2019.
This first meeting sparked an idea to form a female fronted band and to create their own brand of Americana; an act that could headline  and  represent women's voices. Inspired by  The Highwomen  , a US 'supergroup' featuring Brandi Carlile and Amanda Shires, who formed as a response to the lack of representation of women artists on country music radio and festivals.  
Their songs take their musical colours from a broad palette that includes Americana, Roots, Folk and Country, all beautifully knitted together through their innate musicality and heartfelt delivery. 
AmeriCymru spoke to Sera Zyborksa about the new band and their plans for the future.


.....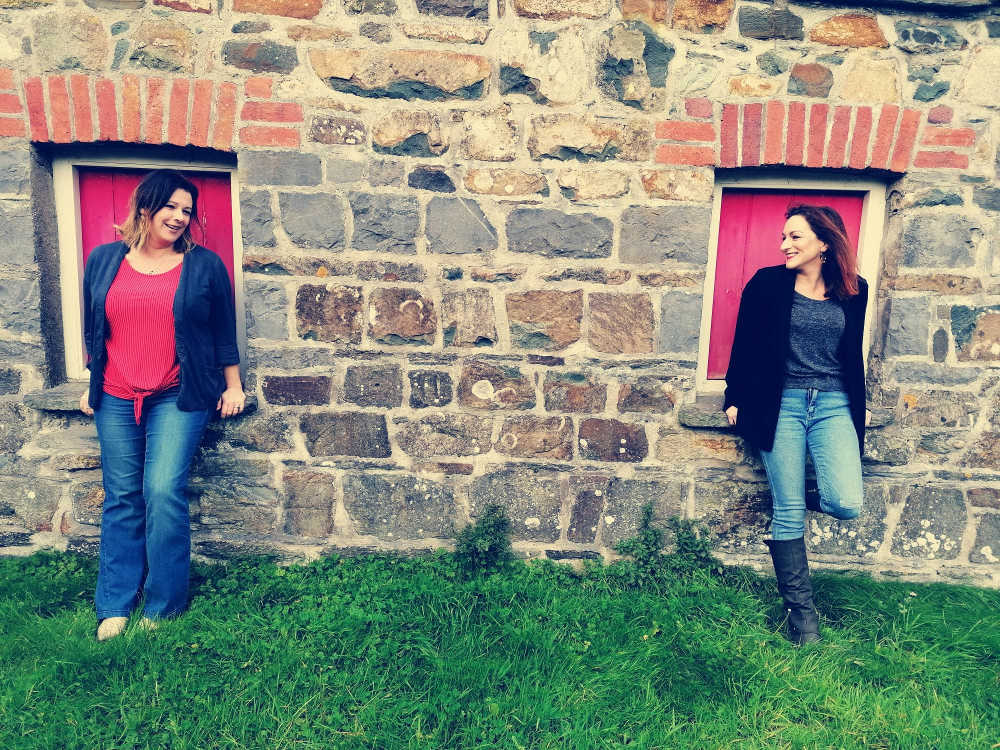 Two of Wales best known singer songwriters have come together to form a newAmeriCymru: Hi Sera and many thanks for agreeing to this interview. Care to introduce your new band Tapestri for our readers?

Sera: Of course! Tapestri is a bilingual Americana band fronted by myself (Sera Zyborksa) and singer-songwriter Lowri Evans. I live in Llanfairpwll in Anglesey and Lowri is in Trefdraeth in Pembrokeshire. We've both been solo artists for years, releasing music in Welsh and English. This collaboration brings together our 'roots' influences, and the whole drive behind the project is to have confident female voices singing about the things that really matter to us and move us. We've got a bit of inspiration from Brandi Carlile, First Aid Kit, Sheryl Crow to name a few. The whole vibe of the band is very much inspired by The Highwomen, which is a US all-women supergroup that formed last year in response to the lack of support form women on Country Radio. They don't just sing sad love songs and they don't 'play it safe' - they write songs about all kinds of topics and their music manages to be both heartfelt and get you on your feet, make you think but also make you feel really good!
"We think that the fact we also sing in Welsh brings a nice Celtic flavour to our brand of Americana and is so important to who we both are."
That's what we are also trying to do. We love the confident attitude of the artists involved in that project and felt like it resonated with us. We want to put on a great show too, and so the music we've been working on so far has a lot of light and shade. Some songs sound great with just acapella; two voices in harmony, while others have a full country band sound and have been so much fun in rehearsals. We think that the fact we also sing in Welsh brings a nice Celtic flavour to our brand of Americana and is so important to who we both are. Tapestri as a name represents the blending of our musical tastes and our personal experiences. The logo itself depicts trees with roots, and this is a nod to the folk and roots origins of our music.

AmeriCymru: When and where did you and Lowri meet and decide to form the band?
Sera: So although Lowri and I have been making music and performing for years as solo artists here in Wales, I don't think we've ever played on the same line-up as each other, which is actually quite strange. There are a lot of similarities between us, both acoustic bilingual acts, and I would have thought our paths would have crossed long before now! We are based in opposite ends of Wales, so that might have something to do with it, but also many festivals unfortunately don't tend to book too many women on their line up. And as it happens, was one of the driving forces behind forming Tapestri. It's an issue we bonded over when we first met, backstage at the Welsh Pavilion in the Lorient Interceltic Festival last year in August 2019. Lowri was there performing with her partner Lee and I was there on my own, as a last minute addition to the line up that year. It was nice to talk to another woman in the 'folk/singer-songwriter' music scene who seemed to share many of my frustrations, goals and drive. After coming home, I remember  feeling really inspired, musically, ready to take on the world, and wanting to start something new, something exciting.

"I remember talking to my husband about wanting to form an all-woman Americana band. I started thinking of who could be in it. I thought of Lowri."

I remember talking to my husband about wanting to form an all-woman Americana band. I started thinking of who could be in it. I thought of Lowri. At about the same time, I got a message from Lowri on Facebook asking if I'd be interested in forming an all-woman Americana band. It was really weird indeed! But obviously something was going on here, and I think we both felt that it was something that had to happen. We decided to have a writing session and see if it would lead anywhere. Soon after that Lowri came up to my house in Llanfairpwll, and we spent the weekend writing songs. I think we wrote 4 songs, all really different to each other, and it seemed to be working! It was a really interesting process. Spending so much time with someone new and trying to write really honest songs together requires you to get to know each other fast! Wine helped, as did just talking and listening to music! It made the songwriting bit come quite painlessly then, and it all felt quite organic. Which was quite the thing considering we barely knew each other at that point. After that, I went down to Trefdraeth a few times and we started laying down some tracks, making plans and pretty soon we were officially 'Tapestri'! By Christmas, we had Lowri's partner Lee Mason on bass and drummer Iwan Hughes on board and we had our first jam. It sounded great! Plans were put in motion for some February launch gigs and we were all set!


AmeriCymru: How difficult has it been launching a new musical project against the background of the Covid 19 crisis?
Sera:   Everything seemed to be going so well in the latter part of 2019 that we felt 2020 was going to be epic for us! We were due to launch the band in February at a theatre show. We had worked so hard to rehearse our set, meeting halfway between North and South Wales in an old school hall several times, near Machynlleth. I'd been down to Pembroke a few times, and we'd started recording our EP and booked our summer tour already. We put in a lot of hours in a very short space of time. But the morning of our launch gig was the morning after Storm Ciara hit the UK. We got a call saying that the theatre had severe weather damage. So that was rearranged for July. We were disappointed, but it gave us more time to get the EP ready for the July gig and put on an even better show. Of course, the July show hasn't happened either, so we've still not officially 'launched' Tapestri. That show, along with every other date we had in our diary for the summer was cancelled. From festivals to theatres. All gone. What's more, due to travel restrictions, I couldn't drive to Pembroke to carry on recording our EP either. Literally everything had to come to a halt after such a whirlwind few months. 
"It's now more than ever that bands and artists should pull together and try to support each other as much as we can."
Who knows when we'll be able to play again. However, every band is in a similar situation. So it's not as though we are alone in this. It's now more than ever that bands and artists should pull together and try to support each other as much as we can. Help each other promote our music online, even just saying kind words and watching each other's virtual gigs helps keep with morale. One good thing is that a lot of the groundwork has been done with Tapestri. The band exists, we have plans in place, but on hold, so soon as we can, we'll hit the ground running again.

AmeriCymru: What can you tell us about your first recording 'Y Fflam'?
Sera: Y Fflam ('The Flame' in English) will be the first single from Tapestri. It's 'Track of the week' on BBC Radio Cymru from July 20th and then it's released on all digital platforms on Friday the 24th of July. We really felt it was important to put something out during this time of limbo for us. We recorded a song called 'Open Flame' a while ago - It was one of the first songs we wrote together on that first weekend of songwriting I mentioned earlier.  A little while ago we translated that song into Welsh and called it 'Y Fflam'. The song is probably the most poetic and ethereal we've written, and that made it easy to write a Welsh version. It's a song about a feeling, a sensation, rather than an event or specific experience, so the translation didn't need to be completely literal. Although the story and the message remains the same; being drawn to something that may not necessarily be good for us and learning to let go.  
We have a lot of light and shade in our set, with many of the songs really upbeat and fun to play, but Y Fflam is not one of those. It's one of the most satisfying songs to perform though, as it relies totally on mine and Lowri's vocals connecting and communicating the emotion behind the song and in fact, the language it's sung in doesn't seem to matter. It felt like a fitting song to release for the time we're in and also a nice way to introduce Tapestri, which at its heart is 2 women's voices coming together. On a practical level, as the music was already recorded, we just had to re-record the vocals in Welsh, which we had to do separately of course. Making a music video for it was a challenge as again, we had to film apart. 

AmeriCymru: What's next for Tapestri. Any new recordings / gigs in the works?

Sera:   Ideally, we want to finish the EP and get it out for Christmas. If we can sort a tour out for it for the New Year, we will. At the moment everything is so up in the air and we have to take each day as it comes right now until we know when the UK will be able to have live music again. But we're keeping the creative channels open and we're focusing on launching the band with the single at the moment. This isn't a project with an end date on it but something we see as a long term partnership, so a little pause right now won't change our plans. We both write a lot, so we foresee an album in the future. We also are very keen to head out to the States and Canada as our music would probably find a good audience there, being Americana! We also want to explore other European and international scenes - I think the fact that we are a bilingual band opens our music up to different audiences and those interested in languages. 

AmeriCymru: Any final message for the readers and members of AmeriCymru?
Sera:   We'd love to hear from Americymru readers and members what they think of our first song and if there would be a welcome for us Stateside!
Lowri and I would also like to send our love and best wishes to you all during these uncertain times and thank each and every body who has supported independent musicians during this time, whether it's liking their facebook posts or buying CDs. It all means a lot. 
It would be great if you could follow us on Twitter/Instagram/Facebook etc.
You can find us across social media @tapestrimusic
And there are a few videos you can watch on -  Youtube

Here's the pre-save link to 'Y Fflam:' -  Y Fflam