AWARD-WINNING ILLUSTRATOR'S FIRST BOOK ABOUT EMIGRATING, LONGING AND QUILTS

2020-06-17
By: Ceri Shaw
Posted in: New Titles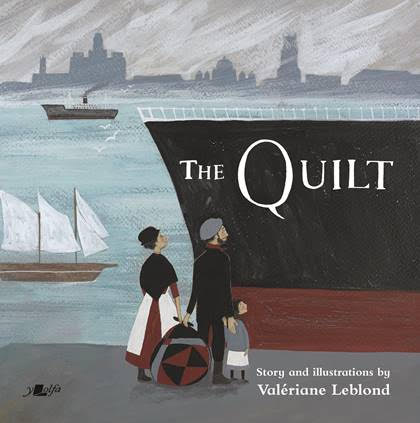 Popular illustrator and artist Valériane Leblond has written her first book for children, as well as painting the images that bring the story to life.  The Quilt  (Y Lolfa) is a beautifully illustrated hardback offering a message of hope which is sure to also strike a chord with many adult readers in these difficult days: when things look bleak, remember that happy times will return. 
The story follows a little girl who lives with her parents on a farm near the coast, around the turn of the twentieth century. Times are hard and the family decides to emigrate to America, raising the fare by selling all of their possessions except for a black and red quilt lovingly hand-made by the mother. The little girl feels homesick and sad at times, but the memories of love and home contained in the quilt help her overcome this and adapt to her new life. 
"I've been interested in quilts and quilting since I was a teenager, when my mother made me a quilt. Since moving to Wales, I've painted and read a lot about the craft of Welsh quilting, which is unique," said Valériane. Traditionally, Welsh quilts are of a simple patchwork design, with more emphasis on the stiches and thread patterns. "The most interesting fact for me is that these quilts were made when opportunities for women to work and earn were very limited. Also, if you look closely, it's much more than a craft – it's an abstract fine art!" 
Praise for  The Quilt :
"[Valériane Leblond's] first book as author and illustrator is a glorious production which conveys a message of hope... I loved the muted palette and Leblond's portrayals of Wales, Liverpool and the New World." Caroline Sanderson,  The Bookseller  
Valériane Leblond is a French author, illustrator and artist. Books illustrated by her were shortlisted or won the prestigious Tir na n-Og children's book award for five years running from 2015. She now lives in an old farmhouse near Aberystwyth with her sons, several cats and too many chickens.  
Suitable for children between 4 and 8 years old. 
The Quilt  by  Valériane Leblond   (£5.99, Y Lolfa) is available now.