Where Rowans Intertwine - An Interview With Author Margaret Grant

2019-11-24
By: Ceri Shaw
Posted in: Author Interviews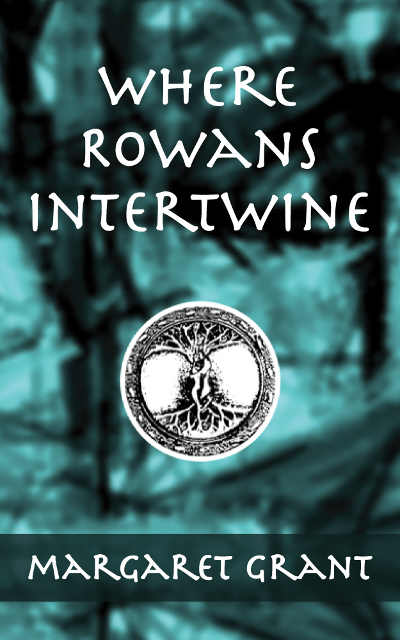 AmeriCymru: Margaret and many thanks for agreeing to this interview. Care to introduce your historical novel Where Rowans Intertwine for our readers?
Margaret: Hmm!  Thank you Ceri.  Lovely to 'be here' in touch with people who love Wales as I do.  We are now retired to Lincolnshire, but I still have such a strong hiraeth for the beautiful land that nurtured me for 23 years.
Most teachers will know how frenetic full time teaching is and how time consuming.  However, although I had a delightful job running the kindergarten in a small school on Anglesey, I was in for a big shock. Chronic fatigue syndrome along with an exacerbated spinal injury ended my teaching career.  We've all heard the maxim, 'When life gives you lemons, make lemonade,' so, I decided to make the best of things and use my time usefully.  I began to research and write the novel I had always wanted to read.
For me the book needed to be historical, have some sort of magical quality, be spiritually nourishing and of course have an edgy romance.  It would have to answer unsettling questions about the sacred mountain where we lived when bringing up our children on the island of Anglesey.  I was severely disabled, but I needed a raison d'être and new focus.  I grasped the opportunity life afforded and, when I was bedbound, began painstaking research into the period of Romano Celtic history that followed the slaughter of the Druids on the shores of Anglesey (Mona) in North Wales 2000 years ago.
There was something so beautiful and mystical about the sacred mountain of Mynydd Llwydiarth where we lived; with a forest behind us and Snowdonia spread out at our feet.  (It is now a red squirrel sanctuary) When feeling well, I had often roamed the mountain forest behind our cottage and allowed the plants and earth beneath my feet to 'speak to me'.  Ancient memories seemed to surface from the old rocks.  I became convinced that a Celtic priestess had lived on the site of our house around 2000 years ago.  Her story begged to be told.
When I was able to kneel, I began writing in short bursts, supporting myself on a kneeling stool.  With hands on Reiki healing and medical herbalism I began to regain some measure of strength.  I decided to train as a Reiki healer myself, so that I could manage to take away my own pain.  I found this so useful in gaining empathy with Ceridwen, the main character in the novel.  Like me, at the beginning of her story she is a novice healer.
 
As my health gradually improved, I was able to spend longer at the writing; but it took me twelve years. Then came the task of finding an agent and a publisher.  It was so frustrating.  Agents and publishers made encouraging noises, but nothing materialized, so I decided to go down the route of self-publishing.  It wasn't a good idea for a technophobe like myself.  But, with the right support from friends and being able to find a brilliant professional formatter, it finally got published.  It took 24 years from start to finish, but it is now an ebook and is also available in a glossy paperback on Amazon sites.
If you want to know more about the story, here's the blurb I wrote for Amazon:
'After the death of her grandmother, young novice priestess and healer, Ceridwen, is faced with the daunting responsibility of ministering to her Celtic tribe at a time when spiritual leadership is most needed.  It is over two hundred years since Roman invaders attempted to annihilate the Druids on the shores of the island of Mona (Anglesey in North Wales).
Is now is the time for healing and forging a future from that hateful carnage?  Is her attraction to a Roman surgeon, Marcus, a weakness, or her destiny?  Dare she allow herself to be drawn into a relationship with him, now that she will be expected to mate at the sacred time of Beltane; and how can she steer her tribe away from its current chieftain, who usurps the nobility of Druid leadership in exchange for a reign of intimidation and terror? Their lives entwine and unfold in the setting of Mynydd Llwydiarth - the sacred mountain on the island of Mona.
Charged with passing the secrets and wisdom of her Druid training down the generations through the female line, she questions why she cannot conceive a girl child.  The true magic she comes to learn, as her life unfolds, is more about love and loyalty than ritual, more about justice than tribe.
Interpreted as an allegory of the era we live in, where there are clashes of both culture and ideals, we can empathise with the process; but, for both Ceridwen and Marcus it is an agonizing spiritual journey of self searching and response to their times.
'Where Rowans Intertwine' is an historical novel which will interest those who enjoy a mystical tale, a spiritual quest, and a dip into the past.  It will fascinate those interested in things Celtic, Roman or Pagan, and create an awakening to healing and life purpose.
More details can be found at www.margaretgrantauthor.wordpress.com
So far I've been lucky enough to have many five star reviews on all Amazon sites and Goodreads.  I'm now busy doing local book signings in Lincolnshire.  However, at Easter 2016 I managed a long awaited trip to North Wales to do book signings at Caernarfon Castle, The Ucheldre Centre, Holyhead, Oriel Môn, Llangefni and the Bulkeley Arms Hotel, Beaumaris.  It was a great opportunity to sell signed copies of the paperback and meet old friends and new.
AmeriCymru: Do you think that Druidic practices survived the Roman occupation of Ynys Mon? Do you think that more should have been done to preserve those ancient traditions?
Margaret: I met and interviewed people on Anglesey who claimed to have been descendants of Druids. They said that, as Druid teachings went underground during the Roman occupation, the practices of healing, prophesying and conducting the sacred rituals at the festival times fell to the women.  They claimed that the secret sacred teachings were passed down through the female line, emerging today in several formats such as medical herbalism, hands on healing as well as wiccan and pagan rituals.
It would seem to make sense. The Romans knew how politically influential the Druids were to the tribal chiefs and kings of the time.  Destroying their power base was crucial to Roman civilization.  To survive, Druid teachings had to go underground, but we can see echoes of it in Christian rituals at Christmas, Easter and Halloween.  We hear echoes in our folklore, songs and traditions.
The Romans were pragmatic and as long as the Brythonic tribes did not rise in rebellion, the occupied peoples were allowed their old festivals and traditions. As a result many outward forms of Druid practice get mixed up in how we celebrate traditionally today.
In the 18th century there was a fashionable revival and interest in Druidry.  When people started to take an interest in its spirituality during the 19th century we see traditions currently used in the cultural celebrations at national eisteddfodau beginning to be played out. These days the Order of Bards, Ovates and Druids – OBOD would claim they have more of a handle on the teachings and run training courses.  Here is a link to an overview of modern day Druidry.
https://www.druidry.org/druid-way/what-druidry/brief-history-druidry/history-modern-druidism
Christian institutions, from the medieval period onwards, played their part all over Europe in persecuting and hunting down 'heretics'.  Druidry was buried, but its threads were still alive in folklore and folk medicine and even in superstitions.  The other way it survived was through inspiration.  Sensitive people, working with meditation and prayerful energy, are inspired by those gone before.  I was fortunate to be able to link in this way to Ceridwen as she helped me mould the story I was creating.  As I was editing she would often stop me in process and tell me 'No!…Watch! It was like this!'
AmeriCymru: How easy is it to research the period in which the book is set? To what extent does imagination supplement primary sources?
Margaret: There is much more archeological evidence these days than there was in 1991 when I began my research.  Fortunately according to Professor Alice Roberts, nothing I wrote has been disproved.  No world wide web for me in those days.  I was reliant on books borrowed from Bangor University Library, giving me access to old Roman maps, articles on farming and Welsh culture and law during the Roman occupation. Visits to museums to look at artefacts and visits to the remains of Segontium fortress near Caernarfon made it easier to imagine life in those far off days.
At both Bangor Museum and Oriel Môn, Llangefni I was able to view some of the votive hoard found at Llyn Cerrig Bach during the Second World War.  Now it is housed in the National Museum of Wales in Cardiff. The fascinating museum at Segontium, where I was fortunate to have the curator all to myself for a whole afternoon, is now not manned; but I believe you can ask for the key at Caernarfon castle if you book in advance with CADW.  Chester Museum and the Deva experience there gave me even more material and a feel for the might of Rome.
The Roman chronicler Tacitus and writers Caesar and Pliny all give accounts of the Roman occupation of Britain, but current historians reckon that there was lots of bias and spin to their stories, proudly recording victory after victory and denouncing the Brythonnic tribes as uncivilized.  Archeology has proved that wrong from the way they wove, fashioned tools, worked with gold, copper and iron, built houses and roads, traded, had supreme horsemanship and farmed the land sympathetically. Their laws were very egalitarian, supportive of family life and their links to the land.
In some ways, even though it took two years of assiduous research, I was relieved that I did not have to pin myself down to too much historic detail.  So much remained a mystery; so I had to rely on a great deal of imagination and stimulus from my muse Ceridwen.

AmeriCymru: Will you be writing more historical novels? Will you be setting future novels in the same place and period?
Margaret: I am 74.  Whilst I can still be a walk leader for Walking For Health and run meditation classes and Reiki classes from our home, I really do not want to tie myself to a computer as it drains me of energy.  I want to be out in my garden tending the herbs or hosting retreats for people who need some peace and quiet in their busy lives.
However, if I ever do become immobile again I will follow up on 'Where Rowans Intertwine' with an account of Llew's life in the same area of Anglesey.  He is Ceridwen's young son.  I am convinced he was an ancestor of Llywelyn Fawr.  Occasionally when I cannot sleep at night I feel his story calling me…
AmeriCymru: What is your process? Do you write a certain amount each day or do you wait for inspiration?
Margaret: It has always depended on what needs doing as a priority.  During times of struggle with practicalities and pressure from family matters my creative writing has had to take a back seat.  Recently, on becoming a Reiki master (teacher) I wrote my own training manuals.  My writing energy is always better in the mornings, just after the two cups of real coffee I indulge in.  Then, after a domestic tidy, I settle down to write for the rest of the morning.  I might begin with a silly computer game to get my brain stimulated.  Then I will open up my partially written manuscript and read it aloud to myself.  As an ex drama teacher I am looking for dramatic effect and timing as well as typographical errors. I listen to it as though I am a member of its audience.  As I go along I edit.  When I have finished cleaning up what I have previously written, I pause.  Maybe I will have a walk around the garden and smell the beauty, put out the washing, pray and meditate for a few minutes and then get creative.
AmeriCymru: What are you working on at the moment?
Margaret: I am just about to publish a children's paperback.  I will work on editing an ebook version during the Christmas holidays.  It has been such a wonderful self-indulgent trip down memory lane.  You see I am a cataholic……( No not a Catholic.  My faith is Bahá'í, which means I appreciate each world faith as a significant chapter in the spiritual evolution of humankind.)  I am a great fan of cats.  We have been owned by nine of them during our long family association with felines.  I must have read almost every book that has ever been published about cats.
Mine is called 'THE NINE LIVES OF TIGGER DIGGER'.  It is based on the true to life story of our latest family moggy, Tiggy.  It's the tale of how we imagined he got to be dumped on the South Yorkshire moors and had to learn to fend for himself before finding his forever home.
My lovely husband, Gordon, has done the delightful illustrations and both daughter Claire and son Andrew have contributed memories and ideas.  It is suitable for 7-14 year olds to read by themselves, but it will also interest adult cat lovers.  At the back there are discussion questions to accompany each chapter so that parents and teachers can prompt youngsters to think about moral values.
Here is a taste of the draft cover: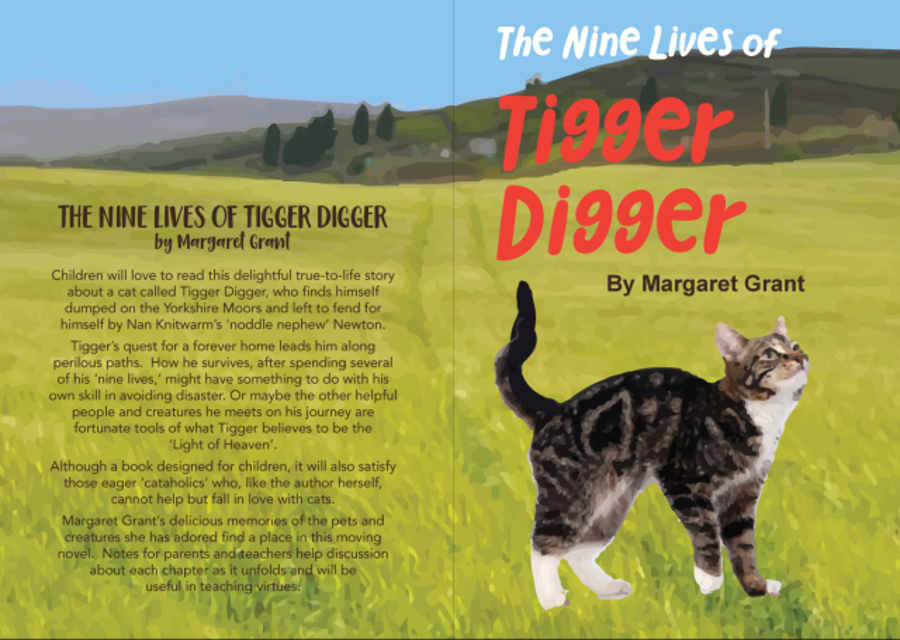 AmeriCymru: What are you currently reading? Any recommendations?
Margaret: I'm currently rereading Philippa Gregory's novel 'The Constant Princess' on kindle.  I was lucky enough to visit the Alhambra in Granada two years ago and it is bringing back strong memories of the region.
In paperback I am reading 'All The Light We Cannot See', by Anthony Doerr, a fascinating story of a blind teenager in occupied France and a young radio scientist who is singled out to be of great use to the Nazi effort.  This is so atmospheric you have to savour each small vignette as it alternates each character's story of the same war.  I am half way through and the two main protagonists have not met as yet.
For those of you who love historical novels about Welsh history I recommend the writing of Sharon Kay Penman and Elizabeth Chadwick. Maybe you are already familiar with Sharon's trilogy about the Welsh Princes:  'Here be Dragons' ,   'Falls The Shadow' ,   'The Reckoning'? 

For me, the historical writer par excellence is Elizabeth Chadwick.  I have often observed that with some writers I am especially telepathic and when they begin to outline a character or place, even well before they have furnished a full visual description, I can already see what is in the author's mind.  I have a very strong connection with her writing.  If you found Wolf Hall more like a PhD thesis than a digestible story then you will prefer Elizabeth's writing.
There are tantalizing glimpses of Llwyellyn Fawr in 'The Leopard Unleashed', part of her Ravenstow Trilogy about the Welsh Marches.

Here is what she says about Garth Celyn, his Welsh stronghold near Aber in North Wales.

http://livingthehistoryelizabethchadwick.blogspot.com/2010/04/garth-celyn.html
AmeriCymru: Any final message for the members and readers of AmeriCymru?
Margaret: Keep the hiraeth flowing and the Welsh language safer than houses if you have it.  Value your heritage and treasure the culture, but do not lose sight of the oneness of humanity, from which cauldron we are all born.  Call others to discover the hidden treasures of Wales; her unspoiled and spiritual landscapes; her connection to sea and sky; her ancient wisdoms and her noble saints and seers.  Sing, laugh and be part of an amazing landscape. If you have hiraeth and can make the sacred journey then come to her mountains, valleys and shores. If you cannot travel, then do so in your meditations and dreams. The welcome is always so warm.