HERE'S A BOOK WITH A DIFFERENCE FOR RUGBY WORLD CUP FANS!

2019-08-24
By: Ceri Shaw
Posted in: New Titles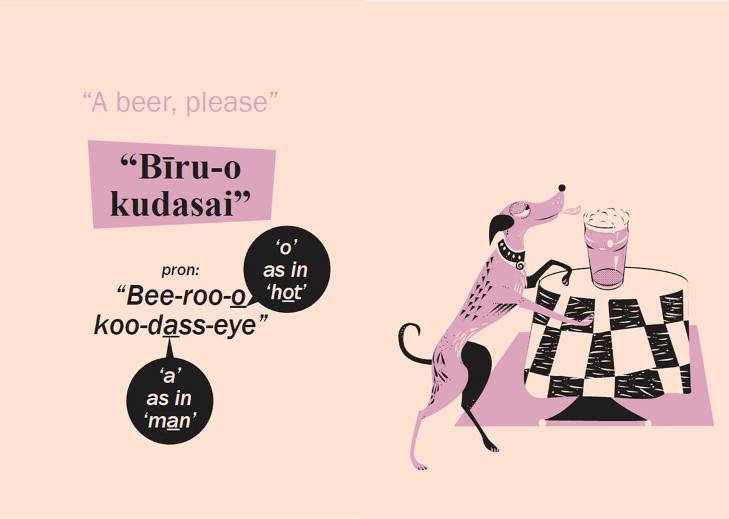 ---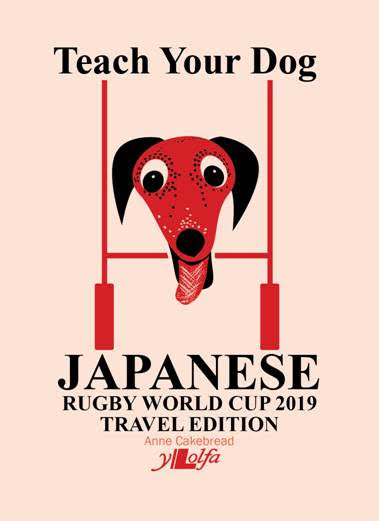 The author of an unusual new handy pocket-sized phrasebook is hoping to use humour to inspire people to learn a few basic bits of Japanese in readiness for the Rugby World Cup, which will be held in Japan in September 2019. Unlike many traditional phrasebooks, Teach your Dog Japanese Rugby World Cup 2019 Travel Edition  (Y Lolfa) shows that learning useful expressions doesn't have to be boring or daunting, and makes picking up a few basics accessible to everyone. 
Every phrase is shown in both  romaji  (Japanese  words spelt out using our alphabet) and English, accompanied by appealing 1950s-style retro illustrations as well as help with the Japanese pronunciation. There are over 70 expressions to practise, from rugby-themed phrases such as  Sukoa-wa nan-ten desu-ka?  ('What's the score?') to general tourist-themed phrases such as  Eigo-no menyū arimasu-ka?  ('Do you have an English menu?'). It's an excellent and really fun introduction to learning Japanese for all ages, and will help visitors to Japan with talking about the World Cup as well as with typical tourist activities such as finding your way around and travelling by train. 
Nigel Botherway, well-known rugby writer for the Sunday Times called it "a brilliant Japanese phrase book for rugby fans - and dog lovers!" 
The book is part of a series designed to help you learn a language while engaging with your favourite pet, and was inspired by illustrator Anne Cakebread's bestseller  Teach Your Dog Welsh  (Y Lolfa, 2018). 
"The popularity of the series has been amazing! I was thrilled when  Teach Your Dog Welsh  was reprinted for the first time – but I'm amazed that it's been reprinted three more times since! Hopefully this book will encourage rugby fans to learn a little bit of basic Japanese!" said Anne Cakebread. 
The inspiration for the original book came to Anne after she re-homed Frieda, a rescue whippet. Anne came to realise that Frieda didn't understand English and would only respond to Welsh commands. Slowly, whilst dealing with Frieda, Anne realised that she was overcoming her nerves about speaking Welsh aloud by talking to the dog, and her Welsh was improving as a result – this gave her the idea of creating a book to help other would-be language learners whilst also using her skills as an illustrator. 
Summoning up the confidence to use a language you're learning can be intimidating at first. A number of books are available to help with vocabulary and pronunciation, but the light-hearted context and the beautiful illustrations mean that this book is a bit out of the ordinary. It will especially appeal to people who haven't had much success with languages in the past. 
Carolyn Hodges, Head of English Publishing at Y Lolfa, who developed market-leading language-teaching materials for Oxford University Press for many years, said: "One of the key factors in motivating someone to start learning and using a new language is to make it enjoyable." 
Anne Cakebread is a freelance illustrator whose work was used in  Rugby World  for over 15 years. She grew up and went to school in Cardiff and now lives with her partner, two whippets and lurcher in St Dogmaels, Wales, where they run the Oriel Milgi boutique B&B. Anne also runs Canfas, an art gallery in nearby Cardigan. 
Teach your Dog Japanese Rugby World Cup 2019 Travel Edition  by   Anne Cakebread (£5.99, Y Lolfa) is available now.
---