LLYFR NEWYDD I DDATHLU COFIWCH DRYWERYN! | NEW BOOK TO CELEBRATE COFIWCH DRYWERYN!

2019-05-16
By: Ceri Shaw
Posted in: New Titles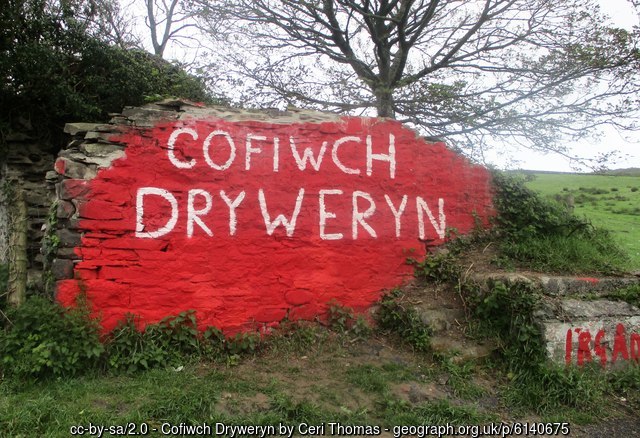 ---
LLYFR NEWYDD I DDATHLU  COFIWCH DR YWERYN!
Rydyn ni angen eich lluniau a'ch straeon! 
Mae Gwasg Y Lolfa'n paratoi cyfrol ddwyieithog i drafod a dathlu'r ffenomenon ddiweddaraf o furluniau Cofiwch Dryweryn, i'w chyhoeddi yn Hydref 2019. 
Bydd y gyfrol yn cynnwys detholiad o'r murluniau newydd sydd wedi eu creu o gwmpas Cymru mewn ymateb i'r trosedd casineb yn erbyn y murlun eiconig gwreiddiol. 
Meddai golygydd y gyfrol Mari Emlyn: "Cyfyngir y dewis o luniau i furluniau yn bennaf. Ni fydd yn bosib cynnwys pob murlun a llun yn y gyfrol, ond rydym yn chwilio am y rhai mwya trawiadol a diddorol! Bwriedir cynnwys dyfyniadau gan rai o'r bobl allweddol fu'n creu'r murluniau newydd a rhoi sylw i'r twf diweddar yn yr ymwybyddiaeth Gymreig ac annibyniaeth." 
A fyddech gystal â chysylltu efo golygydd y gyfrol Mari Emlyn  mari.emlyn@btinternet.com    i rannu eich lluniau a'ch straeon? Dyddiad cau derbyn deunydd yw Mehefin 24, 2019 
---
A NEW BOOK TO CELEBRATE COFIWCH DRYWERYN!
We need your photographs and stories! 
Y Lolfa is preparing a bilingual book discussing and celebrating the recent phenomenon of the Cofiwch Dryweryn murals to be published in Autumn 2019. 
The book will contain a selection of murals and images that have been created all over Wales in response to the hate crime against the original iconic mural. 
The editor Mari Emlyn said: "The choice of photographs will be mostly limited to murals. And although it will not be possible to include every image in the book, we're looking for the most impressive and interesting ones! Quotations by some of the people who have been instrumental in creating the new murals will be included in the book, as well as coverage to the recent serge in Welsh identity and the independence movement." 
Please contact Mari Emlyn  mari.emlyn@btinternet.com  to share your photographs and stories. Closing date for submitting material is June 24, 2019