Hear The Echo by Rob Gittins - A Review

2018-11-26
By: Ceri Shaw
Posted in: Book Reviews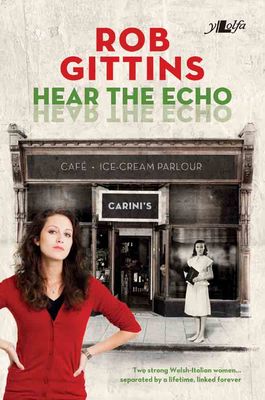 When I was a lad in Pontypool I would frequently visit 'Aldo's' on the way home from school to play pinball, drink coffee and socialize. I don't know if it's still there but in my youth it was one of many Italian cafe's that graced the south Wales mining valleys. From Pontypool to Ammanford or from Treorchy to Cardiff you would likely spot a 'Rabaiotti's', 'Bracchi's' or 'Carini's'. These cafe's were run by Italian immigrants who left home to escape poverty, Mussolini, or both.
'Hear The Echo' is Rob Gittins' fifth novel and in choosing to set it against the background of this migration and a related tragic historical incident, he has once again succeeded in crafting a superbly intriguing and suspenseful novel.
In the 1930's, Chiara emigrates from Italy to forge a new and better life in Wales. She encounters bigotry and xenophobia as she and her employer battle to keep their italian cafe in business in the shadow of World War II. But all that's soon eclipsed by a love triangle that threatens to destroy everything.
Meanwhile present-day Welsh-Italian Frankie struggles to find the money and hope to hold her family together in the same valleys community. Along the way she has to decide how far she's prepared to go to do that - and whether what she has is actually worth the fight.
The two women never meet. But as their joint experiences begin to resonate down through time, their journeys intersect. And each becomes as real to the other as if they'd physically breathed the same air.
One of the novels' principal characters is interned at the beginning of World War II and sails on the ill-fated Arandora Star. In order to discover more you will have to read the book but we have included some useful information and links concerning the ships'  tragic fate below.

This is a superbly crafted  and suspenseful thriller which will hold the reader spellbound throughout. It also has much to say on topics of vital contemporary concern such as immigration and integration.




Arandora Star
---
From the Wikipedia:- " SS Arandora Star was a British passenger ship of the Blue Star Line. She was built in 1927 as an ocean liner and refrigerated cargo ship, converted in 1929 into a cruise ship and requisitioned as a troop ship in World War II. At the end of June 1940 she was assigned the task of transporting Italian and German civilians among a small number of prisoners of war to Canada. On 2 July 1940 she was sunk in controversial circumstances by a German U-boat with a large loss of life, 865."