TRICKSTER, FORGER OR GENIUS – THE STORY OF IOLO MORGANWG, ONE OF THE 18TH CENTURY'S MOST COLOURFUL CHARACTERS

2018-04-19
By: Ceri Shaw
Posted in: New Titles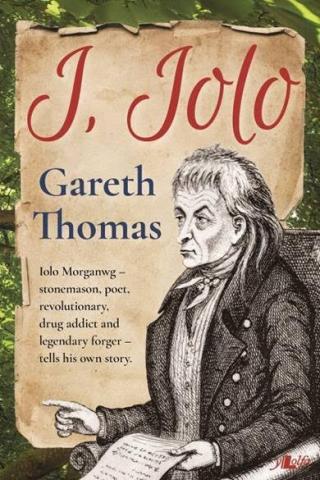 Iolo Morganwg is an enigmatic historical figure in the Vale of Glamorgan and beyond. Gareth Thomas' novel I, Iolo , published this week by Y Lolfa, uses research and evidence recorded by his contemporaries and academics to recount his prodigious and astounding story. Iolo Morganwg had many faces: stonemason, self-taught scholar, poet, hymnist, politician, patriot, revolutionary, druid, failed businessman, drug addict, campaigner for human rights and perpetrator of the greatest act of literary forgery in European history.
The closing years of the 18th century were, in Iolo Morganwg's words, an age of 'unparalleled eventfulness' and he was in the thick of it; a young man of prodigious talent and boundless energy, drunk with words, outraged by injustice and in thrall to the spirit of liberty sweeping across Europe. The scene moves from Cowbridge to the grand drawing rooms of Mayfair, from Gorsedd ceremonies on inhospitable hillsides to the luxurious bordellos of Covent Garden, from his cottage in Flemingston to a hearing before the Privy Council in Downing Street.
Having been inspired by Iolo's story whilst at the National Eisteddfod in Llandow, Gareth Thomas set about learning more. As well as visiting places associated with the bard, such as his memorial at the Church in Flemingston, Gareth also researched the historical figure, reading the work of Gwyneth Lewis, former National Poet of Wales, Geraint Jenkins, Dr Mary-Ann Constantine, an academic specialising in Romantic-era Welsh literature and others. He came to the conclusion that here was a story with real contemporary significance, "the more I learnt, the more I marvelled at his story. It's a tale that needs to be told".
Here is a novel to introduce Iolo Morganwg, his opinions, adventures and the events which gained him a reputation as trickster and forger, to the world. A Welsh version of the novel, Myfi, Iolo, was published at the end of 2017 and has received enthusiastic reviews by the press and was described as 'a fascinating novel about a fascinating person' by Dr Mary-Ann Constantine.
Cowbridge History Society, Cowbridge Library, Cowbridge Bookshop and Y Lolfa have teamed up to organise the launch of I, Iolo as a special celebration of the town's most famous - or most notorious - son. Carys Whelan will chair and ask the questions. Two well known actors, Danny Gregan (Stella, Casualty) and Eiry Palfrey (Pobl y Cwm, Poncho Mamgu) will provide a reading, taking the parts of Iolo Morganwg and his long suffering wife Peggy.
Gareth Thomas' roots are in Cwm Rhondda. He studied drama at Barry and London and worked in England as an actor, teacher and director. At fifty he learnt Welsh and seven years ago he moved to the Vale of Glamorgan and currently lives in Cowbridge.
I, Iolo will be launched at Cowbridge Library, Old Hall Gardens at 6.45pm, to start at 7pm on Monday 30 April 2018.
I, Iolo by Gareth Thomas (£9.99, Y Lolfa) is available now.