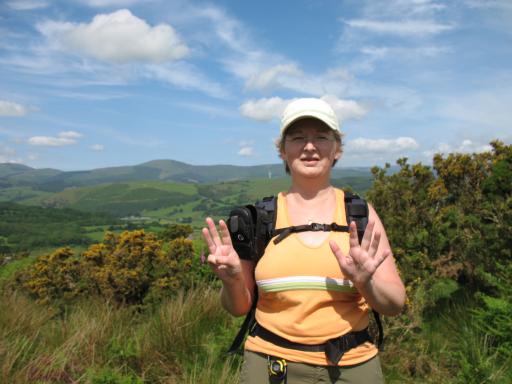 2006 Offa's Dyke Path (Chepstow to Prestatyn)
Offa's_Dyke_Path
2008 - Glyndwr's Way & Offa's Dyke Path South (Knighton to Chepstow)
Glyndwr's_Way
-------------O.K. This is a blog.. so the plan is to put here my travels on the two above walks. I took daily notes on each leg of the path. It would be fun I think to post them here and make additional comments on what I did and saw and then have others comment.. if they've been there, done that, what they liked etc.. so that others interested in travelling this way (walking 180+ miles over a two - three week period) might have an idea what it is like. Or just so folks can live vicariously through the experience. =+)So here goes: Day 1 - June 1st 2006Tintern Abbey Hotel - 1st Night and arrival in Wales. Direct flight (Zoom Airlines) from Toronto Canada to Cardiff. Taxi to Tintern Abbey Hotel.A few minutes having a lone meal - feel like the lady in the movie on the plane - it is a bit posh for my liking but then it is the "Abbey Hotel" - has a piano too! Slept a while and took a walk through the small town - along the river Wye - went to the Abbey but grounds were closed - should have gone this afternoon but was too jet lagged. Am going to relax now and have a nice dinner, a pint of cwrw (1/2 pint that is!) and go check out the Abbey again before the sun goes down. Want to get a picture of the Wye to see if here it really does look like Tintern, Ontario.Town is quiet, but then it is only Thursday and a bit early for dinner - 7:30 - I'd rather eat early before it gets too busy. I hate eating alone especially in a restaurant.Listening to George Michael "People" while eating dinner. and thinking of work friends who like this song. Will have to call mom and dad - then more sleep before breakfast in the morning. Food, food, food - that's what vacation is all about isn't it? The Hotel reminds me of something straight out of the 40's - square wooden table with no table cloths, water goblets, two sets of silverware. Few more people showing up now, will most likely be busy. Once I've finished - whew even a bus-boy to collect plates! - getting a kick out of the sappy depressing 80's slow music "Never gonna change my love for you..."8:35 p.m. and sitting on Abbey wall beside the river Wye. Peacefully and thankkfully quiet - that is except for the rooks cawing and birds twitting. Can hear at least 4 - 5 different types of birds or more! Quite noisy actually. River flows from left to right - funny, I thought it had flowed the other way for some reason - but it make more sense that it flows to the Severn to empty into it. Flowing quite quickly, in a gentle sort of gurgly way. It even makes a sound when you listen hard. The birds are insane! at least ten different ones and quite active - matching the rivers speed and flow of energy about this place.I wonder how this place was run when it was a fully functioning church/monastary? The place would have been very different without all of the houses and cars - isolated - lots of green in a beautiful valley. The monks built a path to view the Abbey from the "Devils Pulpit" I will have to take a picture tomorrow when I reach there.----------Day 2 (Walk Day 1 - June 2) Sedbury Cliffs (Chepstow) to Bigsweir - 8.9milesPics of Day 2
ODP_Day_1
Walk day 1 - done! yay! I was 2 hours later than expected! - got sidetracked 3 times and went at least 1/2 hour out of the way - was so fed up the last time I was lost that I flagged down a nice gent in a truck to ask for directions. When I realized I had another 1 km or more to walk back to the the proper way, I asked him for a lift. The day started out o.k. at Sedbury Cliffs - wasn't much to look at - at least not as exciting as I thought it would be. Some prettiesh walk through some streets, but following the Wye always to the left side. At the bridge where I should have started my walk from (in Chepstow), but I insisted to start at the beginning from Sedbury (at the the pudding stone). Probably this added an extra 1/2 to the day! I made my 1st wrong turn at the Chepstow Bridge opposite the castle. Went down to the bridge instead of turning up the hill. Got some nice pics of the castle! Turned around and climbed back to go in the right direction. - bit of a climb up a 'close.'The second wrong turn was shortly after the first. I went down into a nature reserve when I should have gone up. Missed Wintour's leap. The nature path followed along the Wye's edge to a pretty little abandoned church. Once there, I checked my map - to my surprise I'd gone way out of the way! So I climbed up a ridge and went towards the Dyke and followed the path backwards a few feet then turned down a road and went around Ashbury house - had to retrace my steps back and up to the road again - opened a gate that probably hadn't been opened in years and couldn't get it shut again! It did have an acorn on it! - but think the path goes around it on the road.Once back on the path, I had to pee. So I went into the woods behind Ashbury House to look for a good spot off the path. Later, about 5 min. later, further down the path, I stumbled on this guy with his pants down doing his business in some bushes beside the path - I startled him - and he appologized profusely while struggling to put his pants back on! I laughed and continued moving past him down the path and mumbled something about not to worry because I was doing something similar only a few minutes ago. Kept walking of course while saying all this!Only 15 min later, I pass a 2nd guy - I think he is a runner a first coming towards me in a speedo. Then I notice that he's got nothing on. His shorts are in his hand and he is butt naked! "Sorry" he says with a sheepish grin on his face as he jogs by me. I thought "just keep moving" and kept walking fast! About 40 min later or so bumped into a couple who said they had only seen one other couple out on the path - and "oh a lone runner' - I should have, but didn't ask!Two naked guys within a 1/2 hour of each other! And only Day 1.. I was starting to think this wasn't such a good idea walking alone.I knew I was late. I didn't get to Tintern Abbey until 2 p.m. and ate by what I thought was the devil's pulpit but wasn't. When I walked by the pulpit there was a beautiful view of the Abbey bur I didn't stop to take a picture because there was a young couple there chatting and I didn't want to interrupt them. - silly me - should have snapped the photo.Took my pack on and off so many times today - I think I might try to carry my camera bag tomorrow so I won't have to scramble in the pack so much. Weight is a bit heavy, but not too bad. It was hot today - close to 28 degrees and quite sunny. I used lots of lotion but my face is still red.The 3rd time I got lost - I crossed over Brockweir Bridge. I was supoose to go the other way away from the river (not across it) - then it would have been a short walk to the B&B. As it was, I walked an extra 1/2 hour to realize I was completely wrong. I couldn't figure out where I was on the map to where the B&B was. The guide book was no help because I was on the wrong side of the river and off map! So, I flagged down the next car that cam along the road. The guy cave me a nice lift back to the bridge saving me for certain a 1/2 hour! I was so tired. By this time not only were my feet sore, but my right ankle was killing me - front calf ache & big blister on heel - which has just popped and not hurts worse than before - will have to moleskin and duct-tape it tomorrow as the moleskin rubbed off without my knowledge and caused the blister to be bigger!The B&B is very nice. Bed is comfortable - a little better than the Abbey Hotel that is for sure. Had a little chat with the owners - I interrupted their supper so I think they were a bit put off - they made remarks as to how late I was compared to other walkers.. oh well, it's my holiday and the first time I have ever done anything like this.. I can't be expected to be fast at it right from the start. But they were quite friendly and the house and yard are so beautiful. Everything seems ver particular and just so that I am afraid to touch or move anything in case I offend. I am eating ginger cookies in bed which am certain will not go over well with the crumbs!Had a nice cup of tea and a shower and felt tons better. Had a stroll as well around the garden - like I hadn't walked far enough already - the b&b owners suggested I take a tour around the yard. Wandered around tea in hand by myself looking at the pretty flowers - felt a bit like I should be wearing a Pride & Prejudice dress while I took a "turn" around the "prettiesh place" (grin)Am in better spirits now that I've got one day in. Hope feet hold out tomorrow & next day & next.. etc.. etc. =+)------------------------Day 3 (Walk Day 2 - June 3) Bigsweir - Monmouth - 10.3 milesPics of Day
ODP_Day_2
Walk Day 2. Real feather pillows - that's what I'm liking about B&B's! - good sleep that is. Walked today for 8 hours! Started at 9 and finished at 5 p.m. Glad I left @ 9 - don't think I would be here - have made it had I not. - was tough - climbed up past the Offa's Mead house where I was told to go - missed a sign at a style and headed down a steep climb - got to the bottom and though I'd gone the wrong way (always rely on instinct!) - thankfully some folks coming back the other direction said yes I was going the wrong way - but unthankfully I had to climb back up the steep hill! -was exhausted! - then over a few styles where I met two walkers going the other way "from Monmouth" they said "to Chepstow and back" - thinking they must have left quite early if started in Monmouth! It would take me about another 4 hours to reach the Kymin! A lot of ups and downs to Redbrook where I filled my water bottle at a local store and bought a couple of chocolate bars out of guilt for asking for the free water. - Could have bought something for lunch here, but figured the chocolate would do. - The 1 bar came in handy before doing a number of hills later.In a lovely room now at the Hendre. - Will have to get the proper pronunciation. Had a nice cup of tea with Pam who was busy making dinner. She took a quick moment out to have a sit & tea & chat - some lovely Welsh cakes! Actually eating home-made Welsh cakes in Wales makes it xtra special! Their cat is 21 years old and doesn't look any older than 5. Went for a short walk with their dog Tom - Border collie and smart - took a ball with him and dropped it while going up a hill to watch it roll down the hill so he could chase it! - more like pounce on it. I threw it a couple of time for him..but he liked rolling it better.Have a couple of blisters which were a bit bothersome today - moleskin and duct tape together did the trick. Bought some moleskin and blister bandages in Monmouth - chemist looked at me like I was crazy - hadn't a clue what I was asking for or where to begin to look (maybe it was the Canadian accent!) - his assistant pointed them out. Have them on now and they feel much better. Orthotics are doing o.k. my front calves are a bit sore again today but have done lots of hills so I'm not sure if it is from the orthos or from general hill climbing soreness.I'm teary deary all of a sudden - hope I'm not at supper which is in 10 min or so. Have to get used to being called "dear" and "luv" - it's so different over here and no mosquitoes! - none - Pam laughed when I asked. "We have bees and wasps," she said "but no mosquitoes." There are some black flies or little bugs that fly around in the shady areas - like little natty things - but they dont' bite.I haven't seen too many people today (other than in Monmouth) - it was HOT - I have bruises in weird spots where the rucksack rubs and or bites in. Am tired and going to go over for supper and take a long bath in the tub later before bed.Supper was amazingly good. But way too much food and non-hungry me only ate about 1/4 of it. I felt awful but just couldn't force any more.Day 4 (Walk Day 3 - June 4) Monmouth to LLangatock LingoedPics of Day 4 (Walk Day 3) -
ODP_Day_3
Day 3 done! I am so tired now I can barely think, but I have to repack my bag and am beginning to rethink about packing my rucksack. I may try using my small pack tomorrow. Blister on heel is huge and sore - but clean and starting to dry up a bit - just hope I have enough moleskin to get me to Hay as the B&B's are in remote villages and don't have access to a pharmacy! (side note - I do now properly call them Chemists)I am staying at the Old Rectory - across from a church in Llangattock Loed - can write it, but can't say it correctly! I will have to work on my Welsh more when I get home. The views of the countryside are breathtaking. Only, I can't enjoy them so much if I get lost all the time. This morning was a nightmare. First I missed the path just past the Hendre farm and went about 5 min or so the wrong way down the lane. Turned around and found the proper stile. Went down a hill following the path and came to a huge and very pretty oak tree. Went over the stile - it did have a nut on it showing it was part of the path. The guidebook said to look for a footbridge. After walking across the field, there was no path that I could see, or a footbridge. So I turned back and went 10 min. back to the stile and the tree. Saw a footbridge, but this just had me going around in circles between this field and the next and back to the tree. Puzzled for a bit - read and read the book and the map. I decided the correct path and headed onwards. Got turned around again somewhere a few fields later and came out to a road. I thought all I needed to do was walk up the road a bit and I would meet up with the path where it crossed the Abbey bridge. - no such luck. I was beside a golf course. Asked a couple of people for directions - they were no help. Walked back down the road and flagged a car coming toward me. Asked for directions and again no luck. The couple didn't know the area well, but we determined where we were on the map. Not far really from where I started out an hour or so earlier from the B&B! I had gone in a big circle! The couple gave me a lift up to the fork in the road to get me going again in the right direction. They went too far though and I was now on the wrong side of the river Trothy. It was too far to walk back, so I plodded onwards hoping to find a bridge across the river. The Offa's Dyke Path was just on the other side, but unreachable as the river was too deep to cross.Never trust the guidebook or the Ordinance Survey Map. The map showed a bridge over the river. I spent an extra half hour tramping through a field looking for it. The path that was there was signed, but so overgrown it definately hadn't been used in many years. I was hopeful a bridge still existed. It was hot and I was tiring fast! Frustrated, I thought I would go up the road, find the nearest phone and call it quits for the day. I reached a farmhouse and went up the lane for directions and help. The place was selling puppies! Border Collies.. soo cute! Little noses poking out of a horse trailer. But there was no one home. Only 3 large Collies in the yard barking like mad and puppies whining for attention. I was so hot and tired that I didn't stop to see them. I would have wanted to take one home if I could. I went towards the barn, determined to find someone as there was no other place close by for a mile or so and I needed to stop. Past the barns at the end of the lane there was another house where a little Yorkie barked - its owner came around the back of hte house - a little surprised to se me - but quite friendly. When I explained I was lost and couldn't find a way over the river back to the ODP, she smiled and said there was a bridge not far from the house. The family used it to get to the church on the other side of the river! She directed me out behind the farm - under a barbed wire fence and over a muddy ditch - up a short distance to a field and past a curious horse - over a bridge - up a muddy bank - and good-bye river Trothy!Came to a church which the guide book said was a nice place to stop for lunch. I didn't much like eating in a graveyard, so I went around the side of the church and sat on a curved stone wall in some lovely, much needed shade. I skipped the tuna packed lunch. It had been in the pack for almost 4 agonizing hours and I couldn't trust it hadn't turned. I was exhausted and feeling quite behind and out of place. I regrouped my thoughts though and decided to continue on. I rested some, got out my map and compass and righted myself. Felt a bit better knowing I was back on the path. It ran just behind the church!I met a nice chap (Dave) catching up to me going in my direction. He had a chocolate lab with him and was going to Pandy from Monmouth. We walked on for a bit and got lost together! Thank goodness I'm not the only one who can't read a guidebook! My book said to go through the new orchard. Dave's didn't mention an orchard. We righted ourselves fairly quickly. When he stopped for lunch, I continued on knowing he would catch up as he was a much faster walker. I stopped to fix the blisters on the feet as it looked like a bit of rain was headed towards us and I wanted to change the bandages before the rain came down. A few fields later there was a sign to a pub - I needed water and felt like I was slowing Dave down so I stopped and sent him on ahead. He said I could share what water he had left but I wasn't sure I wouldn't drink it all. It was good I stopped, because shortly after I slowed down even further at a long steep hill to climb up to the White Castle. After the day I was having, I was second guessing every turn.Stopped at the top to again adjust my blister patches and continued on. I didn't stop at the castle because I knew I still had at least an hour or more to go because of the stupidity in the morning. I had been looking forward to stop too. I took some photos and moved along. Not long after, I was completly exhausted and could barely make it up a hill by some cows and over a stile. The came the last hill at Llangatock - it was a bit of a climb after such a long day.It was 5:30 by the time I reached the B&B. A warm welcome from the owner and an o.k. that I could have been a bit later as supper wasn't to be ready until 7. An older lady came in just behind me. She went straight to bed with no supper. She had been walking from Redbrook! and was less than 1/2 hour behind me at finishing.. boy I felt slow! That was two days walk for my one! I'm sure she will walk all the way to Hay tomorrow... and I am only going half that distance to Longtown.Met some nice ladies at supper. One is going to Ontario in a couple of weeks (St. Catherines! close to where I grew up) - to visit with her sister - it's a small world sometimes. I chatted too much.Day 5 (Walk Day 4 - June 5) Llangattock Lingoed to LongtownPics of Walk Day 4
ODP_Day_4
Was a very uneventful day for once! Passing after Llangattock, I crossed into a field of at least 10-12 horses. Stopped for a moment to admire them. They seemed a little skittish and when I went to check my map, I noticed it was upside down, so I started to shuffle it around in the map case. Well, the horses must have though I was rooting around for some food because when I looked up, I had all of them trotting towards me quite quickly. The biggest black one even rushed past me to chase a smaller tan one away. Quite scary having so many large horses milling around you - and then one decides to nip and bite the other! I had to whoa them gently and talked softly to them as I moved quickly to the next stile. I did have an apple, but wasn't about to watch a feeding frenzy with me stuck in the middle!Blister was sore today and the legs felt a bit sluggish. I didn't think I was walking very fast, but I managed to reach the 1st ridge well before 2 p.m. So, I stopped for a while - what a climb! and I have to do it again tomorrow!A good workout even coming off the ridge down to the B&B in Longtown. Downhill for about 1 hour is a workout in itself - but the blisters were thanking me - only the calves and front of the toes hurt now.Beautiful view out of my bedroom window facing the Longtown Castle. It looks like one almost fallen turrent poking out amongst the trees - very similar to that movie with the girl who locks her father in the castle to make him write his next novel - The last castle?Was at the B&B by 5 or a bit earlier. This is how the last 3 days should have been had I gone the proper way!Supper = salmon, carrot/orange soup, cauliflower in some sort of sauce, carrots, and poptatoes - Quite good! - followed by some tea in the garden. A nice hot shower with a spider! - which I didn't kill because it was too big and I also don't want it to rain tomorrow.Had weird dreams last night in Llangattock. I was in an old rectory last night though next to a church which was built on Celtic holy land. Hope I sleep better tonight. Hay on Wye tomorrow!Day 6 (Walk Day 5 - June 6) Longtown to Hay-on-WyeNo Journal Entry for this Day.. but pictures.
ODP_Day_5
Day 7 (Rest Day - June 7) Hay-on-WyeNo pictures of Hay but Journal Entry -Was too tired yesterdsay to write. Got into Hay around 6 p.m. - too late for any of the shops to be open - but strolled a bit and window shopped - the bars all looked a little overwhelming - too busy - and I wasn't much hungry, so I went into a small store and bought a couple of bags of crisps and had a cup of tea and went to bed. Excellen nights sleep with exception of blister - which I have well patched up today from the chemist and have enough plasters to get me to Knighton - where if I need more should be able to find some there.Yesterday's walk was mostly up hill. I had trouble finding the way up! Went up at the Red Darren from the car park and couldn't find the path to the top. Got side tracked on a well used footpath that skirted just below the top of the ridge, but frustratingly, there was no easy way up. Finally came across a footpath that appeared to go up and was well marked with signs. Finally, I thought. I had been walking since 9:30 with no signs of getting up to the path that runs along the top of Haterall Ridge. The path stopped suddenly with an arrow pointing to go back down! Damn that, I thought, I'm going up! I noticed some goat/sheep path and a large outcrop of rocks and started to climb. At one point, I went fairly straight up and thought just don't let go or you will fall! It was a bit dangerous that bit, but once I reached the largest boulder it felt a bit safer. Once over that it was strenuous - still climbing upwards, but the sheep paths were easy to follow. Going up over the hard part, I was clinging onto the ground cover and quite out of breath! Took a break at the top, once I found the ODP path and the girls from the B&B passed me - pointing out where they though we were on the map. If so, I did climb the Red Darren only nearer to the highest point in the whole path! I should have turned back when I realized I was no longer going upward and tried to find the popular path. Oh well - it was adventurous!The sights on top of the ridge were amazing! Views into both England and Wales. I burnt the back of my legs as I didn't put sunscreen on when I switched to shorts. Coming down the mountain at Hay Bluff was easy, but hard on the shins and eventually the toes which also have new blisters on the left foot from being forced into the toe of the shoe for an hour or two. Coming into Hay was wonderful views.Am sitting now again by the river Wye. It's beautiful bubbly brook sound with the birds reminds me of Tintern.Called mom - thought I'd better touch in - was a nice chat. Sitting in bar overlistening to the folks at the next table -picking up common words and expressions - "cheeky monky" - "luv" - "dear"1/2 pint of bitter going down good - will be sleepy soon and should hobble back to the B&B. -Not sure how I will walk tomorrow - blisters are a pain, muscles and sunburn are sore.The books today were wonderful - saw several I would have liked but either grimaced at the price (with the exchange rate at 2.5!) or the size - too large and heavy to carry. I will definately check out some of the stores on the web and look into ordering through them. Hay is a neat town to visit for at least 1 or 2 days but no more. It would get a bit boring very quickly from a tourist point of view - would be an interesting place fro a while - but so would all of the other places I've been to so far. =+)Day 8 (June 8) - Hay-On-Wye to Kington (No Notes but see below)Pics:
ODP_Days_8_9
Day 9 (June 9) - Kington to KnightonThe walk yesterday was pleasant. Met up early with 4 very strong walkers who had done several years of walking. I lost them early as well - on a hill as my blister bandages had fallen off and socks were wet from walking through a dewy field. Just finished up rebandaging and about to head on when two other walkers passed by - Rocky and Trisha - they would be my companions for most of the day - although we did walk solo a couple of times while getting caught up at points on the trail. Tea at St. Mary's church - it was a nice spot to stop for a bit of a rest - I was the last of the 6 to arrive - but one of the 1st to leave as I thought I'd better keep going for a bit before resting for "lunch" - cookies and some fudge!I chatted with an elderly lady at the water tap at a farm before I filled up my water bottles. She seemed a bit surprised that I was walking the whole path alone. I told her I was enjoying the day because this was near where my ancestors had lived - Radnorshire I said and her face lit up - "This is Radnorshire," she said.I stopped a bit later and believed the 4 were long ahead - but they were just at the other end of the field having had thier packed lunch. So when I started again, they were just in front of me. Rocky and Trisha had passed all of us while we were breaking - they had stopped to rest just outside of St. Mary's Church - Newchurch?.The weather was sooo hot today I stopped just to rest at any bit of shade I could find! Reaching a bench at the top of the hill to descend into Kington, we joked a bit with the 4 - I had caught up to everyone at the pub in Gladestry - had a 1/2 pint and sat with Rocky and Trish for a while before plodding up the famous Hergest Hill. This was the area the Red Book of Hergest was found! I went over the hill with Rocky and Trish. The 4 decided to stop at some gardens just at the bottom of the hill just before Gladestry. - again for more tea. We followed behind shortly. I had my first ever "cream tea" - yummy! - warm scones with strawberry jam and clotted cream - and of course a pot of tea! - delicious! - I've missed out big time over the years!I am staying tonight at an odd B&B - the folks seem a bit eccentric - made fun of my heavy luggage - I still don't know what makes it so heavy - I over packed on the clothes yes, but they shouldn't be that heavy - maybe it is all those OS survey maps!On to Knighton today - might meet up with the others as they all plan to leave around 9. I think I will try for then too. It looks like another very hot day. It is suppose to rain on Sunday - might be welcoming - we will see.Knighton - Did meet up with the others - at least the 4 - they past me this morning of course going up a hill at the start of the day. I pressed on - again could have taken a longer lunch break, but the legs were almost non-responsive once I got going. It was extremely hot today but in the afternoon, the wind picked up and it was a bit better. I am a bit sun-burned on the back of the arms where I must have missed with the lotion. Had dinner with the 4 - the other 2 were not too far ahead of me today - I almost caught up to them going into Knighton - thought they might wait up to say goodbye so I pressed on even when I shouldn't have - might have missed them I thought if I didn't hurry - but they didn't wait - oh well. I went to George's Dragon to have a bite and when I ordered, the bar owner told me there was a group who were out back who had mentioned a Canadian girl - so I ordered a pint and went on out to join them. We had a nice supper. I chose fish & chips - my first choice when I'm not sure of the menu - went down good with the pint and a half. Funny group - obviously been friends for many years - light hearted - witty - easy to get along with. I hope to see more of htem along the trail but I think they are done next Friday so I will lose them eventually as I'm done on Saturday.Tomorrow is to be the hardest part of the trip - lots of ups and downs - I thought today was that, but I guess there is more - tough on the legs, shins, feet, and toes - my feet literally ache when resting - lots of blisters - about 6 - my feet look war wounded. I had to stop at the chemist to pick up more compeed. They were well stocked so I spent 20 pounds! on a couple of packs (that is almost 50 dollars Canadian!) (Here I have notes on how ucky blisters can be - I'll leave it out as it's a bit gross) - I'm glad it is not wet or the blisters could be worse - if so, I wouldn't be walking at all - as it is, I'm starting to wonder if I shouldn't call it quits. I will continue on tomorrow - if it is awful, I may be done at that. If I get through it then it will be good and so long as the weather holds and blisters don't worsen, I will finish the entire path. I am determined to do the whole lot. I've come this far haven't I ?!It is still hard to believe I'm in Knighton - half way mark! I love Wales - the countryside is so beautiful and different from Ontario. I envy being able to just do walks from your back door! I'm going to start walking in the Gatineaus when I get home. Although I hate the bugs and Wales has none! - the odd mite and dragonfly once in a while and bees and bumble bees - but no mosquitoes or blackfiles and no-one has screens on their windows! The laid back and country style is so me - it is painful seeing and knowing that I belong here and not being able to have it. This is so home to my heart - my sole. I love the people - so friendly and helpful. I would love to be able to stay here - find a little farm to fix up - do the b&b thing - write and garden - and raise a family - learn more of the culture and history and language. Ah, my hireath is calling! It is 11:30 and I must get to bed - long hard day tomorrow.----The blog is getting a bit long. I'll end the notes here at the half-way point and start a new blog for the next half - Knighton to Prestatyn.Note: The stretch between Knighton and Brompton was truly one of the toughests days I've experienced hiking so far. I wouldn't have been able to have completed it if the weather was bad. I started around 9:30 and didn't finish until after 8:30 p.m! and it is only 7 miles - but a ton of constant ups and downs. It does have some nice views of the Offa's Dyke but if you want to see some of the Dyke there are some good views on the other side of Knighton headed towards Kington - near Pilleth is the best.. and so much less effort involved to see it!