Cardiau Chwedlau - New Welsh Mythology Card Game - An Interview With Eifion Rogers

2023-05-22
By: Ceri Shaw
Posted in: Gifts & Crafts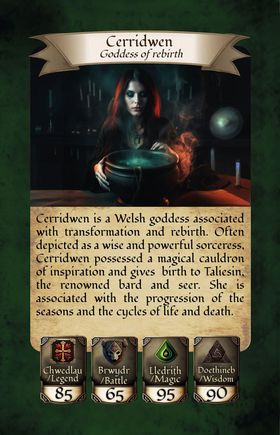 ---
AmeriCymru: Hi Eifion and many thanks for agreeing to this interview. What inspired you to launch your new company Cyfrinachau Cymru?
Eifion: Thank you very much for opportunity to speak to you, i was aware of the great work you do for Welsh and American links so I was eager to discuss this project with you. The inspiration came for the game due to my opinion that not enough is done to market the lesser know locations and amazing tales of folklore and mythology our great country has to offer. I live high up in the Bannau Brecheiniog very close to where my family are originally from in Myddfai, the tale of The Lady of the Lake is associated with Myddfai and is widely recognized as one of the greatest folklore tales that has ever come out of Wales. I'm also very active in networking with numerous Welsh groups from all around the world and I hope initiatives like this can help Wales recover from a barren spell recently by promoting the Welsh language, history, culture and also offering a game for all ages. Another inspiration for me was a chance meeting with a member of a local church in Arthenrhy Ireland, who explained to me how members wrote a book hundreds of years ago in that location, which focused heavily on folklore and mythology.

AmeriCymru: What is the company's mission statement? What kind of products will you be making available?
Eifion:  "Cysylltu Cymru a'r byd"

AmeriCymru: Care to tell us more about your new Welsh folklore and mythology card game?
Eifion: The game 'Cardiau Chwedlau' or Welsh legends is based around the popular kids card game Top Trumps, all 32 characters are based around the fantastic stories of mythology and folklore our amazing country offers, with a strong inspiration from The Mabinogion who I firmly believe was written by our warrior princess Gwenllian 1136. The characters are all individually ranked across 4 separate sections, magic, intelligence, battle and legend.
AmeriCymru: Do you have any samples you can share with us? 
Eifion: I've attached several photos which can be viewed from the photo album on this page.

AmeriCymru: What age range is the new card game aimed at?
Eifion: We are really hoping to get this product introduced to the Welsh education sector, we believe this will be a great resource for anyone to learn Welsh, and learn about our history and culture at the same time, whatever their age.

AmeriCymru: Where can people go to learn more, or purchase from, Cyfrinachau Cymru?
Eifion: Here is a link to our GoFundMe page which went live last week:



Eifion: Off the back of this product there will be several new initiatives that will be launched, I've been working on around 8 products for the last few years, I'm also hoping to continue my work with Welsh and American communities also.
AmeriCymru: Any final message for the members and readers of AmeriCymru?
Eifion: Thank you all for your support with this, keep up the good work I hope to get to the States in the next few years to see you.


Diolch/Thanks