John Good on Welsh Bagpipes "....quietly observe the octopus..." West Coast Eisteddfod 2012
.

SEE JOHN GOOD AT THE WEST COAST EISTEDDFOD - BUY TICKETS HERE
.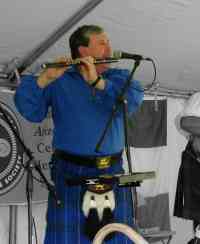 John Good was born in 1949 in Cwmafan, South Wales, into a house where the Welsh Language was spoken. Educated at Hull then Cardiff Universities he immigrated to the USA in 1975, living in Phoenix since 1989. Over the last 35 years he has worked as performer, session musician (Robin Huw Bowen, Jack Bruce, L. Shankar, Tony Williams and Zakir Hussain), producer, teacher, concert/festival organizer and has led workshops/residencies and given bilingual presentations on Celtic Culture, including poetry, music and literature at Universities, colleges, schools, libraries and Celtic Festivals. In 2009 John became cultural director of the Celtic Harvest Festival, Sedona and in 2010 he directed the Cymanfa Ganu (singing festival) at Bryn Seion, Oregon; the oldest Welsh church on the West Coast.
Tramor (Overseas) is the new traditional music project of John Good, formally of Oceans Apart. John is well known throughout the West, South, Midwest and in his native Wales as a multi-instrumentalist, Welsh piper, singer/songwriter, composer and poet. Veteran of many Celtic festivals and concerts, including Estes Park, Chicago Celtic Fest, San Diego and Denver, he brings the subtly different flavor oftraditional Welsh music to the western stage. On this occasion he is aided and abetted by mandolin virtuoso Billy Parker.
Interview With John Good
Ceri: John, you live in El Mirage, Arizona now but were brought up in South Wales. That must have been a little strange at first: Dry desert after Wet Wales.

John: Well it was Ceri, especially the night after a gig and being especially dry I quickly became wet or as they say over-served. I wandered back to El Mirage but it wasnt there it had disappeared! Vanished completely!! Luckily there was a Dennys nearby and I was able to wait out the illusion.
Ceri: Do you still have contact with old school mates?
John: Unfortunately most of them have failed to impress the parole board so far, with their pleas of On the night of the botched robbery I was at home watching Graham Norton on the telly with my pet hamster Zeta.
Ceri: How did you start to play music?
John: One finger at a time.
Ceri: Have you always been involved loved music?
John: Yes, always. Well except for that unfortunate incident with the bi-polar contortionist on Brighton pier.
Ceri: Were very glad to have traditional Welsh folk music at the Eisteddfod. Any advice for anyone wishing to play Welsh Bagpipes?
John: Spend a summer on the Mediterranean and quietly observe the Octopus, noting bodily colour changes and leg and finger coordination; Drink copious amounts of ouzo, and pray in the name of Poseidon that the octopus doesnt take a fancy to you.
.