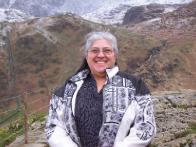 12/10/15 01:09:18AM
@mona-everett
---
Moved from the old Welsh Cooking and Baking Group
---
    Posted by mona everett on January 6, 2011 at 8:03am in Welsh Recipes

Recipe adapted by me.

Dragon balls are made just like rum balls, but with Penderyn--and 100 times better-tasting. Also, these really don't work with Irish whiskey--I tried to save money when I had to make a bunch for a Celtic festival and there was a definite difference (and not in a good way) !

3 C pecans, finely chopped
2 ½ C finely crushed graham crackers
1 C powdered sugar
4 Tbs unsweetened cocoa powder
4 Tbs light corn syrup, with real vanilla
½ C Penderyn Single Malt Welsh Whisky
Unsweetened chocolate chips (optional)

Garnish:
1 C sifted powdered sugar
Sifted cocoa powder (optional)

Mix the graham cracker crumbs and pecans together in a large bowl. Add powdered sugar and cocoa powder. Stir well, Add corn syrup and whisky. Mix well. Chill if necessary, then shape into 1-inch balls (add 2 chocolate chips to each ball, if desired). Roll balls in the sifted powdered sugar. Store in airtight container in the refrigerator for at least 48 hours. Remove from refrigerator and roll in sifted powdered sugar again. Sprinkle tops with sifted cocoa if desired. Serve at room temperature. Makes 4-5 dozen.

Enjoy!

*No actual dragons are hurt making these cookies

This recipe has been published in Ninnau and on the Penderyn Facebook page.