2016-05-09
By: Bob Tinsley
Posted in: Lovespoons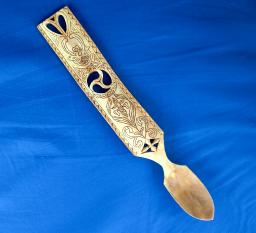 Ceri has worked hard to provide a place where aficionados of the Welsh Lovespoon can come to find such things. Click on the Stores button at the top of the page and you'll be introduced to four very skillful and creative carvers specializing in Welsh lovespoons (of whom I am one).
We're not just here to sell our wares. We also want to serve as a source of information about the history, legends and production of Welsh lovespoons in particular and the lovespoons of other cultures as well.
The Bretons, who are also Celts and have a language very similar to Welsh, also have a carved spoon tradition with romance at its center.
Click over to our stores and our timelines and see what we have to offer. Feel free to ask us questions about the history, symbology, production methods or anything else related to lovespoons. We'll be happy to answer. And if we don't know the answer, we probably know someone who does.
So come on by. The person to whom you give one of our lovespoons will remember you forever!