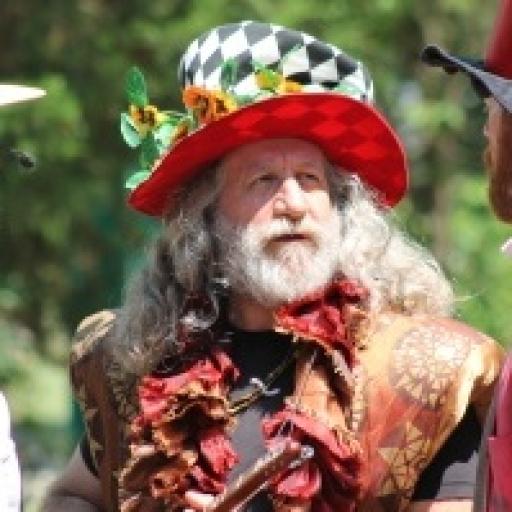 Y Teithiwr Twp #8 - Swinging Between the Trees, Singing Between the Trees

2017-07-26
By: Phil Wyman
Posted in: Guest Articles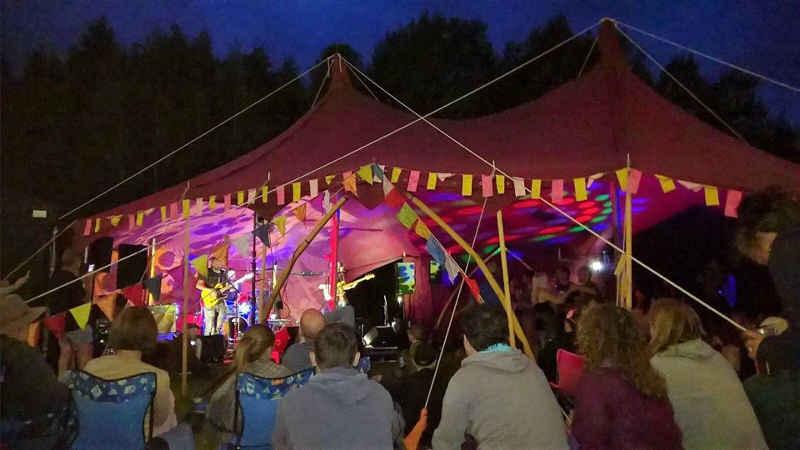 ---
Due to the number of festivals I have attended over the last 2 months, I have spent more time hanging between trees in my hammock tent than in any bed in a room with a shingled roof overhead. But, don't feel sorry for me. This is a planned adventure – a bit of Jack Kerouac without the sex and drugs. More like a British version with camping in noisy rock festivals, and the Welsh cheering the long sunny days as though they were some kind of minor miracle.
The second weekend of July brought me into the valleys north of Cardiff, and the sunny days were still smiling on the Welsh summer. In a little village near Caerphilly named Rudry, which some of the Cardiffians have never heard of, at the village parish hall, is a folk festival called Between the Trees. Needless to say, I would be quite at home here. I had already spent a bit of time on and off with my friends Andrew and Dawn in Gwaelod y Garth. Andrew Thomas is a proper good, mildly rebellious Welshman who also happens to be one of the founders of Between the Trees. I had arrived at Andrew's place shortly after the massive Glastonbury Music Festival in Pilton, and a quick revisit to the wonderful little New Age-y hippie town of Glastonbury, and then the work began. I was here to help with the festival. It is always far more fun to help work in a festival than it is to simply be a "punter." My first task was to help my friends Charlie and Becky set up the lighting: strings of white lights 12 feet of the ground around the festival site, and colored flood lights on the perimeter giving an ambient glow to the trees surrounding the field. I had done this with Charlie in another festival back in May, but now he was busy moving out of his apartment, so Becky and I set up the posts and strung the lights around the grounds, and decided we were the new lighting masters. Move over Charlie!
Andrew cleared a cozy little gathering space in the woods, and I dragged hay bales into the clearing. This was going to be the place for my shenanigans during the festival. I was slated to lead a poetry workshop, arrange for some poetry sessions and storytelling, and lead an evening of Cigars, Whisky, and Philosophy.
After three days of set up, running around picking up supplies with Andrew, the two-day festival began. Friday evening started as we had only just finished the lighting, and the set up crew was busily buzzing around in that semi-panicked state known to all festival organizers. I had already made a mild stir for being the American who spoke Welsh. There were a few fluent speakers I tried to keep up with, and a whole lot of people who felt mildly guilty, because the American spoke Welsh better than they did. But, it was all good fun and we drank beer, listened to live music from local bands, and talked about life. As the night ended, I found a place in the trees to hang my hammock tent, and slipped into my little cocoon, as one noisy bird periodically screeched at me through the night.
On Saturday morning, after breakfast, I went into my cozy little hay bale nook of the woods. It was a fortunate location from which to work, because the day was sunny and muggy-hot. With a group of 8 people, we held a poetry workshop, and I had everyone write a limerick, because limericks are fun way to learn rhyme, meter, and include a short story within the small poem. I was wearing a tall steampunk hat, which had been given to me by some new friends from a conference in Sheffield. (The picture of me playing the guitar shows the wild hat.) Consequently, I ended up as the topic of some of the limericks. For example:
There once was a man with a hat
And people would flee when he sat
He brought a foul scent
Wherever he went
Because in his hat he had shat
Later that same day, I ended up playing a short music set to cover for one of the musicians who could not make the festival. A few of the limericks were read, and so I became the font of laughter again. I ended my short music set with a Welsh translation of the doxology, which translated into Welsh in the 1700s.
I Dad y trugareddau i gyd
rhown foliant, holl drigolion byd;
llu'r nef moliennwch, bawb ar gân,
y Tad a'r Mab a'r Ysbryd Glan.
That evening a group of about 30 people gathered in our cozy little clearing in the woods, and we held a lively philosophical discussion about language and oppression. My nerdy interests in post-colonial theory came out, and soon the discussion danced around the subject of English oppression of the Welsh language through the centuries, and how this affected Welsh culture and life. There were two fluent Welsh speakers in the group, a large smattering of people who had been taught Welsh in school, but felt guilty that they did not speak the language better, and some random slightly nervous Sais (Englishmen). The discussion was friendly, but a clear tension was evident, and it was not a tension between the English and the Welsh, rather it was a tension between North and South Wales. Only one person in the group had lived in North Wales, and even though she was fluent in Welsh, she had felt a bit left out as a kid, because Welsh was not her first language. It was interesting to hear the people from South Wales discuss how they it seemed to them that the people in North Wales believed that the only real Welshman was a Welsh speaker. Having spent a lot of time in North Wales over the years, I ended up being the North Wales defender for the discussion. I have heard about this tension from some of my friends, but this was the first time I experienced it in such a fashion as this. I love these kinds of events, where hard topics are discussed in safe environments, and I am hoping to repeat the difficult discussion on this topic in other locations around Wales. These events are where life happens and peace can be created between differing opinions.
The festival had two stages playing live music through the two days. One had full bands and the other was an acoustic stage. The music was folk and folk rock primarily, and was of a high quality. Most of the bands were from Wales. Here's to hoping that this festival continues, grows and keeps singing and swinging Between the Trees in Rudry.
Link to Between the Trees Festival: http://www. betweenthetreesfestival.co.uk/