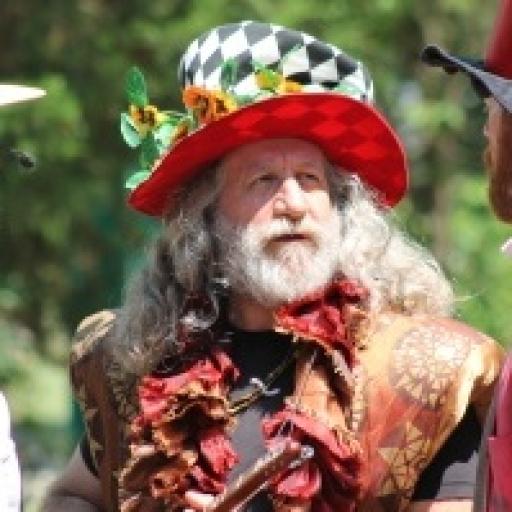 Y Teithiwr Twp #7 – You Can See Everything in South Wales! Everything!

2017-07-02
By: Phil Wyman
Posted in: walking in wales

---
I rented a car from Enterprise. This seems to be my regular rental action for autos in the UK, unless it is a van. Usually, it ends up cheaper than other companies. I left downtown Cardiff. Then I left it again. I think I might have done it a third time as well. Somehow getting out of the area between the downtown near Brains Brewery and the Bay doesn't instill any sense of direction for me. This happens every time.
45 minutes later I was finally heading in the correct direction – toward West Wales, and adventures with monastics, hippies, and poets. Destination 1: Saint Govan's Chapel.
Saint Govan was an Irish Saint living in the 6 th Century – that wondrous Age of the Celtic Saints. Tradition says he was pursued by pirates, perhaps because he had once been a thief himself, and the cliff opened up to hide him. He remained in this spot on the sea in a cave in the cliff. Today you can visit Saint Govan's and walk down the steep steps to see the chapel. You will want to become an ascetic monk yourself after seeing the location of Saint Govan's Chapel. Check out my two-minute tour of the chapel.
After leaving Saint Govan's, I was driving down the narrow lanes, and came across a weary couple hiking the Pembrokeshire Coastal Path. I gave them a short ride to their destination, and they invited me into the pub for a pint. Moral of the tale: pick up weary hikers. It's worth a free pint.
From the saint's cliff-side home, I found myself arriving that evening at one of the hippiest Hippy Festivals I've ever been to, and yes, that is saying a lot. "Unearthed in a Field" is hard to find, but after driving down single lane farm roads, and having to back up long distances for large tractors to pass, I arrived in a field somewhere inland from Saint David's Cathedral near the end of Pembrokeshire. I listened to storytellers and reggae music, and ate vegan food and found all the expected things that come with hippy festivals in fields. I don't think this is what Saint Govan found here in the late 6 th Century. I sat around the fire that night talking about as varied subjects as the theories of Russian Philosopher Mikhail Bakhtin, the local communes in West Wales, and the space where spirituality meets talking to people we radically disagree with. Yes, this was surely a hippy event.
I slept at Unearthed in Field for the night, and in the morning headed out. I found myself drawn by the tourist signs pointing me to some Dylan Thomas thing. Soon I was at Laugharne Castle a couple hours before anything opened. The sky was miraculously blue, and the day prepared to become ridiculously warm. Shortly before opening time for the Boathouse, I wandered around the castle, up the hill, and through the town, where the path to the boathouse wound along the rising cliffs by the sea. I met a lady standing on the corner, and we talked. She was waiting for her fellow workers, who ran the Dylan Thomas Boathouse. She quickly became impressed with me, because I was an American who could speak Welsh. Strangely, those who know a little Welsh think I am fluent, and those who speak fluently have to put up with my baby-talk. When her work-mates arrived, I carried their bags of food and supplies along the path, and down the steep steps to the house. I ended up with a free tour, and free cold drinks for my simple help. So, now I had visited the spaces of an ascetic monk, a pile of hippies, and the last get away home of a brilliant drunken 20 th Century poet. Being a writer and poet myself, I found equal inspiration in all these spots. Wales is in all ways a land for poets and singers, and a place you can find whatever it is you are looking for.
By late morning I headed off for Cardiff to return the car. As usual, I got stuck in the Cardiff Bay to Brain's Brewery loop, but this time my circuitous and repetitive route was stalled by a parade. It was the Cardiff World Naked Bike Ride Day, and a pig pile of naked people on bicycles gently rolled by between me and my destination. Now, it is true, that I previously mentioned that you would not get any "Naked Blond" pics. But, I have now trangressed those words. There isn't really anything to see, but here you go: this is World Naked Bike Ride Day in Cardiff, which delayed my return of the rental car.
It is true that you really can see everything in Wales – literally everything. I went from a crazy Saint, to hippies, to the home of a great poet, to naked bike riders all in barely over 24 hours. Yes, "barely" over 24 hours. And to top it off, I did "barely" get the car back in time.
links:
Saint Govan's Chapel - http://www.visitpembrokeshire.com/attractions-events/st-govans-chapel/
Unearthed in a Field - http://www.unearthedinafield.co.uk/
Dylan Thomas Boathouse site - http://www.dylanthomasboathouse.com/
Cardiff World Naked Bike Ride Day - https://www.facebook.com/groups/194410707262234/

...