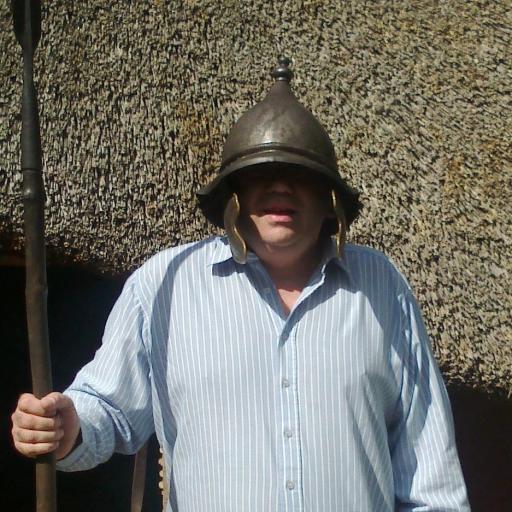 Welsh soldiers in the Christmas truce of 1914. 
On Christmas Day 1914, the 2nd Battalion, Royal Welsh Fusiliers were involved in one of the most moving events of any conflict, whilst fighting on the front line in Northern France during World War I.
Private Frank Richards from Blaina recalled in his memoirs how two men put up a board, with Merry Christmas written on it and then climbed up the trench with their hands up.  Two German soldiers did likewise and the two pairs of soldiers then walked into no-mans land and shook hands.  Then soldiers from both sides threw down their arms and joined them and exchanged gifts such as beer, cigarettes, plum puddings and chocolate.  They then sang carols and organised a football match.
The following morning Capt Stockwell of the Welsh Fusiliers climbed up the trench and held up a sign with "Merry Christmas" on it.  A German commander then appeared with a sign saying "Thank You".  Both men saluted each other, fired three shots into the air and then climbed back into their positions and the war recommenced.   
---
Christmas Customs in Wales. 
The Plygain Carol Service
This was held on Christmas morning, sometimes as early as 3 a.m. but more often at  6 a.m and it was custom with many people to stay up all night, before attending, making cyflaith (treacle toffee) or singing, dancing and playing the harp.  In  Tenby, Laugharne and Llanfyllin there are reports of, crowds carrying torches or candles in a procession, where the young men of the parish, escorted the clergyman from his house to the church.  The bringing in of the candles was seen as an important part of the service as it symbolized the coming of the Light of the World.  
---
Born on Christmas day 1766 at Esgaer-waen in Llandysul
Christmas Evans - Nonconformist minister, who is regarded as one of the greatest ever preachers in the history of Wales. 
Evan's father was a shoemaker, who died when Christmas was only nine and his family had to apply for relief from the parish poor law.  Evans himself was forced to travel to Herefordshire to find work and it was while there that he went to a rowdy fair and lost the sight of his right eye when a youth struck him with a cudgel.
When he returned to Wales in the early 1780s, he took employment on the farm of Rev. David Davies at Castell Hywel and  began to attend a local chapel, at about the same time as a spiritual awakening in the Twrgwyn area of Cardiganshire. 
Evans then became a preacher and moved to North Wales in 1789, settling in Llangefni on Anglesey, where he spent 35 years building up a strong Baptist community and funded many of the sixteen new chapels built at that time, through preaching tours to South Wales.  In 1826, Evans accepted an invitation from a congregation in Caerphilly, where he tripled the membership in two years and then accepted an invitation to the pastorate of Tabernacle chapel in Cardiff where his preaching attracted large congregations.  He continued to make frequent tours of Wales and it was while preaching at Swansea in July 1838, that Evans was taken ill and died.   
---
Murder at Abergavenny Castle on Christmas Day 1175
Seisyll ap Dyfnwal was a Welsh Lord in the Kingdom of Gwent and a brother-in-law of   the Lord Rhys , King of Deheubarth.  On Christmas day 1175, along with his eldest son Geoffrey and other Welsh  leaders from the area, Seisyll was invited to Abergavenny Castle by Norman Baron William De Braose to try and resolve their differences following a period of conflict.  However once inside the castle walls, they were cut down without mercy and De Braose and his men then rode out to Seisyll's home where they murdered his younger son, Cadwalladr aged seven and captured his wife.
 The effect of  De Braose's actions was to have a negative impact on Anglo-Welsh relations for generations to come, with the de Braose family name becoming a byword for dishonourable dealing and De Braose himself earning the nickname the 'Ogre of Abergavenny'.
In 1182, Hywel ap Iorwerth, the Welsh lord of Caerleon, avenged the death of, by storming Abergavenny Castle and putting De Braose to flight. De Braose later died in exile .   
---
William the Conqueror was crowned King of England at Westminster Abbey on Christmas Day 1066.
William the Conqueror's interaction with Wales;
William immediately began to build castles to control the native population and maintain their control of the kingdom, the word castle, deriving from the Norman castellum.  The early Norman castles were called motte and bailey, basically, an earthen mound on which was built a wooden tower surrounded by a wooden palisade.   These wooden castles were to be gradually replaced by larger stone castles.
The Wales of 1066 was one of dynastic disarray, as a result of the death of Gruffudd ap Llywelyn in 1063.  However it is argued that this made Wales harder to conquer as when the Normans reached the borders of Wales, they were confronted by a number of smaller kingdoms rather than one single kingdom.  William, therefore operated a policy of establishing the Marcher Lordships, a series of powerful earldoms in the borderlands, whose barons had complete jurisdiction over their subjects, without recourse to the king. These barons were then encouraged to push gradually westward into Welsh territory, erecting castles to hold each parcel of territory they carved from Welsh holdings. 
1067 - William Fitzosbern was created Earl of Hereford and overran the kingdom of Gwent, establishing castles and garrisons at Monmouth, Clifford, Wigmore and the first stone castle in Wales, at Chepstow at the mouth of the Wye, where it served as a base from which the Normans continued to expand westward into Wales,
1071 - Hugh d'Avranches (Hugh the Fat) was given the earldom of Chester, were he built a large motte-and-bailey castle, from where he struck deep into Gwynedd, 

1071 - Roger de Montgomerie was created Earl of Shrewsbury and pushed deep into Powys.  Around 1086, he built a motte and bailey castle at the ford of Rhydwhiman across the Severn and named the place Montgomery.  
1071 -  The first Benedictine monastery was built at Chepstow.
1081 - William visited St David's, ostensibly to show his respects but in reality as a demonstration of his power to the native rulers. He did, however, recognise the rule of Rhys ap Tewdwr in Deheubarth and accepted that of Iestyn ap Gwrgant in Morgannwg.
1086 - Caerleon Castle established and the Kingdom of Gwent extinguished.
1087 - William died and his eldest son, William Rufus took control. The lowlands of Morgannwg fell to Robert Fitzhamon, who built the Norman castle at Cardiff in 1091, Rhys ap Tewdwr was killed and Brycheiniog was seized in 1093 and the Earls of Shrewsbury drove through Powys and Ceredigion to southern Dyfed where they established a castle at Pembroke also in 1093. 
---
Traditionally in the Western Church, the First Day of Christmas is Christmas Day.
On the first day of Christmas my true love gave to me - A partridge in a pear tree.
Partridges are are ground-nesting birds of the pheasant family.  In Wales, the population of the grey partridge has decreased by over 50% during the past 30 years, mainly because of the loss of insect food on arable farms and seed food on grassland farms.