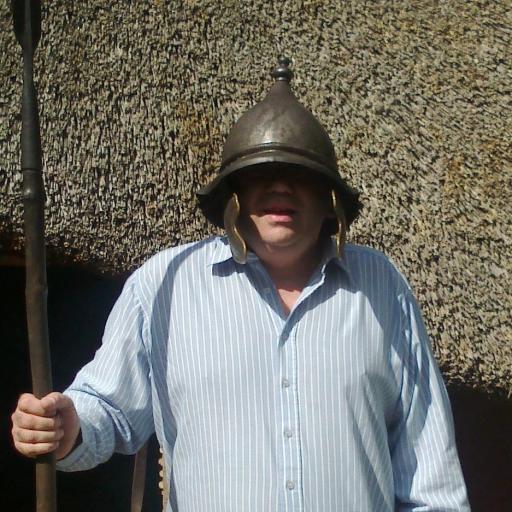 Miles FitzWalter of Gloucester, 1st Earl of Hereford, Lord of Brecknock - died 24th December 1143 and was buried in Llanthony Priory. 
FitzWalter was High Sheriff of Gloucester and Constable of England and a significant adversary of the Welsh during "The Anarchy" in England (1135 - 1154).
The Anarchy was a conflict in England, characterised by a breakdown in law and order. It originated with a succession crisis towards the end of the reign of Henry I. Henry's attempts to install his daughter, the Empress Matilda, as his successor were unsuccessful and on Henry's death in 1135, his nephew Stephen of Blois took power. Fitzwalter was initially a supporter of Stephen but later switched his allegiance to Matilda. 
1136 - Miles Fitzwalter, founded the priory Llanthony Secunda Priory Hempsted, Gloucester for the Augustinian monks of Llanthony Priory near Abergavenny in The Vale of Ewyas seven miles north of Abergavenny after persistent attacks from the Welsh.
1137 - The whole of South Wales rose in rebellion, with Owain Gwynedd and Gruffydd ap Rhys successfully capturing considerable territories, including Carmarthen Castle. 
1142 - Miles Fitzwalter was made lord of Abergavenny by Matilda and the holder of Abergavenny Castle.
1143 - On Christmas-eve Miles Fitzwalter was slain while hunting by an arrow shot at a deer. A dispute at once arose for possession of his body between the canons of Llanthony and the monks of Gloucester. The case was heard before the bishops of Worcester, Hereford, and St. David's, and it was decided that he was to be buried in the chapter-house at Llanthony.  
---
Christmas Customs in Wales. 
Noson Gyflaith (Toffee Evening) was a traditional part of Christmas in some areas of Wales when families would invite friends to their homes for an evening of making toffee and storytelling. 
When the toffee had boiled it was poured onto a greased slate or stone slab. Then people would cover their hands with butter and while the toffee was still warm, people would pull and twist it until it was a golden yellow colour.
Housewives would also sell their toffee, which was also called taffi, dant, fanny or by the name of the person who made it, such as e.g. losin Mag.
The Recipe; 
three pounds soft brown sugar
half a pound salted butter
juice of one lemon
quarter pint boiling water (or a little more according to the consistency of the sugar)
Using an enamel or steel pan, gradually melt the sugar in the boiling water over a low heat. Stir it continuously with a wooden spoon until the sugar is thoroughly melted. (This usually takes from twenty to thirty minutes.) Remove the saucepan from the heat, add the lemon juice and the softened butter, and stir in the sugar. Boil this mixture fairly briskly for a further fifteen minutes without stirring it. 
Gently drop a teaspoonful of the mixture into a cupful of cold water, and if it hardens at once it has reached the required consistency. Pour the mixture slowly on to a large, flat dish previously greased with butter. (Do not scrape the pan clean as this mixture might turn the toffee back into sugar.) Butter the hands and 'pull' the toffee into long, golden strands while hot. Cut into smaller pieces.
---
Born on this day 1905 in Houston, Texas (of Welsh decent)
Howard Hughes - aviator, film director and famous recluse.
---
The Red-Headed Bandits of Mawddwy  were a band of outlaws, robbers and highwaymen from the area of Dinas Mawddwy in the mountains above Dolgellau, an area where there were great difficulties in preserving law and order.
They became famous in folk literature and they are remembered by a number of place names in the area, such as Llety'r Gwylliaid (bandits lodging), Llety'r Lladron (robbers lodging) and the bandits reputed meeting place, the Brigand's Inn at nearby Mallwyd.
The bandits were eventually captured and on 24th December 1555  a staggering 80 of them were executed, with a burial mound at Rhos Groch (the Red Moor) said to be where their bodies are buried.    
---
On 24 December 1930, Harry Grindell Matthews  demonstrated his new invention, the "Sky Projector" in Hampstead Village, London 
Considered, one of the greatest British inventors of the twentieth century, Mathews lived in seclusion high in the remote Welsh mountains near Clydach.  He was the classic stereotype of the eccentric inventor, but his ideas were so revolutionary and far-reaching, that the British Government dismissed him as a fraudster and a crank.  However, his achievements and world firsts make for impressive reading.
*  The 'Death Ray'
*  The world's first Mobile Phone
*  Sound-film synchronization,
*  Wireless communication with a plane in flight.
*  Automatic Pilot
*  Submarine Detection
*  The Sky Projector
*  Aerial Mines  
---
In 1647, the feast of Christmas was abolished  in Wales and England by the Puritan Parliament and replaced with a day of fasting. 
During the later part of the English Civil War and the subsequent rule of Oliver Cromwell as Lord Protector, Wales and England were ruled by a Puritan Parliament. 
Puritans saw Christmas as a Roman Catholic festival and disliked the waste, extravagance, disorder, sin and immorality associated with it.  What they wanted was a much stricter observance of holy days such as Christmas, Easter and Whitsun.  Despite pro-Christmas protests and rioting, the ban remained until the Restoration of King Charles II in 1660.