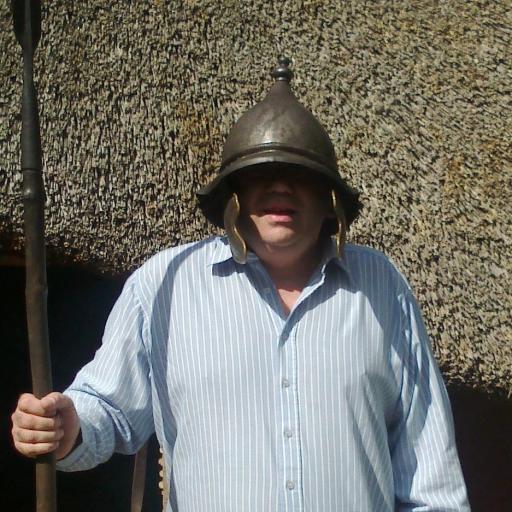 The death of Llywelyn ap Gruffydd and The Battle of Orewin Bridge on 11th December 1282.
In 1282, Llywelyn and his brother Dafydd were engaged in a bitter struugle with Edward I of England to keep Wales independent.  Edward continued to send armies into Wales and one consisting of 2000 infantrymen and 200 cavalrymen succeeded in capturing Anglesey.  However the routing of this army by Llywelyn on 6th November 1282, boosted Welsh morale and when Edward  turned to diplomacy, offering Llywelyn a large estate in England if he would surrender, Llywelyn refused,  stating that he would not abandon the people whom his ancestors had protected.  Llywelyn instead left Dafydd to lead the defence of Gwynedd and took a force himself to rally support in mid and south Wales, arriving at Builth on December 11th 1282.  Builth Castle at the time was held by the English and was where they had amassed a force of around 5,000 infantry and 1,300 heavy cavalry under the command of Edmund Mortimer, John Giffard and Roger l'Estrange to intercept Llywelyn.  The Welsh numbering 7,000 infantry camped on high ground near Cilmeri, just outside of Builth, with the two forces separated by the River Irfon, whose main crossing point at Orewin bridge was held by Llywelyn's men.
It is then, according to one version, that Llywelyn was tricked into attending a meeting with Edmund Mortimer at Aberedw, who deceiptfully claimed that he wished to give homage to Llywelyn.  In Llywelyn's absence, the English army advanced on the Welsh position and a small detachent forded the river further upstream and took the bridge.  The whole English now army now crossed and engaged the leaderless Welsh army.  Upon hearing the noise of the battle,  Llywelyn realised that he had been tricked and immediately headed back with his entourage to assume command.  They were ambushed and overwhelmed.  Llywelyn lay mortally wounded and asked for a priest, but when recognized, he was instantly killed and his head cut off and sent to Edward at Rhuddlan, who then took it to London, put on it an ivory crown and placed it on the gate of the Tower of London, where it stayed for 15 years. 
The death of Llywelyn ap Gruffydd marked the end of  an independent Wales.  Resistance continued for a while under Dafydd, but by June of the following year, he too had been captured and executed, with his head displayed next to that of Llywelyn.
There is uncertainty as to Llywelyn's final resting place, with the Cistercian Abbey at Abbeycwmhir the site suggested by most historians, although he is also said to have been laid to rest in land where Llanrumney Hall was later built in Cardiff.   
---
A time line of the life of Llywelyn ap Gruffydd, the last prince of an independent Wales;


c. 1223 - Llywelyn was born the second of Gruffydd and Senena, the brother of Owain, Dafydd and Rhodri and the grandson of Llywelyn ap Iorwerth (Llywelyn the Great).
1240 -  Following the death of his grandfather, Llywelyn's uncle, Dafydd ap Llywelyn succeeded him as ruler of Gwynedd.  He imprisoned Llywelyn's father Gruffydd and his brother Owain and transferred them into the custody of King Henry III of England.
1244 - Llywelyn's father died from a fall while trying to escape from the Tower of London and Llywelyn is first heard of holding lands in the Vale of Clwyd.
1245 - Llywelyn supported his uncle in the war against King Henry. 
1247 - THE TREATY OF WOODSTOCK - After the death of his uncle, Llywelyn and his brother Owain came to terms with King Henry.  Gwynedd was divided with Llywelyn and Owain gaining control of  Gwynedd Uwch Conwy (Gwynedd west of the River Conwy) and Henry himself taking control of Gwynedd Is Conwy (Gwynedd east of the River Conwy).
1255 - THE BATTLE OF BRYN DERWIN - Llywelyn's brothers, Owain and Dafydd formed an alliance against him, but Llywelyn defeated and captured both of them, thereby becoming sole ruler of Gwynedd Uwch Conwy.
1256 - Llywelyn, crossed the River Conwy with an army, accompanied by his brother, Dafydd, whom he had released from prison and took control of most of Gwynedd.
1258 - Llywelyn began using the title Prince of Wales, which the English Crown refused to recognise.
1263 - Dafydd switched his allegiance to King Henry.
1264 - Simon de Montfort, leader of the barons revolt in England, became the "uncrowned King of England" after defeating King Henry and Prince Edward at the Battle of Lewes.
1265 - TREATY OF PIPTON - established an alliance between Llywelyn and de Montfort in which, in exchange for 30,000 marks, there would be a permanent peace and Llywelyn's right to rule Wales would be acknowledged.
1265 - de Montfort was killed at the Battle of Evesham, which led to Llywelyn capturing Hawarden Castle and routing the combined armies of Hamo Lestrange and Maurice Fitz Gerald in order to gain a bargaining position with King Henry
1266 - Llywelyn routed Roger Mortimer's army in Brycheiniog.  After which, with the backing of the papal legate, Ottobuono, he opened negotiations with King Henry.
1267 -  TREATY OF MONTGOMERY - marked the high point of Llywelyn's power.  He was recognised as the Prince of Wales well as retaining the lands he had conquered and the homage of almost all the native rulers of Wales.  In exchange, he was to pay a tribute to King Henry of 25,000 marks in yearly instalments of 3,000 marks
1268 - Caerphilly Castle was built by Gilbert de Clare as a result of a dispute with Llywelyn.
1272 - Following the death of King Henry and with the new king, Edward I away on crusade, Humphrey de Bohun tried to take back Brycheiniog, Llywelyn ceased making payments in reply.
1274 - Dafydd and Gruffydd ap Gwenwynwyn of Powys attempted to assassinate Llywelyn.
1275 - Llywelyn refused to pay homage to Edward I at Chester and declared his intention to marry Simon de Montfort's daughter, Eleanor.  Edward took exception to the marriage and imprisoned her.
1276 - Edward declared Llywelyn a rebel
1277 - TREATY OF ABERCONWY - was the result of Edward supported by Dafydd and Gruffydd ap Gwenwynwyn marching into Wales and taking possession of the harvest in Anglesey, which deprived Llywelyn of the ability to feed his men and forced him to seek terms.  The treaty secured the release of Eleanor, allowing her marriage to Llywelyn to proceed and also guaranteed peace in Gwynedd in return for Llywelyn confining his authority to Gwynedd Uwch Conwy and acknowledging the English king as his sovereign. 
1282  Dafydd returned to the Welsh cause.  He attacked the English at Hawarden Castle and Rhuddlan.  He captured and burned Aberystwyth Castle and open rebellion broke out in Ystrad Tywi.  Llywelyn in grief at the loss of Eleanor, who died shortly after giving birth to their daughter Gwenllian, felt  the Welsh were ill-prepared, but felt obliged, to support his brother.  Edward's forces captured Gwynedd Is Conwy and Anglesey but were heavily defeated in the Battle of Moel y Don.  This encouraged Llywelyn to try and rally support in mid and south Wales, but he was killed on 11th December at the Battle of Orewin Bridge near Builth Wells.
On December 11th 2012, Dr Lyn Evans "Evans the Atom" from Aberdare was awarded the Special Fundamental Physics Prize.  He is the project leader of  European Organization for Nuclear Research's attempt to understand the "Big Bang Theory" by use of the Large Hadron Collider. 
*  The Fundamental Physics Prize is awarded to physicists involved in fundamental research. It is the most lucrative academic prize in the world. 
*  The European Organization for Nuclear Research ( CERN ), is an international organization which operates the world's largest particle physics laboratory, providing the particle accelerators and other infrastructure needed for high-energy physics research.  It is also the birthplace of the World Wide Web.
*  The Large Hadron Collider is a 17-mile-long doughnut-shaped tunnel that lies beneath the French-Swiss border, at depths ranging from 170ft to 600ft.  Its purpose is to recreate the conditions that existed a fraction of a second after the Big Bang – the birth of the universe – and provide vital clues to the building blocks of life.  
---
Bridget Bevan (1698 – 11 December 1779) - financial supporter and manager of the Circulating Welsh Charity School system, that it is estimated taught over 200,000 Welsh people to read and helped Wales achieve one of the highest literacy rates in Europe.
Bridget Bevan was born at Derllys Court, Llannewydd in Carmarthenshire, the daughter of  John Vaughan, a financial supporter of the Society for the Promotion of Christian Knowledge (SPCK) schools. In 1721, she married Arthur Bevan, an MP for Carmarthen and  local lawyer. 
In 1731, she helped Griffith Jones, a local preacher to establish an experimental school in Llanddowror, Carmarthenshire, which was the fore runner of the Circulating Welsh Charity School system, which moved from village to village throughout Wales, educating the children and adults.  After Jones's death in 1761, she took on the management of the project and between 1736 and 1776, it is estimated that half the population of Wales had attended a circulating school.  
---
Born on this day 1948 in Port Talbot 
Allan Martin - former Wales and Lions rugby international,  who was a specialist line-out forward, also noted for his long distance goal-kicking 
Martin, who won 34 caps for Wales, formed the second-row partnership with Geoff Wheel that was the backbone of the successful Welsh team of the 1970s, that won grand slams in 1976 and 1978 and triple crowns in 1976, 1977, 1978 and 1979.  He also toured with the Lions to New Zealand in 1977 and South Africa in 1980. Martin played club rugby for Aberavon RFC, with over 780 appearances from 1966 to 1992. 
---
  Today is the feast day of Saint Peris
Saint Peris c.570 - Legend says that Peris was one of the many children of Helig ap Glannawg of the lost Land of Tyno Helig (the Great Orme, nr Llandudno). It is said he was a 'Cardinal of Rome' who retired to the solitude of Nant Peris (Snowdonia), which along with the nearby village of Llanberis is named after him. Ffynnon Peris is a well nearby in which Peris, according to tradition, kept two fish and drank from daily.
The legend of Llys Helig (Helig's Palace) and the lost Land of Tyno Helig;
Helig ap Glannawg was the prince of Tyno Helig, whose lands stretched from Flintshire in the east, to beyond Conwy in the west. 
Helig`s daughter Gwendud fell in love with Tathal, whose father was the Lord of Snowdon.  However, they could not marry because Tathal did wear a golden torque, which was the symbol of a nobleman.
Undeterred, Tathal killed a Scottish chieftain who was being held prisoner and who he had gained the trust of and stole his golden torque. Gwendud could now marry Tethal,  but at their wedding party, the murdered Scottish chieftain's ghost told them that he would gain his revenge over the fourth generation of their family.
Subsequently, at the celebration to mark the birth of their great-great-grandchild, a maid was sent to the cellar to get more wine, only to find it flooded by sea-water.  She alerted her lover, the court minstrel and they ran for their lives.  They were just out of the palace when they heard the crashing of mighty waves behind them.   They eventually escaped the chasing waves, but when they looked back the following morning, Helig's palace had been consumed by the sea.
Legend has it that the ruins of the palace can still be seen at very low tides and there is an area to the west of the Great Orme, that is still known as Llys Helig.
---
The Inn of the Sixth Happiness, released on 11th November, is a 1958 American 20th Century Fox film.  It tells the story of a maid who became a missionary in China during the build up to World War II.   Snowdonia was used for the exterior locations.