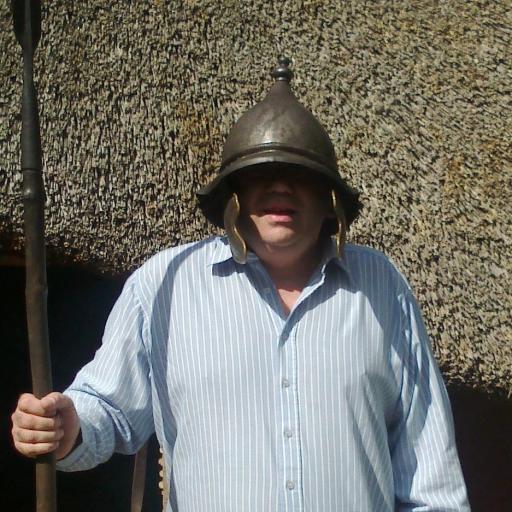 The Welshman whose engineering feat in 1613, brought clean drinking water to London and thereby helped save thousands of lives. 
Sir Hugh Myddelton (1560 – 10 December 1631) the sixth son of Richard Myddelton, governor of Denbigh Castle, travelled to seek his fortune in London and embarked on an entrepreneurial career which took in textiles, mining, engineering, jewellery and politics, succeeding his father as the Denbigh Boroughs MP and being appointed Royal Jeweller by King James I.  
In the early 17th Century, London's population had exploded and sanitation was a serious problem. It was decided that the answer was to construct an artificial river to bring clean drinking water into the heart of London. Myddleton's idea was to divert the water from the River Lea in Hertfordshire to Clerkenwell in the city of London and he was also able to persuade King James to invest 50% of the capital backing which swept away all objections from land owners along the route. 
At almost 35 miles long, the New River travelled at a gradient of just five inches per mile and used systems of culverts and aqueducts which hadn't been seen in Britain since Roman times. Myddleton's artificial New River took five years to construct, but had an almost instantaneous benefit, as by 1614, deaths, which can now be attributed to water-borne infections, had halved on the previous year. Sir Hugh Myddleton is still remembered in the names of streets and buildings across the English capital. 
---
On 10th December 2007,  Cardiff University Professor, Sir Martin Evans received the Nobel Prize for Medicine from His Majesty the King of Sweden at a ceremony in Stockholm.
Professor Evans's ground breaking work on embryonic stem cells and DNA recombination in mammals. is helping in the treatment of cancers, diabetes and cardio-vascular diseases.  He has also been instrumental in making Cardiff University a world-leading centre for biomedical research.  
---
On 10th December 1880, a gas explosion took the lives of 101 miners out of the 106 who were working at the Naval Colliery in Penygraig, Rhondda.
A history of coal mining in Penygraig;
1857  Coal mining began when Thomas Ellis sank a drift mine.
1858  Moses Rowlands and Richard Jenkins discovered a seam and opened the Penygraig Colliery, after which the village was named. It was later owned by the Naval Colliery Company
1875  On 4th December, a flood broke through into the mine, resulting in two miners drowning.
1879  After the Penygraig Colliery showed a successful profit the Naval Colliery Company opened a second deep pit, The Pandy.
1880  On 10th December, a gas explosion took the lives of 101 miners out of the 106 who were working in the mine at the time.
1884  On 27th January, another explosion led to the death of fourteen men.
1887   The Pandy was sold to the New Naval Colliery Company, which then opened three more deep mines The Ely, the Nantgwyn and the Anthony Pits.
The New Naval company later become part of the Cambrian Combine, owned by Viscount Rhondda and the Ely Colliery would be the centre of the Cambrian Combine dispute, which in turn would lead to the Tonypandy Riots in 1910.  
---
Edmund Mortimer, born 10 December 1376 at Ludlow Castle was the great-grandson of King Edward III and son in law of Owain Glyndwr. 
Both Edmund Mortimer and his brother-in-law, Henry 'Hotspur' Percy, fought for Henry IV against Glyndŵr. However in 1402 Mortimer was defeated and taken prisoner at the Battle of Bryn Glas.  He transferred his allegiance to Glyndwr, after Henry IV, refused to pay a ransom for his release and married Glyndŵr's daughter, Catrin.  He then proclaimed his intention to make his nephew, also Edmund Mortimer, King of England. 
In 1405 Glyndwr, Mortimer and Henry Percy, Earl of Northumberland entered into an agreement called tripartite indenture which proposed a threefold division of the kingdom in which Mortimer was to have most of the south of England.  However, Mortimer died in 1409, either during or shortly after the siege of Harlech Castle by Henry, Prince of Wales (the future Henry V). 
Edmund Mortimer and Catrin ferch Owain had one son, Lionel, and three daughters and after Mortimer's death, the King had Catrin and her children brought to  the Tower of London, where she and two of her daughters died in 1413 and were buried at St Swithin. 
---
Born on this day 1753 in Ynyscynhaearn, Caernarfonshire.
Richard Thomas - Anglican priest and antiquarian, whose catalogue of important Welsh manuscripts from the library at Peniarth, along with his own collection of manuscripts, were used by the editors of the Myvyrian Archaiology of Wales.
The Myvyrian Archaiology of Wales is a printed collection of medieval Welsh literature, published in three volumes by the London-based Welsh cultural group, The Gwyneddigion Society, between 1801 and 1807, who searched Wales for manuscripts. Although the majority of its material is genuine, it does contain some of Iolo Morganwg's forgeries, but was a respected and respectable companion for writers and scholars in Wales and beyond during most of the nineteenth century.
Volume one, published in 1801, attempted to collect all Welsh poetry prior to 1370.
Volume two, also published in 1801, refers to chronicles and other documents of a historical nature, including the Welsh Triads, Brut y Brenhinedd and Brut y Tywysogian.
Volume three, published in 1807, contained didactic literature, laws and music.  
---
On 10th December 1768, The Royal Academy of Arts was founded through a personal act of King George III.  The distinguished landscape painter, Richard Wilson from Penegoes, near Machynlleth, was one of its 34 founder members. 
The Royal Academy of Arts is an art institution based in Burlington House on Piccadilly in London. It is an independent, privately funded institution led by eminent artists and architects, with its purpose to promote appreciation of the visual arts.   
---
The New Theatre, Cardiff, was officially opened on 10th December 1906.  It has a capacity of 1,144 and was the venue for the world premiere of Harold Pinter's play The Homecoming on 26th March 1965.
 Before moving to the Millennium Centre, the.Welsh National Opera had its headquarters at the New Theatre and in 1993, Sir Anthony Hopkins unveiled a bronze bust there of the writer Gwyn Thomas.  The theatre has been a Grade II listed building since 1975.