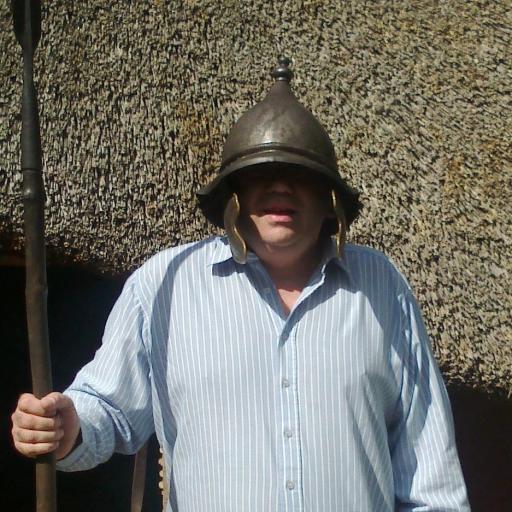 These incredible coincidences occurred on the Menai Strait, the treacherous, narrow stretch of shallow tidal water which separates the island of Anglesey from the mainland of Wales; 
December 5th 1664 - a ship sunk in the Menai Strait and the only survivor was Hugh Williams.
December 5th 1785 -   a ship sunk in the Menai Strait and the only survivor was Hugh Williams.
December 5th 1820 - a ship sunk in the Menai Strait and the only survivor was Hugh Williams.  
---
Today is the feast day of Saint Justinian of Ramsey Island, Abbot of St David's Cathedral (pictured) 
Saint Justinian of Ramsey Island c.550
Tradition states that he was a Breton nobleman who settled on the Ramsey Island as a hermit. He was visited by Saint David who was so impressed with his holiness that he made him Abbot of St David's Cathedral.  Justinian however, became frustrated with the poor attitude of the monks at St Davids and returned to Ramsey Island with his most loyal monks to establish a more holy spiritual community.
Legend has it that he was eventually murdered by some monks fed up with his strict regime, by beheading him. Apparently he picked up his head and crossed Ramsey Sound walking on the water carrying his head in his arms, his body was buried in the small ruined chapel which still stands on the mainland at St Justinian's and later transported to the shrine of Saint David in St David's Cathedral.  The Anglican church at Llanstinan, near Fishguard, is also dedicated to him.
---
Born on this day 1859 in Llandovery.
Edward John Lewis is remembered as winning his one and only cap for Wales, playing half-back in the first ever Welsh rugby international.  Wales lost comprehensively and Lewis was never picked again.  Instead he concentrated on his career as a consultant surgeon, later taking a post as Senior Resident Medical Officer at Great Ormond Street Hospital. 
Match Report;
The game is noted for it's chaotic organisation and it didn't help was that the RFU insisted that the match was played on the same day that Swansea were playing Llanelli in a semi-final cup-tie thus depriving Wales of several players. The players had never played together before and one player, Major Richard Summers from Haverfordwest was selected on the performances for his school.
The players changed in The Princess of Wales a pub, half a mile walk from the ground and played in walking boots, high neck jerseys and knee length knickers.  Also, as two of those expected to play didn't turn up, two bystanders, with tenuous Welsh links were roped in to play. The final team that took to the pitch consisted of 8 Welshmen, 4 Englishmen, 2 Irishmen and an Australian.
Rumour has it that the Welsh team had been drinking heavily and needless to say, they lost heavily, 82-0 under modern scoring values. It could have been worse as England had a try disallowed when England captain Lennard Stokes put Hunt in for a score by throwing a colossal pass, the umpires decision was that a long pass was not fair play.
At the dinner following the match the England captain, Leonard Stokes, said "I've seen enough to know that you Welshmen will be hard to beat in a few years' time when you get together". In the critical aftermath of the match the WRFU was founded a month later at the Castle Hotel, Neath on 12th March 1881.   
---
Strumble Head Lighthouse stands imposingly on Ynysmeicl (St. Michael's Island), an islet to the west of Fishguard, it is connected to the mainland by a by a footbridge  across the narrow sound.

The station was built in 1908 by Trinity House for the greater safety of sea traffic between Ireland and the new Fishguard Harbour. The new light formed a link with the existing South Bishop light, 18 miles to the south-west, guarding what is a very dangerous stretch of coast, some 60 vessels are known to have been lost along it in the 19th Century alone.

The original revolving lens system weighed 4½ tons, supported in a bath of mercury to reduce friction. A massive clockwork mechanism rotated it, driven by a quarter-ton weight which, suspended on a cable, dropped gradually down a cylinder running from top to bottom through the tower and had to be re-wound every 12 hours. The optical system was replaced by more compact equipment when Strumble Head lighthouse was fully electrified in 1965.

Ynsymeicl's isolation and steep slopes, presented building problems, with building material and supplies, having to be swung across by jackstay cable.  The handrail of the footbridge and the steps to it also had a special purpose, as the pipeline to carrying oil to the lighthouse.

The lighthouse was converted to unmanned automatic operation in 1980 and is now monitored from the Operations and Planning Centre at Harwich.