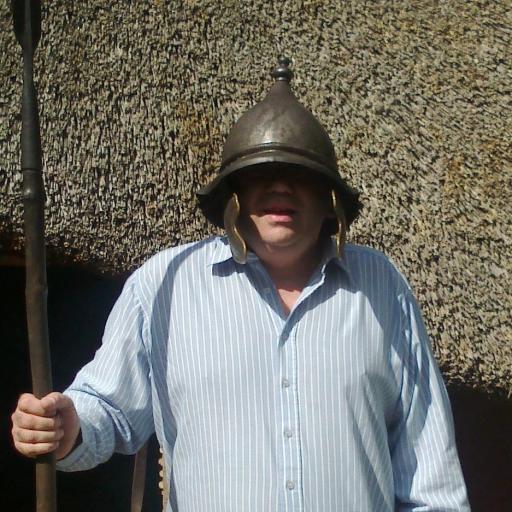 In November 1256, Llywelyn ap Gruffudd crossed the River Conwy to take control of Gwynedd Is Conwy. With him was his brother Dafydd whom he had released from captivity.
Gwynedd Is Conwy (Gwynedd Below the Conwy) was the portion of the Kingdom of Gwynedd lying between the Rivers, Conwy and Dyfrdwy (Dee). This area was also known as Y Berfeddwlad ('The Middle Land') as it lay between and was contested by the rival realms of Gwynedd and Powys.
A time line of the life of Llywelyn ap Gruffydd, the last prince of an independent Wales; 
c. 1223 - Llywelyn was born the second of Gruffydd and Senena, the brother of Owain, Dafydd and Rhodri and the grandson of Llywelyn ap Iorwerth (Llywelyn the Great).
1240 - Following the death of his grandfather, Llywelyn's uncle, Dafydd ap Llywelyn succeeded him as ruler of Gwynedd. He imprisoned Llywelyn's father Gruffydd and his brother Owain and transferred them into the custody of King Henry III of England.
1244 - Llywelyn's father died from a fall while trying to escape from the Tower of London and Llywelyn is first heard of holding lands in the Vale of Clwyd.
1245 - Llywelyn supported his uncle in war against King Henry.
1247 - THE TREATY OF WOODSTOCK - After the death of his uncle, Llywelyn and his brother Owain came to terms with King Henry. Gwynedd was divided with Llywelyn and Owain gaining control of Gwynedd Uwch Conwy, the part of Gwynedd west of the River Conwy and Henry himself taking control of Gwynedd Is Conwy, east of the river.
1255 - THE BATTLE OF BRYN DERWIN - Llywelyn's brothers, Owain and Dafydd formed an alliance against him, but Llywelyn defeated and captured both of them, thereby becoming sole ruler of Gwynedd Uwch Conwy.
1256 - Llywelyn, crossed the River Conwy with an army, accompanied by his brother, Dafydd, whom he had released from prison and took control of most of Gwynedd.
1258 - Llywelyn began using the title Prince of Wales, which the English Crown refused to recognise.
1263 - Dafydd switched his allegiance to King Henry.
1264 - Simon de Montfort, leader of the barons revolt in England, became the "uncrowned King of England" after defeating King Henry and Prince Edward at the Battle of Lewes.
1265 - TREATY OF PIPTON - established an alliance between Llywelyn and de Montfort in which, in exchange for 30,000 marks, there would be a permanent peace and Llywelyn's right to rule Wales would be acknowledged.
1265 - de Montfort was killed at the Battle of Evesham, which led to Llywelyn capturing Hawarden Castle and routing the combined armies of Hamo Lestrange and Maurice Fitz Gerald in order to gain a bargaining position with King Henry
1266 - Llywelyn routed Roger Mortimer's army in Brycheiniog. After which, with the backing of the papal legate, Ottobuono, he opened negotiations with King Henry.
1267 - TREATY OF MONTGOMERY - marked the high point of Llywelyn's power. He was recognised as the Prince of Wales well as retaining the lands he had conquered and the homage of almost all the native rulers of Wales. In exchange, he was to pay a tribute to King Henry of 25,000 marks in yearly instalments.
1268 - Caerphilly Castle was built by Gilbert de Clare as a result of a dispute with Llywelyn.
1272 - Following the death of King Henry and with the new king Edward I away on crusade, Humphrey de Bohun tried to take back Brycheiniog; Llywelyn ceased making payments in reply.
1274 - Dafydd and Gruffydd ap Gwenwynwyn of Powys attempted to assassinate Llywelyn.
1275 - Llywelyn refused to pay homage to Edward I at Chester and declared his intention to marry Simon de Montfort's daughter, Eleanor. Edward took exception to the marriage and imprisoned her.
1276 - Edward declared Llywelyn a rebel
1277 - TREATY OF ABERCONWY - was the result of Edward, supported by Dafydd and Gruffydd ap Gwenwynwyn, marching into Wales and taking possession of the harvest in Anglesey, which deprived Llywelyn of the ability to feed his men and forced him to seek terms. The treaty secured the release of Eleanor, allowing her marriage to Llywelyn to proceed and also guaranteeing peace in Gwynedd in return for Llywelyn confining his authority to Gwynedd Uwch Conwy and acknowledging the English king as his sovereign.
1282 Dafydd returned to the Welsh cause and attacked the English at Hawarden Castle and Rhuddlan. The revolt quickly spread to other parts of Wales, with Aberystwyth Castle being burnt and with open rebellion in Ystrad Tywi. Llywelyn, in grief at the loss of Eleanor, who died shortly after giving birth to their daughter Gwenllian, felt the Welsh were ill-prepared, but felt obliged to support his brother. Edward's forces captured Gwynedd Is Conwy and Anglesey but were heavily defeated in the Battle of Moel y Don. This encouraged Llywelyn to try and rally support in mid and south Wales, but he was killed on 11th December at the Battle of Orewin Bridge near Builth Wells.  
---
Alfred Thomas "Alf" Sherwood (13 November 1923 – 12 March 1990) was a Welsh international footballer born in Aberaman.  Between 1947 and 1957, he gained a total of 41 caps, the first against England in 1946. Stanley Matthews described him as "the most difficult opponent he ever played against". Sherwood was captain when Wales famously defeated England in 1955.
Alf Sherwood is notable for the fact that he was chosen as a Bevin Boy, young British men conscripted to work in the coal mines during the Second World War.   
---
Bevin Boys were young British men, conscripted to work in the coal mines during the Second World War. The programme was named after Ernest Bevin, who was Minister of Labour and National Service in the wartime coalition government, and involved nearly 48,000 young men, who provided vital but largely unrecognised service. 
Miners had been conscripted into military service early in the war, their value and experience underground having been underestimated. In order to maintain the supply of vital coal, one in ten young men eligible for conscription were sent into the mines instead of the battlefield. The scheme caused outrage, as many of the young men wanted to join the armed forces. Many were taunted and accused of shirking their duty as they wore no uniform. At the end of the war they received no medals, nor were they allowed to return to their pre-war employment.
Bevin Boys had no acknowledgement of their contribution to the war effort until a 1995 speech by Queen Elizabeth II. In 2007, the government announced that the Bevin Boys would be rewarded with a Veterans Badge.   
---
On 13th November 1916, the Prime Minister of Australia, Billy Hughes, was ousted from the Labour Party because he was in favour of conscription. 
William Morris Hughes was born in London on 25 September 1862. Both his parents were Welsh, his father was a Welsh speaker from Holyhead, and his mother was a farmer's daughter from Llansantffraid, Montgomeryshire. When his mother died, William Hughes went to live with his father's sister in Llandudno, speaking Welsh there and also with his mother's relatives.
 "Billy" Hughes was Prime Minister of Australia between 1915 and 1923.  During his 51-year parliamentary career, he was expelled by three political parties and represented four electorates across two states. 
He died in 1952 aged 90 while still serving in Parliament. He remains the longest-serving Parliamentary member in Australia, and one of the most outspoken and memorable figures in Australian political history.
---
On 13th November 2008,  professional kitesurfer Kirsty Jones from Marloes in Pembrokeshire won her first world title at the kitesurf world championships in Essaouira in Morocco. She made world headlines in 2002 on becoming the first person to kitesurf across the Irish Sea, in a fundraising event for the Ty Hafan Children's Hospice near Cardiff, raising in excess of £5000.  
---

Born in Merthyr Tydfil, William Ifor Jones (January 23, 1900 – November 131988), was a Welsh conductor and organist. He studied at the Royal Academy of Music in London between 1920 and 1925, being tutored by Sir Stanley Marchant at St. Paul's Cathedral where he played the organ and studied orchestral conducting with the renowned Sir Henry Wood.