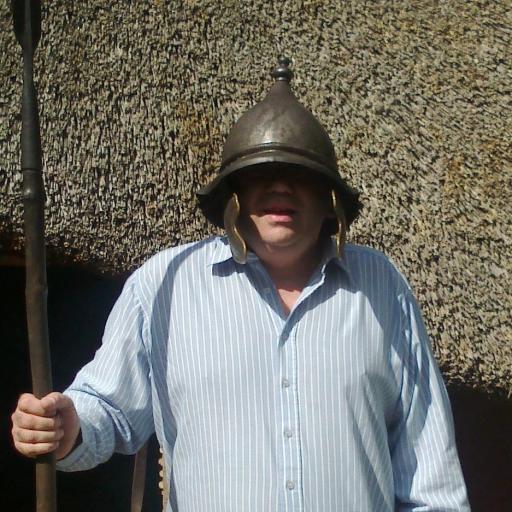 The Welsh connection to Butch Cassidy and the Sundance Kid;
On 7th November 1908, Robert Leroy Parker and Harry Alonzo Longabaugh, better known as the notorious train and bank robbers, Butch Cassidy and the Sundance Kid, were killed, following a shootout in Bolivia.
After pursuing a career in crime for several years in the United States, the pressures of being pursued forced them to flee with Longabaugh's girlfriend, Etta Place, to Welsh speaking Patagonia in Argentina.  They purchased a ranch on the east bank of the Rio Blanco near Cholila, Chubut province and lived there amongst Welsh settlers, breeding horses. 
However, they had not abandoned their lawbreaking lifestyle, as it is reported that they tried to rob a general store owned by Mihangel ap Iwan and Llywelyn ap Iwan (sons of Michael D Jones, founder of the Welsh settlement in Patagonia) in Esquel, Patagonia.  The story goes that Llywelyn was armed and refused to give up the takings, so that night, Butch Cassidy and The Sundance Kid returned and set light to the curtains of Llywelyn's home, who badly burned his hands putting out the fire.  The next day they returned to the store, shot Llywelyn dead (as he was unable to reach for his gun because of his burns) and ran off with the takings.
By 1905, they had outstayed their welcome and sold the Cholila ranch.  They were however aided in their escape to Bolivia by Sheriff Edward Humphreys, a Welsh settler who was friendly with Cassidy and enamoured of Etta Place.
---
Born on this day 1936 in Pontnewynydd, Monmouthshire
Dame Gwyneth Jones - World famous soprano, whose sonorous voice belies her slim frame.
During her teens, she gained enormous success in Eisteddfodau in Wales and was awarded a scholarship to the Royal College of Music. She studied in Europe, notably in Siena and later in Zurich, where she eventually settled. At the Royal Opera House in 1963, she achieved instant  fame in Il Trovatore. Over the next years, she expanded her repertoire, winning acclaim in the German roles by Strauss, Beethoven and Wagner, and is still regarded as one of the greatest Wagnerian sopranos of all time.
As well as performing across the United States and Europe, Gwyneth has also returned to give many concert performances in Wales. 
---
Born on this day 1927 in Margam, near Port Talbot.
Ivor Emmanuel - singer and actor.
He is fondly remembered for his rousing rendition of the battle hymn Men of Harlech in the 1964 film Zulu, where his character, Private Owen, leads his fellow soldiers in song, drowning the war chants of the Zulu forces surrounding the besieged fort at Rorke's Drift in 1879.
Emmanuel was orphaned during the second World War when a stray bomb hit the village of Pontrhydyfen. He was taken in by his Aunt Flossie and later became a miner. He was passionately musical, joining the local operatic society and listening to Enrico Caruso on a wind-up gramophone. Disheartened by his rejection by The D'Oyly Carte Opera Company in 1947, he took to drinking heavily with an old friend, Richard Burton. Burton arranged an audition for him at the Theatre Royal, Drury Lane, where he was cast in the musical Oklahoma. His dark good looks and fine baritone voice earned him roles in many other musicals, such as South Pacific and The King and I.
Emmanuel also had a successful television career; between 1958 and 1964, he ledthe Welsh television show, Gwlad y Gan ('Land of Song') and in 1960, he performed in the first televised edition of the Royal Variety Performance.
---
Born on this day 1934 in Ystrad Rhondda
Mel Hopkins - former Wales soccer international full back. 
The son of a miner, he was signed by Tottenham Hotspur at the age of 15 after just one trial, going on to win the League and FA Cup double with them in 1961.  Hopkins played for Wales 34 times, including the 1958 FIFA World Cup in Sweden, where they lost narrowly to Brazil in the quarter-finals.
---
Born on this day 1980 in Pontypridd
Michael Owen is a former Wales and Lions captain who became the 1,000th player to play for his country when he gained his first international cap in the Test against South Africa in June 2002. He captained Wales, replacing the injured Gareth Thomas, during the 2005 Six Nations, the year in which Wales won its first Grand Slam in 27 years.
Now retired, he joined the team of match commentators during the 2011 World Cup.
---

Today is the feast day of Saint Cynfarwy.
Saint Cynfarwy - Born c.610, was an active Christian on Anglesey, after whom the parish of Llechgynfarwy (pictured) and St Cynfarwy's Church are named. In a neighbouring field stands a nine foot high upright stone supposedly commemorating the saint. It is locally known as Maen Llechgynfarwy.  
---
  Born on 7th November 1528, probably at the family seat of Haroldston near Haverfordwest. 
Sir John Perrot was claimed to have been the illegitimate son of Henry VIII, whom he indeed resembled both physically and temperamentally. 
He was favoured by Edward VI, but as a Protestant during the reign of Mary I (1553–58), he was charged with sheltering heretics and imprisoned. His fortunes improved under Queen Elizabeth, and he was entrusted with the naval defence of South Wales.
Perrot was created Lord President of Munster at a time of rebellion in Ireland and over a two year period laid waste the province to procure peace, killing and decimating the homes of those who opposed him. He returned to Wales in 1578 as Vice Admiral of the Welsh seas and was named Commissioner for Piracy in Pembrokeshire.
In 1584 he was appointed Lord Deputy of Ireland. He occupied Ulster and vigorously opposed Roman Catholicism. He then undertook the plantation of the province of Munster. This involved the distribution of 600,000 acres of land confiscated from Catholic estates to anyone willing to employ English labourers and farmers to work the land and build towns. This was an onerous undertaking and Perrot eventually asked to be recalled.
It was inevitable that Perrot had made many enemies during his time in Ireland, and on his return, they plotted his downfall. He was accused of treason and plotting against Elizabeth. He was  imprisoned in the Tower of London where he died in September 1592 while awaiting execution.   
---
  On 7th November 1916,  Charles Evans Hughes lost narrowly to Woodrow Wilson in the United States presidential election, when he failed to win California. 
Hughes was the Welsh speaking son of a minister who had emigrated to the US from Tredegar. He was widely regarded as honest and was respected for his intellect. He became Secretary of State in 1920 and was one of the most distinguished Chief Justices of the Supreme Court of the USA. 
---
Elaine Morgan OBE FRSL (7 November 1920 – 12 July 2013) was born and brought up in Hopkinstown, near Pontypridd. She wrote for television and is the author of several volumes on anthropology and evolution, notably the 'aquatic ape hypothesis'. They include The Descent of Woman, The Aquatic Ape, The Scars of Evolution, The Descent of the Child, The Aquatic Ape Hypothesis, and The Naked Darwinist (2008),
Morgan's screenwriting credits include several dramatic adaptations of books, including Richard Llewellyn's 1939 novel How Green Was My Valley (1975), Testament of Youth (1979); and a mini-series on the Liberal prime minister from the middle of the first world war, The Life and Times of David Lloyd George (1981).