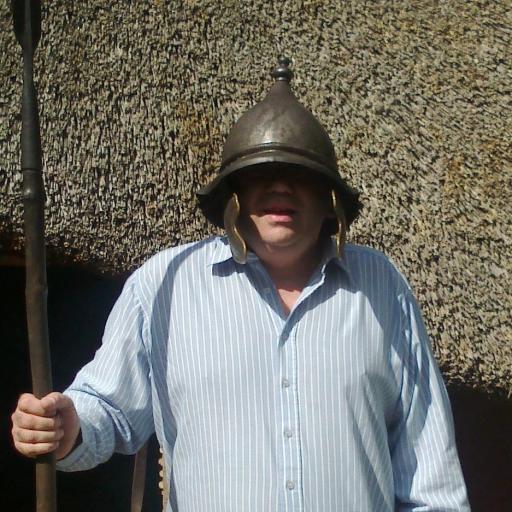 The Battle of Agincourt occurred on 25th October 1415   
Welsh involvement at The Battle of Agincourt;
In 1415, Henry V took an army into France as part of his ambition to take over the rule of France and captured the key city of Honfleur.  He then marched his 5000 soldiers  towards Calais to sail back to England but was persued by a French army 20,000, which caught up with them near the village of Agincourt.  Hungry, tired and outnumbered, the situation looked bleak for Henry and his army.   However, a number of factors worked to Henry's advantage which resulted in him being able to secure an unlikely victory.  Firstly the French were a disunified group relying on the traditional armored knight, weighed down by their heavy armour,  while the English had a large contingent of foot soldiers armed with the Longbow, the ultimate defensive weapon of the day. Also, heavy rains overnight had created soggy ground conditions that negated the advantage of  the French cavalry.
In the battle itself, the French attempted to press home massive cavalry charges against the English across a narrow front of a wet field.  In response, Henry set up his archers in a half moon formation around the field, so that they were able to fire not only straight into the onrushing French, but also from both sides.  The thousands of high velocity, armor piercing arrows across a narrow front soon reduced the French attack to a mass of dismounted and crippled men and horses.  English infantry then attacked, killing many and taking a vast amount of prisoners, most of whom Henry controversially ordered to be executed.
 Welsh longbowmen are considered to have played a significant role in securing victory at the battle and their presence was mainly due to the fact that in 1415, Henry V had a great control over lands in Wales, he held several Marcher lordships in South Wales, notably Brecon, Kidwelly, Monmouth and Hay, there were also the lands of the principality which were  under the king's control.  Through his years spent combating Owain Glyndwr's rebellion, Henry was familiar with the skill and expertise of the Welsh archers, so it stood to reason that he would wish to recruit them for his French campaigns.  It is thought that approximately 460 Welsh troops joined Henry's army, from all parts of South Wales, however, it is recorded that there were manyfrom Llantrisant.   They were mustered in Carmarthen and Brecon, on 26 June 1415. The combined force met at Brecon before marching to Hereford and then south to Southampton.
The French often amputated the index and middle fingers of captured bowmen, so that they would be unable to draw their bow, hence during the battle, Welsh bowmen taunted the French by giving them a two-fingered salute of defiance. 
 Among the Welshmen who fought, Dafydd Gam, an opponent of Owain Glyndwr during the Rebellion of 1400, is the only one known to have been killed.  It is said that he was struck down whwn he intervened to save Henry's life. 
---
On 25th October 1415, Dafydd Gam was Killed on the field of The Battle of Agincourt, reportedly saving the life of King Henry V
Sir Dafydd ap Llewelyn ap Hywel (c. 1380 – October 25, 1415), better known as Dafydd Gam or Davy Gam,  (The name "Gam" is a Welsh word meaning "crooked" or "bent", as it is recorded that Gam had a characteristic squint), was a member of one of the most prominent Welsh families in Breconshire, from Pen-pont on the river Usk, where his family's power base had developed from their consistent support for the marcher Lords of Brecon of the de Bohun family.  S0 when Henry Bolingbroke (the future Henry IV) married the de Bohun heiress Mary and became Lord of Brecon, Dafydd Gam's family's allegiance transferred to him.  Dafydd himself was in Henry's service, being paid the substantial annuity of 40 marks by Henry's estate in 1399,
Dafydd Gam is regarded as a traitor by many Welsh people as he was  a prominent opponent of Owain Glyndwr.  When the Glyndwr rebellion broke out in 1400, Gam played a leading role in its opposition in the area and his lands in and around Brecon became a target for Glyndŵr's attacks.  In 1404, according to legend Gam tried to assassinate Glyndŵr at his parliament at Machynlleth, but was released soon after the Parliament.  If true this generous gesture would come back to haunt Glyndwr, as in 1905, Dafydd is named as a leader in the crushing defeat of Glyndŵr's men at the Battle of Pwll Melyn, near Usk, at which 300 of Glyndŵr's men were executed .  His loyalty being rewarded with the gift of some of Glyndŵr's supporters' confiscated estates in Cardiganshire.  In 1412 Gam was captured by Glyndŵr's men and his ransom was paid directly and speedily from the King's estates in Wales, indicating the esteem in which Gam was held by Henry.  Glyndŵr had made Gam swear an oath to never bear arms against him again or oppose him in any other way, but on his release Gam immediately reneged on this oath, which resulted in  Glyndŵr having Gam's Brecon estates attacked and burned in retaliation.
When Henry IV died in 1413, Henry V became ruler and Gam again was a loyal servant to the new king.  Gam went with Henry V on campaign to France in 1415 and met his death on the field of Agincourt.  Many reports of the battle suggest that in the late stages of the battle, with the result in the balance, Henry V was engaged in hand to hand fighting with the Duke of Alençon, who supposedly cut an ornament from Henry's crown with a sword blow.  Gam is said to have personally intervened to save Henry's life, only to have been struck a fatal blow in doing so and that as he lay dying on the field, he was knighted by King Henry.  
---
Today is the feast day of St Canna
Saint Canna (Born c.520)  Canna was a daughter of the Breton King Tudur Mawr, she came to Wales with her husband Sadwrn, who soon after left to become a hermit on Anglesey.  She became a nun at Llangan, nr Cowbridge, where the church is named after her and where also stands a sculptured wheel-head cross,dedicated to her.  It shows Christ on the cross and a person at either side, the right hand figure is thought to be St Longinus the centurion piercing the side of Christ with his lance, whilst the left side figure is thought to be the devil with a strange-shaped head.
Canna's name is also associated with two suburbs of Cardiff, Canton and Pontcanna and there are many depictions of her in art holding a staff which miraculously flowers, which may refer to the legend whereby, upon feeling the pangs of childbirth, she grasped at a dry rowan stick which immediately burst into leaf. 
---
On 25th October 1970, The Forty Martyrs of England and Wales were canonized by Pope Paul VI.
The Forty Martyrs of England and Wales comprise a group of Catholic men and women who were executed for treason and related offences in the Kingdom of England between 1535 and 1679.  This religious repression existed in part because faithful Roman Catholics were required to rebel against the English Crown and they are considered by the Catholic Church to be Christian martyrs.  Six of those canonized were Welsh and the Catholic Church in Wales, keeps 25th October as the feast of the 'Six Welsh Martyrs and their companions'.
The Welsh Martyrs are the priests Phillip Evans, John Lloyd, John Jones, David Lewis, and John Roberts and the teacher Richard Gwyn.   
---
On 25th October 2012, Archbishop Desmond Tutu visited Wales, as a guest of the First Minister.
Archbishop Desmond Tutu, Nobel Peace Laureate and anti-apartheid campaigner, made his historic visit to recognise the achievements of volunteers and organisations who supported the Wales for Africa movement.  In his address at City Hall- Desmond Tutu particularly thanked Wales for helping to free South Africa from Apartheid.