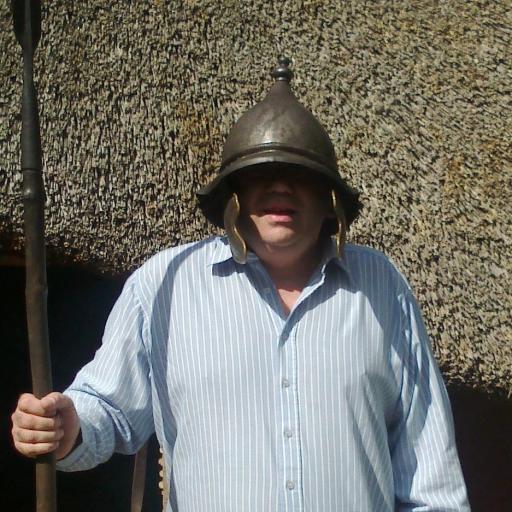 On 22nd October 1942 the Welsh Courts Act 1942 was enacted.
Since the Acts of Union in 1536, only English had been used in the law courts, ignoring the fact that most people in Wales only spoke Welsh.  The 1942 act gave Welsh people the right to use Welsh in courts providing that the Welsh speaker was under a disadvantage in having to speak English.
This was by no means an ideal situation, as such a disadvantage had to be proved and there was a problem in finding a judge or magistrate who understood the Welsh language.  However, it can be seen as a slackening of legislation which ultimately led to the Welsh Language Act 1967, which  gave rise to the concept of 'equal validity' between the Welsh and English languages and was a much more robust and useful piece of legislation.
---
Today is the feast day of Saint Mellon
Saint Mellon (Mellionius) was born c.229 in Cardiola (Cardiff), the son of local Welsh nobility.
Whilst in Rome accompanying taxes due from the province, he heard Pope Stephen I preaching and was converted to Christianity, being baptized by Stephen shortly afterwards.
He sold his property and gave the profits to the poor, studied Christianity and was ordained.  He then received a vision of an angel telling him to evangelize the area of Rouen in modern France, where he became its first bishop and performed many miracles including an exorcism where he cast out devils from monkeys.  He died in 311 and is buried in St Gervais Church, Rouen.
---
On 22nd - 23rd October 1916,  at Macukovo (now called Evzonoi) in Greece, during the First World War, Hubert William Lewis, from Milford Haven, a private in the 11th Battalion, the Welch Regiment, single-handedly attacked and captured three enemy soldiers and despite being wounded himself, went under heavy shell and rifle fire, to bring a wounded colleague back to safety. 
For this action, he was awarded the Victoria Cross and later the Medaille Militaire by France.  
---
On 22nd October 1644 Powis Castle near Welshpool was captured by Parliamentary troops during The English Civil War.
A timeline of the history of Powis Castle;
Powis Castle (Castell Powis) near "Pool' (Welshpool) was the stronghold of the ancient kingdom of  Powys,  whose rivalry with Gwynedd combined with their proximity to England, resulted in their leaders switching allegiance when necessary to ensure survival 
1196  Gwenwynwyn ap Owain Cyfeilog Prince of Powys was driven out of his castle by a combined force of English and Welsh but recovered it during the following year.
1218  Llywelyn ap Iorwerth (Llywelyn the Great) of Gwynedd conquered Powys, forcing Gwenwynwyn into English exile, where he died.
1240  Gwenwynwyn's son Gruffydd returned on Llywelyn's death to retake Powys.
1257  Gruffydd was forced to flee when Llywelyn ap Gruffydd retook the area for Gwynedd.
1264  Gruffydd gave his allegiance back to Llywelyn after the success of Llywelyn and Simon de Montfort against Henry III.
1274  Gruffydd was discovered plotting against Llywelyn and Powis Castle was reportedly razed to the ground, forcing Gruffydd to flee once more.
1277  Gruffydd returned with Edward I's victorious English army in the first Welsh campaign and subsequently regained his lands from the English crown.
1286  Gruffyd's son Owain ap Gruffydd ap Gwenwywyn renounced his title as Prince of Powys and was granted the title of Baron de la Pole.
1579  Sir Edward Herbert bought the lordship and castle from Owain's descendants.  Sir Edward's wife was a Roman Catholic and held allegiance to the Stuart kings of England.  Powis castle, therefore, became a Royalist stronghold, during the English Civil War. 
1644 ( 22nd October)  Powis Castle was captured by Parliamentary troops, during the English Civil War.
1660  The castle was returned to the Herbert family on the restoration of Charles II and many improvements were made, including, the extraordinary terraced gardens, the grand staircase and the state ballroom.
1784  Edward Clive, the eldest son of Clive of India, married into the Herbert family and the Clive fortune paid for many repairs and improvements,  A collection of Clive mementoes from Indua is on display in the old ballroom.
1952  Powis Castle was bequeathed to the National Trust and is renowned for it's grand terraced gardens and lavish Elizabethan-furnished rooms   
---
On 22nd October 2009, the second phase of "The St David's Centre" in Cardiff opened, putting Cardiff within the top five shopping destinations in the United Kingdom.
The second phase consists of 3 main buildings in total; the Central Library building, the John Lewis department store, and the main shopping area, which is built on the form Oxford Arcade. It has added an extra 967,500 sq ft of retail space, 3,000 car parking spaces and 4,500 permanent jobs to the city centre at a total cost of £675m.
In 2008-9, the centre attracted 27 million people, making it one of the busiest shopping centres in the European Union, exceeding Birmingham's Bull Ring.
St David's was crowned the international shopping centre of the year in 2010 by Global Retail Leisure International.  
---
From 22nd - 31st October 1998, a series of storms hit Wales bringing substantial rainfall to all parts with the highest daily rainfall recorded at Treherbert, with 92.2 mm.  Elsewhere, rivers overtopped their banks, inundating their flood plains and causing extensive flooding in many Welsh towns
Since then many flood defence schemes have been undertaken,  however, the Environment Agency has warned that due to changing weather patterns, flooding will remain a real threat and is likely to increase.