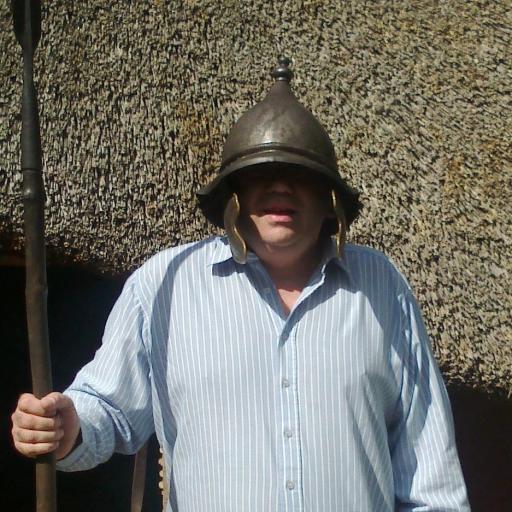 On October 17th 1660, Colonel John Jones (often referred to as Jones Maesygarnedd ) was executed for killing the king.
A staunch parliamentarian at a time when most of Wales was Royalist, during and after the English Civil War (1642–1651), Jones,  a brother-in-law of Oliver Cromwell, was one of the fifty-nine signatories to King Charles I's death warrant (a group referred to as the regicides).  He was therefore in grave danger when Charles II was restored to the throne in 1660 and was described as "'the most hated man in North Wales".
 Jones was arrested, found guilty of regicide and on October 17th, was hanged, drawn and quartered, a fate which, he faced with considerable bravery.
It is reported that throughout his trial, he conducted himself in a dignified manner and when the Judge pronouced sentence of death upon him he bowed and prayed that the Lord would give him the strength to face his fate in such a manner as becomes a Christian.  Nor could he at the scaffold be induced to retract his words, saying instead that Charles I had betrayed his country and was deserving of death.
Jones had been a captain in the parliamentarian army and was involved in the storming of Laugharne castle, the siege of Chester and the surrender of Anglesey.  After the war, he served in Cromwell's paliament as MP for Merioneth,  an alderman of Denbigh,  commissioner for North Wales and one of three commissioners to Ireland.  
---
Born on this day 1864 in Llandrygarn, Anglesey
Sir John Morris-Jones -  a poet and Professor of Welsh at Bangor University, who is credited, as helping maintain the classical standards of Welsh literature, by his insistence—through his teaching, writings and his adjudication at national eisteddfodau, that grammatical correctness and sincerity were essential components of all literary works.     
---
Born on this day 1905 in Panteg, Monmouthshire 
Edwin Stevens  - inventor of the world's first wearable electronic hearing aid, as used by Winston Churchill.  It was while working as a salesman for a manufacturer of electrical hearing aids, that he considered that the products he was selling were inadequate, so he set up his company (Amplivox) and designed the world's first wearable electronic hearing aid.  The microphone was worn on the lapel, with the amplifier going into the wearer's jacket pocket and the earphone was small enough not to need a headband.  As technology improved, Stevens created a smaller hearing aid that could fit into the outer ear.
Stevens was also a philanthropist, becoming a major benefactor of the University at which he had studied, Jesus College, Oxford and also of the Royal Society of Medicine.  
---
On Oct 17th 1982, "Sulyn" the first Welsh-language Sunday newspaper was launched.     
---
On 17th October 2005, the National Waterfront Museum in Swansea officially opened.
The museums' aim is to cover every of Wales' industrial and social history, using real-life artefacts, archive footage and photographs, 2-D graphic panels, video diaries and interactive computer displays.
The exhibits are fully bilingual and signed for those with hearing difficulties and include.
* "Copperopolis", the history of the copper industry of Swansea.
* Wales' maritime heritage - including a detailed scale model of the 1865 steam ship Zeta which gave Swansea-born Hollywood actress Catherine Zeta Jones her middle name.
* Animation and the companies behind such children's favourites as Super Ted.
* The interactive hall of fame, which includes, Aneurin Bevan, David Lloyd George, Dame Tanni Grey-Thompson and Gareth Edwards, with new additions being added by votes from visitors.
* A working replica of the first steam locomotive in Wales.  
---
Born on this day 1966 in Wigan
Adopted Welshman, Shaun Edwards - defence coach of the Wales rugby team, who has so far helped Wales to two Grand Slams.  Prior to his involvement in rugby union, Edwards was a legendary player and captain of the Wigan Rugby League team and remains the game's most decorated player, winning eight championships and nine Challenge Cups.
As well as being an immensely talented player, Edwards was also tough and uncompromising and was voted "Man of Steel" in 1990.  His attitude typified by playing one Challenge Cup final with a broken cheekbone and eye socket. 
Off the pitch, Edwards is a devout Roman Catholic and his strong  political views meant that on one Great Britain Lions tour, he taped over the British Coal sponsorship logo on his shirt in support of the miners strike.  
---
17th October 1948 saw the opening of the Hoover washing machine factory at Pentrebach, Merthyr Tydfil. 
By 1973, the factory was employing more than 5,000 workers.  However, the factory then started to go into a gradual decline, finally closing in 2009.   
---
Goronwy ab Ednyfed (c. 1205 - 17 October 1268) was seneschal to Llywelyn ap Gruffudd, between 1246 and 1256. As seneschal, he was in charge of domestic arrangements and the administration of servants and held his lands in Wales free from all dues and services other than military service in time of war.
Goronwy's father was Ednyfed Fychan, seneschal to Llywelyn the Great and later his son Dafydd ap Llywelyn and his mother, Gwenllian, was the daughter of Rhys ap Gruffydd (Lord Rhys). Goronwy's brother Tudur, a leading adviser of Llywelyn ap Gruffudd, succeeded him as seneschal to Llywelyn until his death in 1278. He was a direct ancestor of Henry Tudor (King Henry VII of England) and his great grandson also Goronwy was an uncle by marriage of Owain Glyndwr.
---
17th October 1879 saw the official opening of the Severn Railway Bridge (destroyed in 1960).
The Severn Railway Bridge crossed the River Severn betweenSharpness and Lydney and was built by the Severn Bridge Railway company to transport coal from the Forest of Dean on the Severn and Wye Railway.
The bridge predated the construction of the Severn Tunnel, which is situated around 12 miles downstream, by seven years, after which it was used as a diversionary route when the tunnel was closed for engineering work and became known by locals as 'The White Elephant'
On 25 October 1960, there was thick fog and a strong tide; two barges carrying fuel oil and petroleum overshot Sharpness Dock and were carried upstream by hazardous tidal currents. They collided with one of the columns of the bridge, causing two spans of the 22-span steel and cast iron bridge to collapse. Part of the structure hit the barges, setting fire to them. Five people died in the incident.
The Western Region of British Railways planned to reconstruct the bridge, but after further damage to the bridge in 1961, it considered the bridge to be damaged beyond economic repair and demolition was completed in 1970.