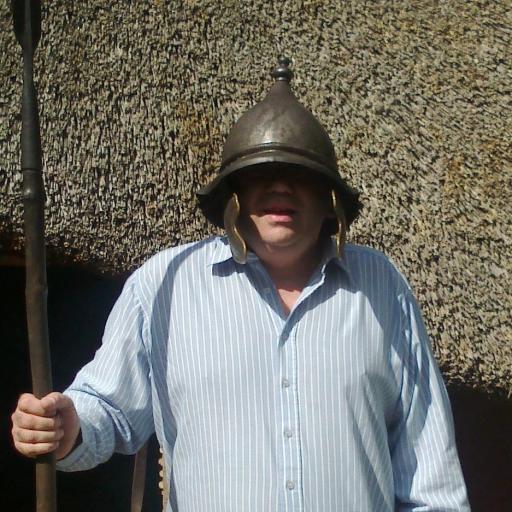 The situation in Wales following the Norman Invasion;
The Welsh were probably delighted to hear of the death of Harold Godwinson at The Battle of Hastings in 1066, but any celebrations would prove to be premature, as the victorious Normans under William the Conquerer would turn out to be every bit as bad as the Anglo-Saxons had been in their ambitions of expansion into Welsh territory.
Wales in 1066 was in dynastic disarray, following the death of Gruffudd ap Llywelyn three years earlier.  Gruffudd had united all of Wales and it was now divided back into its traditional kingdoms.  However, it has been argued that this actually made Wales harder to conquer as the Normans were confronted by a number of smaller kingdoms rather than one single kingdom.  Also, it appears that William the Conquerer did not initially plan to conquer Wales by raising a large force and invading, instead he operated a policy of establishing the Marcher Lordships,  which were borderland earldoms, whose barons ruled with little recourse to the king. These barons were then encouraged to push gradually westward into Welsh territory and build motte and bailey castles to secure the taken land, which were later replaced by larger stone castles.
The most notable earldoms created by William were those at;
* Chester, under Hugh d'Avranches (Hugh the Fat), who struck deeply into Gwynedd and captured Gruffudd ap Cynan, keeping him in prison for 12 years. Much of Gruffudd's lands, were given to  Hugh's cousin Robert.
* Shrewsbury, under Roger de Montgomerie, who pushed deep into Powys. Around 1086 he built a castle at the ford of Rhydwhiman across the Severn,  naming the place Montgomery. 
* Hereford, under William Fitzosbern, who overran the kingdom of Gwent, establishing castles and garrisons at Monmouth, Clifford, Wigmore and the magnificent castle at Chepstow.
In 1081, William visited St David's himself, ostensibly to show his respects but in reality as a demonstration of his power to the native rulers.  However, he did recognise Rhys ap Tewdwr's rule in Deheubarth and Iestyn ap Gwrgant's in Morgannwg.
William died in 1087 and the invasion gathered pace under the control of William's eldest son, King William II.  The lowlands of Morgannwg fell to Robert Fitzhammon. Rhys ap Tewdwr was killed and Brycheiniog was seized.  The Earls of Shrewsbury drove through Powys and Ceredigion to southern Dyfed where they established a castle at Pembroke.
The Normans also set about reforming and trying to take control of the Welsh church.  Urban of Llandaff being the first bishop to swear allegiance to Canterbury in 1107, followed by all the other Welsh bishops by the middle of the century.  The Normans also introduced Benedictine monasteries from the continent.  For example, Chepstow was the site of the first Norman castle in Wales, built in 1067, which was closely followed by Wales' first Benedictine monastery built in 1071.
---
Born on this day 1893 in Wallasey, England (brought up by his Welsh family, amongst the Welsh community on Merseyside)
Saunders Lewis was a dramatist, poet,  literary critic, historian and political activist, who in 2005 was voted 10th in a BBC Wales poll to name Wales' greatest-ever person. 
Saunders Lewis' legacy is immense, alongside his literary output - he wrote plays, poems and novels  and was twice nominated for the Nobel Prize for Literature. He had a profound influence on 20th century Welsh politics, he was a founder of Plaid Cymru and was also instrumental in the creation of Cymdeithas Yr Iaith Gymraeg (Welsh Language Society)
At the outbreak of World War I, Lewis was studying at The University of Liverpool, when he enlisted as an officer with the South Wales Borderers.  It is thought that this experience and the influence of Republican Irishmen he was fighting alongside helped to shape his convictions about the importance of Welsh national identity, although he stopped short of condoning violence against representatives of the British state.
 After the war, he returned to university to graduate in English, after which, he was appointed as a lecturer in Welsh at the University College of Wales in Swansea in 1922.  It was during his time at Swansea that he produced some of his most exciting works of literary criticism; A School of  Welsh Augustans (1924), Williams Pantycelyn (1927), and Braslun o hanes llenyddiaeth Gymraeg (An outline history of Welsh literature) (1932).
In 1925, along with  H.R. Jones and Lewis Valentine, he  founded Plaid Genedlaethol Cymru (National Party of Wales) (which would become Plaid Cymru), with the principal aim of the party, being to foster a Welsh speaking Wales.  In 1936 Lewis, together Jones and Valentine, set fire to the new RAF base at Penyberth in Gwynedd.  They gave themselves up, claiming  their action was justified on nationalist and pacifist grounds.  However, Lewis lost his university lecturing post and in controversial circumstances went on trial at the Old Bailey in London, where he was sentenced to nine months imprisonment.
In 1962, Lewis gave a lecture on BBC radio entitled Tynged Yr Iaith (The Fate of the Language), in which he saw the extinction of the Welsh language  unless revolutionary methods were used to defend it.   The broadcast led to the creation of Cymdeithas Yr Iaith Gymraeg (Welsh Language Society) and inspired its campaigns of direct action over the following decades, which subsequently led to the establishment in 1982 of the Welsh language television channel and in 1993 of the Welsh Language Act.
Saunders Lewis died aged 91 in September 1985.
---
Sir John Prys of Brecon (c.1502- 15th October 1555) - author in 1547 of the first printed book in Welsh and notary public (public officer for matters usually concerned with foreign business) to King Henry VIII.
It is thought that Prys was an advisor regarding the Laws in Wales Acts 1535 and 1542, which saw the administrative and legal systems of England, extended to Wales. Prys was also one of Thomas Cromwell's agents during the Protestant Reformation and took part in the major visitation of the monasteries of 1535, before the commencement of their dissolution the following year.  In 1547, Prys published the first printed book in Welsh "Yny Lhyvyr hwnn" which contained translations of the Creed, the Ten Commandments and the Lord's Prayer.
---
Saint Richard Gwyn was martyred by being hanged, drawn and quartered for high treason on 15th October 1584. He was canonised by Pope Paul VI in 1970 as one of the Forty Martyrs of England and Wales.
Richard Gwyn was born c. 1537 in Montgomeryshire and studied at the universities of Oxford, Cambridge and Douai, before returning to Wales as a teacher.
Gwyn was a staunch Catholic and this was at the time following The Protestant Reformation, that it was highly dangerous to be Catholic, however Gwyn refused to convert to the Anglian faith and often had to change his home to avoid fines and imprisonment. He was arrested by the Vicar of Wrexham, an Anglican convert in 1579 and spent the next five years in and out of prison.
On one occasion Gwyn was fined £280 for refusing to attend Anglican church services, and another £140 for "brawling" when they took him there. Then in the spring of 1582 where, instead of being tried for an offence, he was given a sermon by an Anglican minister. However, he started to heckle him to the extent that the exercise had to be abandoned.
Richard Gwyn was indicted for high treason in 1583 and despite his defence and objections to the dubious practices of the court, Gwyn was exected by hanging, drawing and quartering, at the Beast Market in Wrexham on 15 October 1584. His last words, in Welsh, were reportedly "Iesu, trugarha wrthyf" ("Jesus, have mercy on me").
---
Born on this day 1751 in Nantglyn, Denbighshire.
David Samwell - naval surgeon with Captain James Cook, who was also an important supporter of Welsh cultural organisations in London. 
Samwell became a surgeon in the Royal Navy, sailing around the world on board HMS Resolution with Captain James Cook.  The journal of his experiences provide a detailed account of the third and last voyages of Cook to the Pacific Ocean, including Cook's death at the hands of natives on the Sandwich Islands in 1779.
Samwell lived in London was described as stout, tall, pock-marked, black haired and fierce looking, but wondrous friendly in company.  Along with other Welshmen, Smwell joined the Gwyneddigion Society which had formed in 1770.  The society celebrated with a rowdy ball every St David's Day and Samwell was reported as being one of the noisiest. 
In 1792 Iolo Morganwg (Edward Williams) organised the first meeting of Gorsedd Beirdd Ynys Prydain at Primrose Hill in London. Samwell, who was present at the event, was instigated into the Gosedd of Bards and took the name Dafydd Ddu Feddyg.
---
On 15th October 1739, John Wesley, founder of the Methodist Church, preached his first sermon in Wales, to a crowd of around 400 at Devauden, Monmouthshire.  Wesley then preached in Abergavenny, Pontypool, Usk, Newport and Cardiff on the remainder of his South Wales tour.
Wesley was ordained into the Church of England in 1725, but his religious views were heavily influenced by his contact with German and French non-conformist clergy during his missionary work in the American colonies.  In May 1738, he claimed to have experienced a profound discovery of God in his heart which prompted him to undertake a UK-wide tour to preach his revelation. 
His message found particular resonance in South Wales, where it fuelled a religious revival, as at the very start of the industrial revolution Wales found itself with a growing working-class population who weren't being catered for by the Church of England.  Traditionally, they'd been discouraged from studying or questioning the scripture, but Wesley was to be able to preach to them in terms which were understandable to everyone.  He especially encouraged ordinary labourers to study the bible and preach to each other in classes.
A commemorative bust was recently unveiled in Devauden on the village green, as this was where he was forced to preach after being refused entry into the local church.
---
Born on this day 1962 in Cardiff
Mark Ring - former Wales rugby international, who regarded as among the most gifted players of his generation but his career was hampered by serious injury. A great entertainer, Ring was noted for his cheek, flair and individual skill and became a great crowd favourite with his hometown club Cardiff RFC. He ended his playing career in 1996 and moved into coaching.