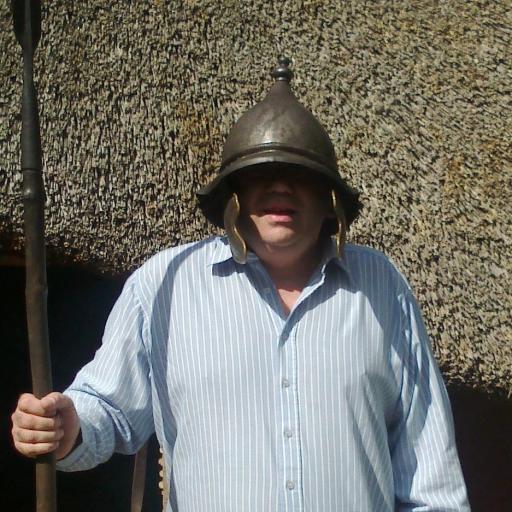 On 8th September 1945 Rudolf Hess, Adolf Hitler's deputy in the Nazi Party was flown to Nuembourg, ending 3 years of imprisonment at Maindiff Court Military Hospital Abergavenny. 
Hess had made a dramatic midnight flight to Scotland in 1941, in what is thought to be, an attempt to achieve a peace between Britain and Nazi Germany.  He had bailed out over Eaglesham, injuring his leg in the process and was arrested by members of the Home Guard, he then spent several weeks in the Tower of London (the last man ever to be imprisoned there) and at Camp Z in Aldershot undergoing interrogation and debriefing.
 On 26 June 1942 he was transferred to Maindiff Court, where he had his own room, was allowed to keep journals, take walks around the grounds and often taken on drives around the local countryside.  Then on 8th October 1945, he was taken to Nuremberg to face trial for war crimes.  Found guilty, he was spared the rope but was sentenced to life imprisonment at Spandau Prison   in Berlin, where after 1966, until his death in 1987, he was the sole occupant.  
---
Born this day 1872 in Shirley, Derbyshire ( His father, a clergyman, took great pride in his Welsh ancestry and his mother was descended from the English poets William Cowper and John Donne.)
John Cowper Powys - novelist and lecturer.
For twenty five years, Powys earned his living as an itinerant lecturer in America, before moving to Corwen, Meirionydd in 1935.  He later moved  to a quarryman's cottage in Blaenau Ffestiniog, where he learnt Welsh and immersed himself in the history and mythology of Wales.  It was at this time that he wrote two of his greatest masterpieces, Owen Glendower (1940), and Porius (1951).

---
Crockherbtown station, now Cardiff Queen Street railway station was opened on 8th October 1840.
It was Cardiff's first railway station and also the headquarters of the Taff Vale Railway. Cardiff Central station was not opened until 1850 as the area it is situated on was prone to flooding, with this problem being solved when Isambard Kingdom Brunel suggested diverting the River Taff to the west. 
Crockherbtown was one of the five areas that surrounded and were later to become absorbed by the walled town of Cardiff. The others were Butetown, Grangetown, Newtown and Temperance Town.
The name is thought to be of Saxon origin and literally means "the town of the crock herbs".  Franciscan monks settled in the area in the late 13th century and it is thought that they cultivated the crock herbs. In the 14th century, it housed a leper colony run by the nuns of St Mary Magdalene that was closed in the Reformation.
Crockherbtown later became a refuge from the muddy, violent and shabby areas of Cardiff for Aldermen and wealthier merchants and by the 18th century, fine Georgian townhouses were appearing among the thatched cottages. Then the opening of the Taff Vale Railway from Merthyr to Cardiff in 1841 gave the town its first public railway station. With boomtown Cardiff's population now going off the graph, it became a priority to clear away the pre-industrial town and in 1863 Crockherbtown was widened and renamed Queen Street in 1886.
The name does still live on in the area, with the pub chain Wetherspoons naming its local outlet, 'The Crockerton' and there is a narrow route running behind it called 'Crockherbtown Lane' which runs parallel with the section of Queen Street which would have once been known as Crockherbtown.   
---
Born on this day 1753 in Newport, Rhode Island (His grandfather also William Jones was born in Wales)
William Jones - the eighth Governor of Rhode Island.  He was re-elected five times (1811 to 1817) 
Jones participated in the Revolutionary War, after which he became a Justice of the Peace.  Jones was elected to the Rhode Island General Assembly in 1807 and was Speaker of the Rhode Island State House of Representatives, before becoming the only Federalist ever to serve as Governor of Rhode Island.   
---
For acts of bravery on October 8th, 1858, during the Indian Mutiny. Thomas Monaghan from Abergavenny, a trumpeter in the 2nd Dragoon Guards (Queen's Bays), was awarded the Victoria Cross.
Monaghan and Private Charles Anderson saved the life of their Colonel, Lt. Colonel W H Seymour C. B, after he had been attacked and felled by thirty to forty mutineers in a dense jungle.  They held off the Sepoys and brought him to safety.
When Monaghan died in 1895, he was buried in a common grave, however, in 1967, the Old Comrades Association paid for and had erected a headstone over his unmarked grave in Woolwich cemetery.  
---
On 8th October 1918, William Herbert Waring from Welshpool, a lance sergeant in the 25th Battalion, Royal Welch Fusiliers, died following an act of bravery on 18th September 1918 at Ronssoy, France, for which he was posthumously awarded the Victoria Cross.  
In the face of devastating fire, Lance-Sergeant Waring single-handedly rushed and captured an enemy machine gun position.  He then reorganised and led his men for a further 400 yards, before falling mortally wounded.  
---
Born on this day 1932 in Tredegar
Ray Reardon, MBE - Six times World Snooker Champion, who dominated the sport in the 1970s.
Reardon started working as a miner at Ty Trist Colliery aged 14, but following being injured in a rockfall, he quit mining and became a police officer when his family moved to Stoke on Trent. Aged 15, Reardon was British youth snooker champion and in 1964, he won the English Amateur title. Reardon resigned as a policeman and turned professional in 1967. At the age of 50, he became the oldest player to win a ranking tournament and with Doug Mountjoy and Terry Griffiths won the Snooker World Cup for Wales in 1979 and 1980. Because of his dark widow's peak and sharp-toothed grin, he is jokingly nicknamed Dracula.  
---
On 8th October 1802, a Unitarian Association was formed in South Wales, with Iolo Morganwg one of its leaders.
Unitarianism is a theological movement, named for its understanding of God as one person, in direct contrast to Trinitarianism, which defines God as three persons coexisting consubstantially as one being.
Iolo Morganwg was from the early 1790s until his death in 1826, a strongly anti-establishment and anti-clerical Unitarian and campaigned furiously on its behalf until and after it was made legal in 1813.