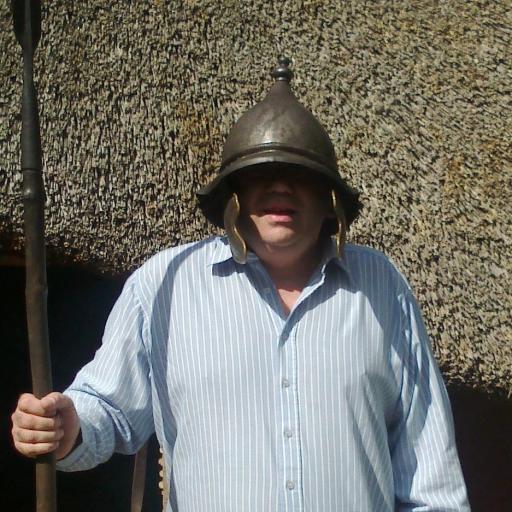 Born on this day 1925 in Dowlais

Gwyn "Alf" Williams -  historian and broadcaster, who is regarded as an important influence on the way we now think about our country and people. 
Williams read History at the University College of Wales, Aberystwyth, joined the British Army and fought at Normandy during World War II, before returning to Aberystwyth in 1954 as Lecturer in Welsh History. He was such an entertaining speaker that students from other departments, regularly sat in on his lectures, for the entertaining  and passionate way he spoke about industrial Wales, after which he would often adjourn to the nearest pub to continue the flow of his lectures. 
 He learnt Italian and Spanish for his study of the history of Communism in Italy.  But it was with his books on Welsh history that made the most impact " The Merthyr Rising" and "When was Wales?", which was perhaps his most popular and influential work.
In 1983 retired and focused more on television and film, being remembered in particular for presenting, with Wynford Vaughan Thomas, a 13-part series on Welsh history entitled "The Dragon Has Two Tongues".
---
On 30th September 1294, Madog ap Llywelyn, claimed the title "Prince of Wales" and began a revolt against King Edward I of England.  Its eventual failure, however, provoked an extremely harsh response from Edward in the form of humiliating and punitive restrictions on the civil rights of the Welsh.
A timeline for the key events in the revolt of Madog ap Llywelyn.
1282 - Following the death of Llywelyn ap Gruffydd, Wales was annexed by King Edward I of England.
1293 -  Sir Roger de Puleston was appointed High Sheriff of Anglesey, with the task of imposing the new English taxes.  These were unpopular with the Welsh and led to discontent.
1294 - Following a raid on Caernarfon by de Puleston, a riot ensued during which de Puleston killed.  Over the following months, the simmering resentment of the Welsh people against the unfair royal administration encouraged Madog to put himself forward as the leader of a national revolt, claiming the title "Prince of Wales".  Caernarfon was overrun and the castle occupied, as were those at Hawarden, Ruthin, and Denbigh, with the castles of Criccieth and Harlech, put under siege.  Further south, the castles at Morlais and Kenfig were taken, Builth Castle was besieged and the town of Caerphilly burnt.   In December, King Edward I led an army into north Wales to put down the revolt but became trapped over Christmas in Conwy Castle, only managing to escape in the new year.
1295 -  The revolt was finally put down at the battle of Maes Moydog in Powys, with the Welsh suffering very heavy losses. Madog escaped but was later forced to surrender in late July or early August.  He did, however, escape execution, as he was still alive in 1312.    
---
Today is the feast day of Saint Nidan
Saint Nidan (Died c.610) - was a descendant of the celebrated warrior Urien Rheged and is thought to have been Bishop of  St Seiriol's monastery at Penmon, on the eastern tip of Anglesey, he also founded Llanidan Church on Anglesey.  Nidan is said to have been one of the 665 monks who travelled with St Kentigern from Llanelwy (Denbighshire) to establish Christianity in Midmar (Aberdeenshire), where there is also a church dedicated to him .   
---
John Jones -Coch Bach y Bala (the Welsh Houdini)
On 30th September, 1913 Coch Bach made his final escape from Prison, dying six days later, of wounds sustained avoiding recapture.
Coch Bach's numerous escapes from prisons, police cells and holding jails have seen him go down in Welsh folklore.   It is said that he had spent time and escaped from every prison in North Wales, with his exploits being followed by national newspapers and the subject of many postcards.
Coch Bach was born in 1853 in Bala and began his life of crime at an early age, stealing eggs from farmers.  He soon graduated to taking unguarded property from local people, making his first escape from Ruthin Gaol, whilst awaiting trial for the theft of twelve watches.
 He made his most famous escape in 1900 while waiting to be transferred to Dartmoor Prison from Caernarfon.  He barricaded his cell door and dug an escape tunnel while the prison guards were trying to break in.   
For his last escape, Coch Bach had broken through his cell wall and lowered himself to freedom using a knotted blanket as a rope.  However, he was shot in the leg during the attempt to recapture him and died six days later from his injuries.  
---


The Glamorganshire Golf Club, Penarth, is where, on the 30th September 1898, club member, Dr. Frank Barney Gordon Stableford introduced the method of golf scoring now named after him.  The Stableford method of points scoring, is popular with amateur golfers in particular, as the odd bad hole does not ruin an entire round .   
---
Born on this day 1904 in Haverfordwest.
Waldo Williams, who is regarded as the 20th century's most original Welsh language romantic poet.
When Waldo was seven, his family moved to Mynachlog-ddu, near Crymych where his father was appointed headmaster of the primary school. It was here that he learned to speak Welsh. Williams was a lifelong pacifist, which led to him being a conscientious objector during World War II and later being imprisoned for his opposition to the Korean war in 1950.
Williams was also a keen member of Plaid Cymru and used his poetry to express his nationalism, which had considerable influence on the younger generation of activists in particular.
There is memorial monolith to Waldo Williams situated in the Preseli Mountains.