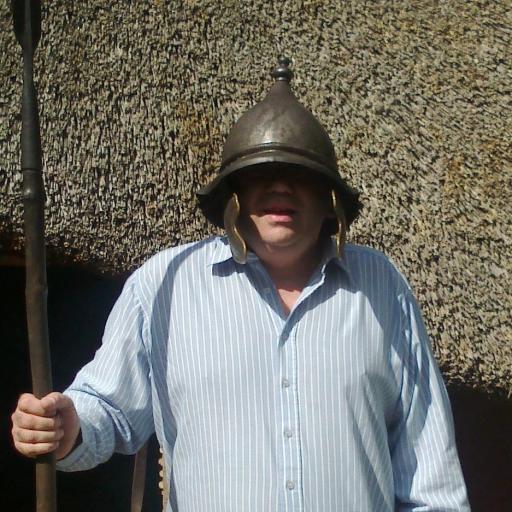 Born on this day 1945 in Glynneath
Maxwell "Max" Boyce, a singer and entertainer who rose to fame during the mid-1970s with an act that combined musical comedy with his passion for rugby union and his origins in the mining communities of South Wales.
Boyce began writing songs about the mining community, whilst studying for a mining engineering degree in Trefforest in the early 1970's and then began performing in local clubs where he developed the humorous element to his act.
---
Roger de Montgomerie, 1st Earl of Shrewsbury (c.1030 - 27th Sept 1094) was one of the great Norman magnates of England during William the Conqueror's reign.
Following the Norman Conquest, William the Conquerer installed three of his most trusted confidants, Hugh d'Avranches, Roger de Montgomerie, and William FitzOsbern, as Earls of Chester, Shrewsbury and Hereford respectively.
These areas became known as the Welsh Marches and the Earls were given special powers to bring their adjacent parts of Wales under Norman control. They  built hundreds of small castles as assertions of power as well as defences against Welsh raids. One such castle was that at Montgomery, in the part of the Welsh March under the control of de Montgomerie. As he was originally from Montgomery in the Pays d'Auge in Normandy, the castle and surrounding town were named after him. 
By the early 12th century, the area of the March had increased by the early 12th century to cover the areas which would later become Monmouthshire and much of Flintshire, Montgomeryshire, Radnorshire, Brecknockshire, Glamorgan, Carmarthenshire and Pembrokeshire.
---
Jesuits in Wales;
Pope Paul III approved the Society of Jesus (The Jesuits) on 27th September 1540 (pictured)
The 16th Century was a time of turmoil and as the Protestant Reformation took hold across Europe,  the Society of Jesus, a counter-Reformation group was founded by a Spanish knight Ignatius Loyola, who underwent a spiritual conversion while recovering from a serious battle injury at the Battle of Pamplona in 1521, after which he abandoned his previous military life and devoted himself to God.
 The Jesuits were sent by Popes into the heart of Protestantism to win back lost souls. They went willingly despite the obvious dangers to their own well-being and their commitment bordered on the fanatical.   Forty years after the order's formation,  Jesuit colleges in France, Spain and Italy trained young men for a mission to England, where Catholics were being told that they must recant their catholicism or face the possibility of death and were active in encouraging such plots as the excommunication of Elizabeth I and The Gunpowder Plot (1605) to destroy Parliament and kill James I.
In 1595 Fr Robert Jones arrived in Wales to provide for the needs of the many faithful Catholics in Wales. By 1605, he had established a Jesuit mission,  largely financed by the Morgans of Llantarnam. Lady Frances Morgan was one of Fr Jones's converts and this financial support made it possible to maintain two Jesuits in North Wales and two in South Wales.  Fr Jones died in 1615 and Fr John Salisbury succeeded him initially using Raglan Castle as a major Catholic centre later buying a farm known as the Cwm, on the Welsh - English border, near Monmouth, where he founded the Jesuit College of St Francis Xavier in 1622.
 Suspicion of Catholicism intensified and they were blamed for the Great Plague of London (1665) and The Great Fire of London (1666), culminating in the Popish Plot (1678 - 1681), a fabricated conspiracy concocted by Titus Oates that  gripped Britain with anti-Catholic feelings and resulted in many Jesuits suffering execution and martyrdom.
Notable Welsh Jesuits:
Philip Evans from Monmouth was sent to South Wales as a Missionary in 1675.  When the Oates scare swept the country, John Arnold, a hunter of priests, offered a reward of £200 (an enormous sum then) for his arrest in 1678.  But despite the manifest dangers Father Evans steadfastly refused to leave his flock.
John Lloyd - after taking the 'missionary oath'  he was sent to England in 1649 and then to Wales in 1654.  He was constantly on the run for 24 years.
David Lewis - from Abergavenny, was raised as a Protestant, but  converted to Catholicism at age 16 and subsequently became a Catholic priest. Three years later, he joined the Society of Jesus and was arrested in 1678, at St Michael's Church, Llantarnam on a charge of high treason, for saying Catholic Masses.  He was then sent to London to be examined by Titus Oates. 
All three priests were declared guilty declared guilty of treason and executed in 1679.  They were canonized as Christian martyrs by Pope Paul VI in 1970.
The Society of Jesus today is engaged in evangelization and apostolic ministry in 112 nations on six continents. Jesuits are involved in promoting education research, as well as cultural pursuits.  They also supply retreats, ministers in parishes and hospitals and promote social justice.  Their headquarters are the General Curia in Rome.  
---
Today is the feast day of St Baruc (Barrwg)
Saint Baruc  c.540,   was a disciple of Saint Cadog.  It is said that one day, he had forgotten to bring Cadoc's reading matter with him on a journey from the island of Flat Holm and Cadoc asked him to go back for it, but he drowned in the Bristol Channel on the return journey.  His body was found on the beach at Barry Island, where he was buried and the island was later named after him .     
---
For action on this day 1857, during the Indian Mutiny, at the Siege of Lucknow, bombardier Jacob Thomas from Llanwinio, near Carmarthen of the Bengal Artillery was awarded the Victoria Cross.  His citation read:
For distinguished gallantry at Lucknow on the 27th September, 1857, in having brought off on his back, under a heavy fire, under circumstances of considerable difficulty, a wounded soldier of the Madras Fusiliers, when the party to which he was attached was returning to the Residency from a sortie, whereby he saved him from falling into the hands of the enemy.
The Indian Rebellion of 1857 began as a mutiny of sepoys (Indian soldiers) of the East India Company's army and soon escalated into other mutinies and civilian rebellions, posing a considerable threat to Company power.  The rebellion was a result of various grievances, but the flashpoint was reached when the soldiers were asked to bite off the paper cartridges for their rifles which they believed were greased with animal fat,
The Siege of Lucknow was the prolonged defence and subsequent evacuation of the Residency (political offices) within the city of Lucknow during the Indian Rebellion of 1857.